Avon launches start up competition to search for a budding beauty entrepreneur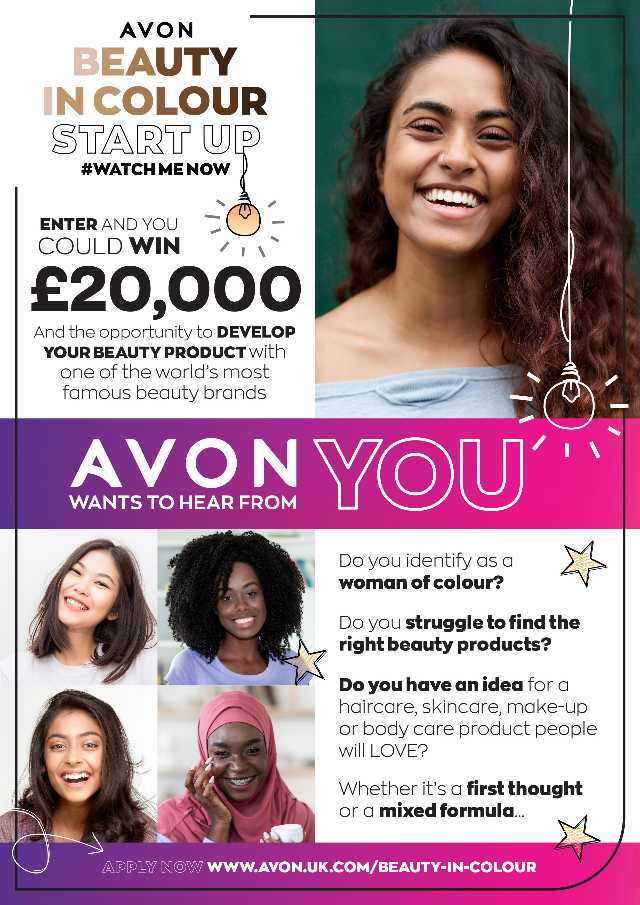 George Floyd's death in summer and the subsequent Black Live Matters protests made everyone aware of racial injustice and how it impacts the quality of people's lives and experiences. The beauty industry, where many black women make a living and where black consumers are known to be the biggest spenders, is not diverse or inclusive and doesn't offer equal opportunities. Many mainstream beauty brands were quick to pledge their support by posting the black squares on their Instagram accounts and saying the right thing, but with no positive action taken. Others like Ultrasun and skinSense with their Archlight Initiative in the UK and US-based Glossier, took it a step further and allied with black entrepreneurs by offering grants to help emerging businesses.
So, it's heartening to see global beauty company Avon step into the ring with the launch of the Beauty In Colour Start Up – a new competition looking to find a budding beauty entrepreneur to develop and distribute their product exclusively with Avon UK.
The competition is open to women of colour across the UK who have a product idea, formula or beauty business they want to grow. The winner of the competition will receive a £20,000 grant and mentorship, including the opportunity to develop and distribute their product exclusively with Avon throughout the United Kingdom. Two runners-up will also be able to join forces with Avon through a bespoke mentorship programme that will support them in developing their product idea and business – creating pathways and earning opportunities within the beauty industry for more women of colour.
Avon has partnered with some of the industry's best and brightest talent to judge the entries, including journalist, business owner and diversity advocate, Ateh Jewel, make-up artist and 'Eyebrow Queen' Nilam Holmes and Millie Kendall MBE, founder of the British Beauty Council.
Ateh Jewel commented: "In my career I have had a lot of 'this is not for you, who do you think you are?' moments, so I'm so excited to be working with Avon on the Beauty in Colour Start Up to empower someone's concept and dream, and make sure they don't have the same experiences I had.
"In 2020, the fact I don't have the same product choices as my friends who have lighter skin tones is incredibly frustrating – so I'm looking forward to seeing all the innovative ideas from entrants to change that. I really hope that this competition not only generates change and better product and marketing representation in the beauty industry, but that it inspires more women of colour to believe in themselves and really go for it."
Avon is encouraging women of colour who want to take their next step into the beauty industry to apply for the competition – whether they have a product idea which responds to a consumer need, have already mixed a formula they want to launch more widely, or already have a beauty business they want to grow. Entries are open until 23rd December with finalists and a winner selected in early 2021.
Although significant strides have been made towards equality for women, societally there's still some way to go in ensuring women of colour have an equal seat at the table – research from UK think-tanks indicates that despite black employees having more career aspirations than their white colleagues, 33% feel their ethnicity will be a barrier to their next career move, compared to only 1% of white employees1.