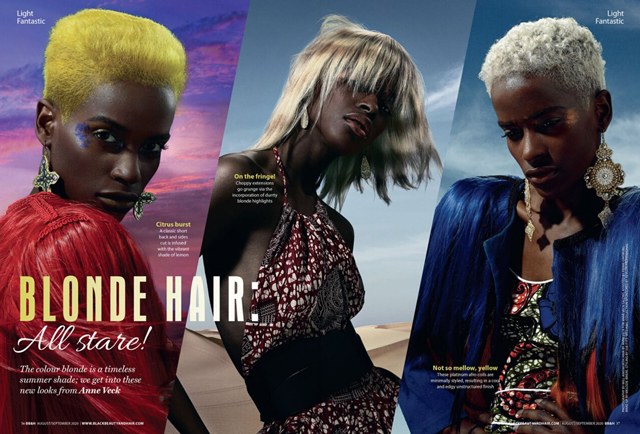 Are you a stylist, MUA or photographer with amazing editorial images? We want to publish your best work! Black Beauty & Hair has been the best-selling hair and beauty magazine for black women in the UK and Europe for over 30 years. Be part of our heritage brand by submitting your best work.
What to submit
Three to 10 images (jpg or tif) each showing different looks. Single submissions will still be accepted, but if chosen, will be used in our hair galleries, rather than a feature.
Unpublished images. While we love new and exclusive images, we realise that you need your work to promote your salon. As long as we haven't published your work, we are happy to accept it.
Professional and well-lit images. No camera phone or Instagram-filtered images will be accepted.
Commercial and wearable styles. Avant-garde images have their place in the magazine, but we would rather see more commercial and wearable styles reflected in our content – after all, readers are using the magazine as a style guide.
What you'll need if your work is accepted
Hi-res images. Portrait images should be 8.5×11 inches, 300 dpi (2550×3300px) and landscape images should be 17×11 inches, 300 dpi (5100×3300px).
Photo credits. We'll need photographer credits, along with credits for the creative team (make-up, hair, stylist, art direction, etc.) and any available Instagram handles.
Inspiration. You can also supply an 'inspiration', ie what is this collection inspired by?
What is the style? Brief descriptions of the technique used to create the styles are helpful to our writers when putting together the hair story. Is it a weave collection, natural hair collection, etc?
Please be sure to read our Photo Submissions Guidelines.
Submit Today
Ready to submit your work? Please email us at info@blackbeautyandhair.com with subject line: 'Magazine Submissions'