BLKlisted, the brand new, limited edition, cruelty-free and vegan instant nail collection by Ray Blk that gives empowerment and confidence to everyone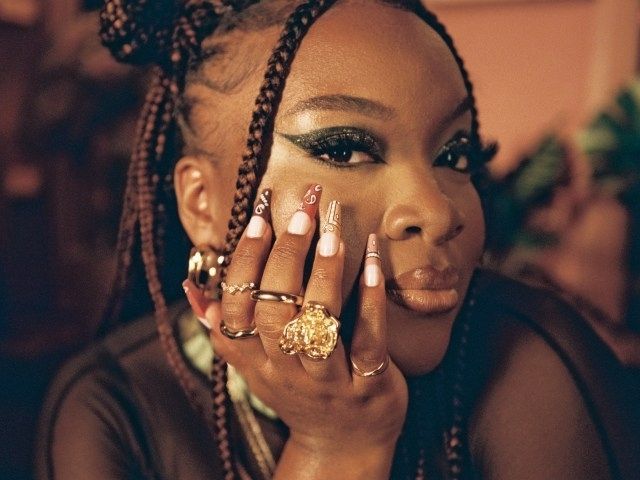 Ray Blk, celebrated music artist and the ultimate girl's girl has released her first-ever beauty venture. Introducing BLKlisted, a range of fierce Instant Nails inspired by today's music video glamour and curated exclusively by Ray herself.
Praised by NME as; "A formidable UK star, delivering confident R&B ballads all about uplifting her listeners", Ray Blk is respected, not only with her sounds but also for her style… especially when it comes to nails.
Statement styles
The brand new, limited-edition cruelty-free and vegan BLKlisted range delivers six bold, empowering styles designed to be worn by everyone. Each BLKlisted Instant Nail kit retails at £19.99, including 30 multi-sized instant nails, BLKlisted Nail Glue, a nail file and cuticle stick for ultra-fast application and long-lasting nails. Available exclusively at BarryM.com.
---
---
Curating the Collection
Ray Blk explains the story behind BLKlisted and her aspiration to make glam instant nails accessible to everyone.
"I created the BLKlisted instant nail collection during lockdown when trying to find a solution to manicures, as at the time I couldn't safely do my nails outside of home. I then also realised that there was a huge need for the stylised nail art that! love and that really isn't available to 'real people', just celebrities with stylists and big budgets. Often, High Street nail technicians aren't able to create these intricate styles, they may not have the time, and the styles can be very costly."
"My biggest inspirations for the BLKlisted collection are 'music video glamour' and Gen-Z fashion. The style and lengths of the nails are deliberately extravagant to make a statement. Nothing about celebrity glamour is subtle! It's all about the sparkle and grabbing attention. Gen-Z is all about being comfortable in who you are and celebrating you and your personality, embracing your quirkiness! I want everyone who wears BLKlisted to feel empowered and confident. So, instead of plain block colours, I created intricate designs and elaborate patterns, along with fierce lengths."
Nail Expertise
The BLKlisted Instant Nail Collection was created by Ray Blk with the support and expertise of the team at Barry M Cosmetics.
Barry M  MD,  Dean Mero said;  "When Ray Blk approached us with the idea for BLKlisted we were thrilled to offer our expertise. Not only does Ray have an exceptional eye for design, she has an impressive entrepreneurial spirit too. As well as creating our own cosmetics, at Barry M we actively seek to work with and support emerging British talent. We're so pleased to join Ray on her exciting journey."