Black Beauty & Hair's editor-in-chief Irene Shelley makes a guest appearance on The Big Hairy Podcast hosted by clean beauty brand thebeautyworx
If you're into all things hair, then check out The Big Hairy Podcast which starts on February 28th in which Black Beauty & Hair's editor-in-chief Irene Shelley guests in a podcast about Black Hair. The aim of the podcast by clean beauty brand thebeautyworx seeks to amplify Black voices and the meaningful stories black hair tells. The podcast series explores hair and the ways it is linked to our identity, culture, ethnicity and gender.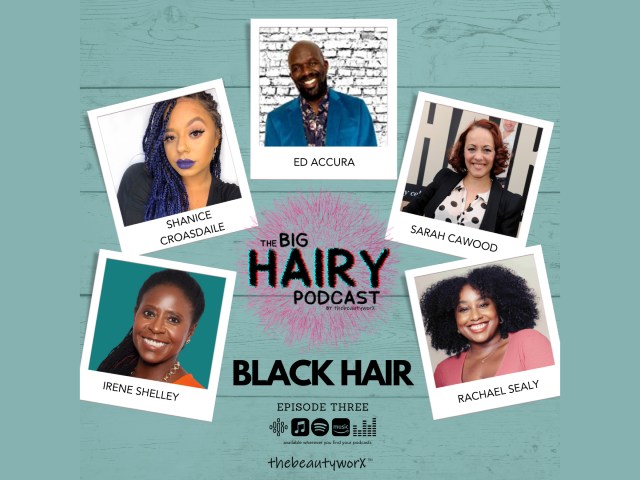 TV and radio star, Sarah Cawood speaks to a wildly diverse range of guests from drag queens to best-selling authors, celebrity wig-makers and body-positivity influencers, who share funny, moving, inspiring and thought-provoking stories about their hair.
Episode 3 features Shanice Croasdaile, star of BBC's Glow Up, director of Blacks Can't Swim, Ed Acurra, influencer Rachael Sealy AKA @ukafrolista and Black Beauty & Hair editor Irene Shelley about the history of Black Hair and its impact on their culture.
In another episode former Empire editor and best-selling author, Terri White, as well as TikTok's queen of colour, Heffy Wheeler share their own battles with mental health and how their hair became central to their coping strategy.
The Big Hairy timetable
MONDAY 28TH FEB
EP 1: Mental Health & Identity Terri White, Heffy Wheeler, Taz Thornton, Julianne Ponan
EP 2: LGBTQ+ Lolo Brow, Caroline Barry
EP 3: Black Hair Irene Shelley, Shanice Croasdaile, Ed Accura, Rachel Sealy
MONDAY 7TH MARCH
EP 4: Hair Loss Lizi Jackson-Barrett, Dani G
FRIDAY 11TH MARCH
EP 5: Natural Changes Fiona Scott, Tracy Pallari, Eva Proudman
MONDAY 14TH MARCH
EP 6: Showbiz Angela Cobbin