This year's International Women's Day (IWD), 8 March, is all about celebrating and valuing difference and achievements, raising awareness about bias in society and ensuring women are treated equally.
We asked colleagues across our force how they have helped #BreakTheBias, not only today, but every day.
Speaking at the annual International Women's Day conference hosted by Essex Police and our blue light colleagues from the East of England Ambulance Service NHS Trust, Essex County Fire and Rescue Service and the Office of the Police, Fire and Crime Commissioner for Essex, our Chief Constable Ben-Julian Harrington said: 
"This year's theme, #BreakTheBias, is incredibly important to me and to our force. We strive to celebrate and embrace diversity.
"It is so important that we gain and maintain the trust and confidence of the communities we work with and on behalf of.
"This means ensuring that our workforce is representative of these communities. For this to happen, we must, and do, welcome the great breadth of ideas, opinions and problem-solving approaches which all our police officers and staff bring to the job through their varied backgrounds, their life experiences and their cognitive diversity.
"And I am proud to say that, currently, nearly half of our officers and staff, 46%, are women, who bring their own unique perspectives to policing.
"We're so lucky to benefit from the knowledge and skills of brilliant women across the force in all roles and at all ranks and levels who are paving the way for others to continue doing so in the future.
"Essex Police tries to ensure that all our officers and staff can be their very best selves at work so they can help people, keep them safe and catch criminals to keep our communities safe from harm."
We also asked some of our inspirational women in Essex Police what International Women's Day means to them.
Assistant Chief Constable Rachel Nolan, who is responsible for our Local Policing, has been an Essex Police for almost 24 years. Among other roles, she has led our Operational Policing Command, whose specialist teams include Roads Policing, the Force Support Unit with its firearms and Taser-trained officers, the Dog Section, the Marine Unit and search teams.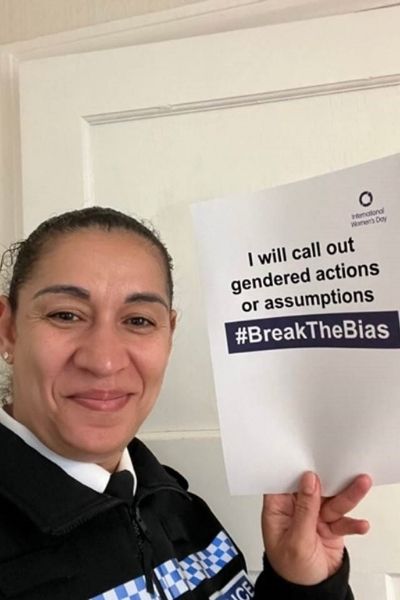 She said: "IWD is a chance to celebrate the contributions of women in all walks of life, to inspire and be inspired and for us all to consider how bias and stereotypes are a part of daily life – and how we can challenge that!
"Each day I'm genuinely humbled by fantastic colleagues across Essex Police. People doing their best, making difficult decisions to serve the public – and more recently doing the right thing in calling out behaviour that isn't right in society, let alone in policing."
Chief Superintendent Jenny Barnett is the Commander for the West of Essex. She transferred from the Metropolitan Police to Essex in January last year and is 'proud every day'.
She said: "There is no job in Essex Police that women cannot or do not perform. We have women in the Chief Officer Team – members of police staff and police officers – and at every rank and equivalent grade below them but there is always more we can do."
Citizens in Policing Commander Jenny Brouard has worked for Essex Police for the last 15 years. She works alongside our 'amazing' Special Constables, Volunteer Police Cadets, Police Support Volunteers and other volunteers who help us to keep our communities safe from harm.
At the start of last year, Jenny received a British Empire Medal in the Queen's New Year's Honours List for her work with our volunteers. She said: "There are so many women who have encouraged me to never give up on what I want to achieve in life.
"I am humbled and proud to work with so many fantastic women in our force. The support and encouragement I have received has been amazing. I feel very lucky."
Start your journey
Why not start your journey with Essex Police today?
At Essex Police, we value difference, and know that we're strongest when we all work together.
Our officers have different life experiences, different skills and represent communities from across our county.
We're here for you and your loved ones in times of emergency, and we're always looking for new people to join us.
If you think you could protect and serve the people of Essex, why not see if you Fit the bill? Visit our police officer career page to find out more.