Discover Cantu x Angela C. Stevens Protective Styles range designed for effortless and accessible hair care, revolutionising protective styling
Chicago-born Angela C. Stevens is a salon owner, award-winning hairstylist, children's book author, reality TV star, beauty entrepreneur and a new mum. She found some minutes in her hectic schedule to chat to Black Beauty & Hair.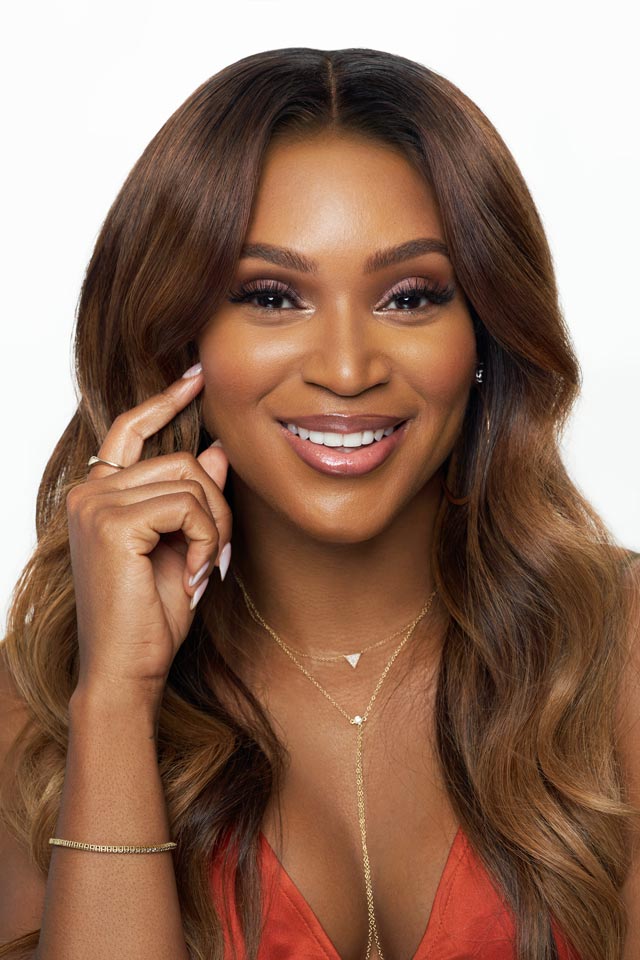 Tell us a bit about yourself
Originally from Chicago, I moved to LA aged 23 and got my hairdressing licence from Pivot Point, which has an international programme and allowed me to study in Italy. Growing up in a humble South Side neighbourhood, my aspirations for hairdressing were limited, but once I went to cosmetology school, I understood hair. It really changed my outlook on it and my drive. After four to five years as a licensed stylist, I moved to LA, which elevated my career. I began working with celebrities on TV and film, and even became a reality TV star on the show LA Hair, which exposed me to an even wider audience. Education has been a significant component of my career; I've always felt it's important to teach people how to fish versus trying to sell them fish. I aim to make hair accessible to everyone by providing tips and products that make styling easier, so they are able to get out of the house and feel good about themselves. I also launched Conscious Curls, my hair extensions brand.
What's the Angela C. Stevens trademark look?
My looks are very effortless. I like hair that doesn't look overly styled. I like hair that looks like you just happen to be this beautiful all the time. I don't like things that look like you're trying too hard or that the hair is fighting with the look, the makeup and all of that. I'm big on making the style look like it's a part of you.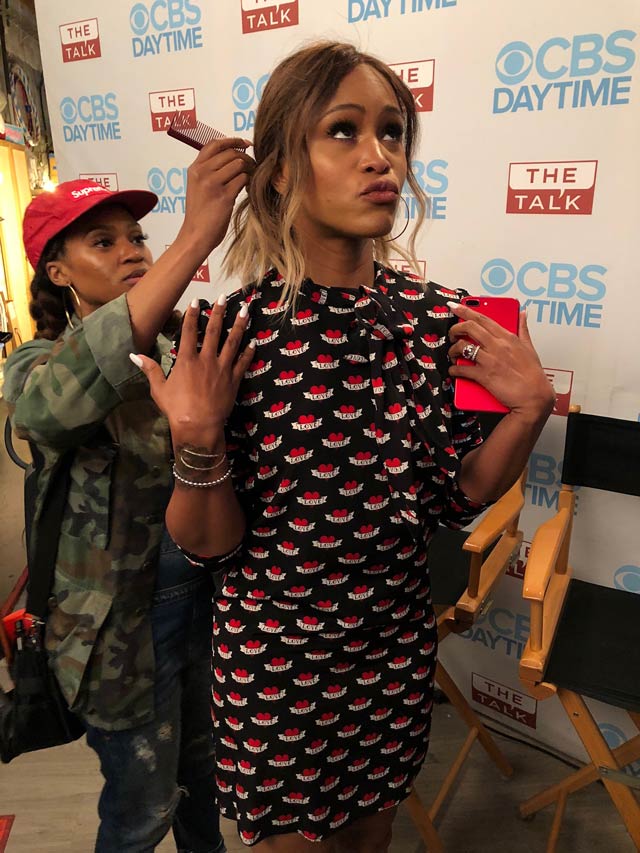 How did you get to work with celebrities?
I met some celebrities while working at Kim Kimble's salon. I was referred to start working with Eve and we just developed a beautiful friendship. Some clients come through agencies, like Rita Ora, who I've worked with. I've also worked with Fifth Harmony. But in LA, you never know how clients will come. I am always grateful for every opportunity that comes my way.
You won an Emmy for your work on Eve's hair
I've been nominated four times and have won an Emmy for my work on rapper/presenter Eve on CBS show The Talk.I never really thought that could be a possibility. When you're a stylist, you just focus on making each client feel good, but you don't really focus on awards, accolades and things like that. When that came about, I was really like: Wait, what? I really couldn't believe it.
So how did you get involved with Cantu?
As a platform artist, I educate stylists on product for various brands. I connected with Cantu in 2016, and they hired me for events, leading to a relationship with the executive team and marketing. I promoted their products and offered feedback, sometimes critical, which they valued. Brands make products for consumers, but stylists have a different take as we use the product every day. They were receptive to all my feedback and suggestions.
I'm passionate about products that complement a style and make maintenance easy. I discussed with Cantu that their products were marketed towards women with loose curly hair, but what about those with locs, braids, wigs and other natural hairstyles? They agreed and invited me to collaborate on a new line that addressed those needs. Cantu was so receptive, and we worked together to create an assortment of six products that I am obsessed with.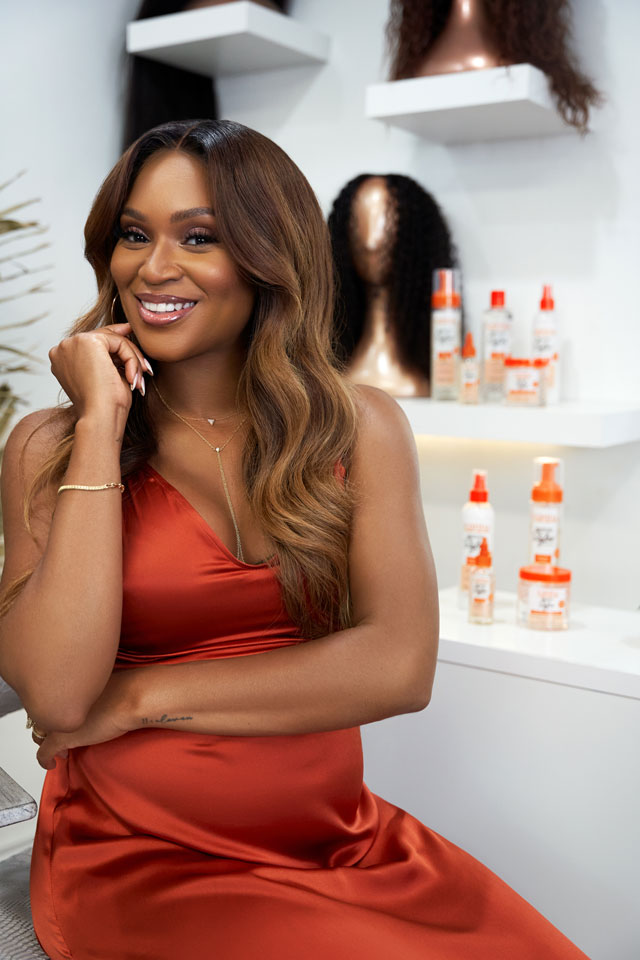 Which is your hero product?
Protective styles like braids and locs go longer between washes and need a good cleanse to remove build up without stripping oils or hydration. The Hair Bath & Cleanser is the star product of the line, designed specifically for this purpose. It can be used while wearing your protective style, taking down braids, and even to bathe extensions or synthetic hair before use. With apple cider vinegar as the main ingredient, the Hair Bath provides a deep cleanse to remove impurities and build up. And when you smell it, it opens your senses. It makes you feel like you're really cleansing.
How would you use the products?
Start with the Hair Bath & Cleanser (£8) on the scalp, using a hot towel to rinse it off. After drying, follow with the Conditioning Detangler Hair Treatment (£8) to moisturise the hair and scalp. If you have braids, you would apply the Set & Refresh Foam (£8) to remove frizz and then use Daily Oil Drops (£8) to add shine. Braid & Twisting Hair Gel (£9) can be used for edge control. The Hair Freshener (£8) can be used to keep things fresh between washes.
Did you have to research a lot of hair ingredients for this range?
I used to mix my own 'hair bath' in the salon, using shampoo, tea tree oil, apple cider vinegar and rosemary to remove dirt and oil to make it easier to do clients' takedowns.
The Foam also contains apple cider vinegar to refresh the scalp and also set the hair.
With 16 years of styling experience, I knew exactly what I wanted to achieve with this product line, and Cantu was smart to involve a stylist in the creative process. There's no other protective style line on the market that addresses our needs in the way this line does. It took time to develop, but I knew what I was looking for in terms of results.
We were able to create this together and it covers so much ground and I'm so proud of it.
Where can we find you?
Instagram | @angelacstyles
Website | shop.consciouscurlshair.com