How this London based African-Caribbean fashion designer overcame homelessness to running a successful fashion brand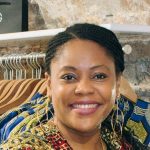 Mariatu Turay is London based fashion designer and owner of Gitas Portal, a brand which wants women to stand out, be bold and win in all areas of their lives. Born in London and raised in Freetown, Mariatu was forced to leave Sierra Leone at age 16 due to the civil war as her father was a government official and her family was targeted. She moved to the USA and started working as a hair braider at the age of 16 in a salon to make ends meet for her family. She then learnt secretarial and office skills as a way into corporate America. By the time Mariatu returned to the UK, her entrepreneurial spirit was fully fledged and she used her hairdressing skills to pay her way through university. After brief periods of homelessness in the US and the UK she found her way back on track:
"My family life and dreams were interrupted overnight – I went from having a good life to having nothing. No one in their right mind wants to be homeless and face the uncertainty of having nothing. The trauma is on all levels but I never lost my way at the most challenging of times. Always knew with hard work and kindness I'd make it." – Mariatu Turay

After a successful career as a civil servant in the UK, Mariatu decided to tap into her passion for fashion and creativity. With her dual Sierra Leonean and Barbadian heritage, Mariatu has been able to merge different multicultural influences from fashion, art, culture and feminine attributes into her work giving her brand a broader appeal.
Established in 2011, Gitas Portal is an affordable, mid-market, luxury brand that is known for sophisticated, feminine cuts and a creative use of West African textiles in beautiful elegant styles. The Gitas Portal motto – Be Bold, WIN, Wear Colour – is for the woman who is unapologetic about her beauty and expresses her style with confidence.
Mariatu opened the first Gitas Portal boutique in London in 2016. As a self-taught designer-maker, Mariatu's goal is to set a benchmark for African inspired fashion pieces, promoting quality, beautiful and well-made designs that will challenge and balance the sometimes poor perception of 'brand Africa'. As a designer and a wearer of her own pieces, Mariatu celebrates fashion and sees it as a unique expression of individual flair and the emancipation of one's inner beauty. Her journey is indicative of her tenacity and is a testimony that despite any of life's turmoil's anyone can make their dreams come true.
Save
Save
Save
Save