Extension specialist Hector Obeng from Hector's Global Hair with Zeal is among the finalists in the GLammies by Great Lengths 2021 awards
The GLammies by Great Lengths 2021 event – which this year celebrates its 10th anniversary – will take place on Monday 7th February 2022.
Extension specialist Hector Obeng from award-winning salon Hector's Global Hair with Zeal has been nominated for two categories: Longer Length and Creative Innovation (see pic below).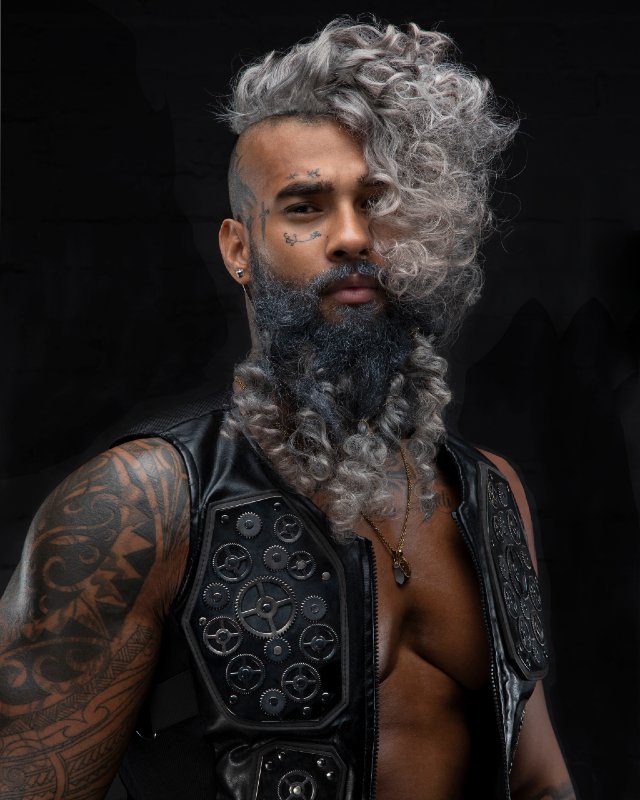 Judged by a selection of the industry's most respected names, along with editors from the hairdressing press, the GLammies by Great Lengths celebrate the craft, creativity and business of hair extensions. As well as six specialist creative categories – including awards for colour, bridal styles and volume – this year's event also saw the launch of eight regional categories, recognising entries that have used Great Lengths in their business to build a strong reputation, a loyal client base and an outstanding body of work.
GLammies by Great Lengths Trophy for Extension Excellence
The most coveted award of the evening – the Great Lengths Trophy for Extension Excellence – will be awarded to a stylist that demonstrates a palpable passion for extensions, evident in both their business results and creative expression. The lucky winner will be invited to participate in the ultimate photoshoot experience, working with Great Lengths' Education and Creative Team to choose a concept, before bringing it to life with an all-expenses-paid photoshoot with a professional make-up artist, stylist and photographer. The finished images will be used across the trade press and for digital and social media, providing a priceless opportunity for the winner to grow their profile.
Visit to Great Lengths factory in Rome
In addition to a glittering GLammies trophy, winners in each of the 16 categories will each receive tickets for a tour of the Great Lengths production factory in Rome, with two nights five-star accommodation, meals and internal transfers for two people. The prize package also includes social media coverage and PR opportunities across both trade and local press, ensuring salons and stylists can publicise their recognition as the best in the industry.
The Little Princess' Trust
Finally, Great Lengths also wanted to highlight their partnered charity, The Little Princess Trust and have introduced the Most Charitable Salon Award. An award given to a salon who has donated the most removals of Great Lengths hair between April-July.
Creative Categories
Longer Length
Alice Chambers – Well Gel Hair & Nails
Hector Obeng – Hector's Global Hair with Zeal
Jennifer Swain –
Swain Hairdressing
Enviable Length
Katie Hemming – Love Hair
Edwina Hayes – Streetlife Hair
Jill Faulkner – Faulkners
Captivating Colour
Lynn Knox – Streetlife Hair
Jack Trafene-Little – Salon Ten
Linda Thornton – Lynda T Hairdressing
Creative Innovation
Hector Obeng – Hector's Global Hair with Zeal
Rowan Milne – Row 66
Linda Thornton – Lynda T Hairdressing
Bridal Creation
Arabella Kind – Hair By Arabella
Jill Faulkner – Faulkners Salon
Alice Trout – Alice Olivia Hair
Best Newcomer
Charmaine Pinner – Goldilengths
Mandy Delaney – Rosser Hairdressing
Jade Harrison – Finlay's
Business Categories
Scotland Hair Extension Salon/Freelancer of the Year
Taylor Ferguson
Row 66 Ltd
Four Hairdressing
North East Hair Extension Salon/Freelancer of the Year
Annabelle Hairpin – Yazz Hair
Charlotte Boyes – The Hive
Marjan Beig – Creation Cottage
Joanne Fox – Joanne Fox Hair
North West Hair Extension Salon/Freelancer of the Year
Beverley Rosser – Rosser Hairdressing
Hayley Xenophontos –Xenos Hair
Midlands Hair Extension Salon/Freelancer of the Year
Arabella Kind – Hair by Arabella
Jade Searcy – Hair Extensions by Jade
Katie Hemming – Love Hair
Nicky Marcar – Salon Ten
Bethany Sole – Salon 45
Natalie Bishop – Natalie Bishop Hair
Val Johnson
Wales Hair Extension Salon/Freelancer of the Year
Stacey Hughes – Sdeisi Does Hair
Chloe Webber – Salon Forty One
London Hair Extension Salon/Freelancer of the Year
Amy Best – Best In Beauty
Melissa Shannon – Winchmores
Helen Timofti – Four London
South East Hair Extension Salon/Freelancer of the Year
Sian Elise Keeler – Lavish
Melanie McDonald – Melanie Richards Hair and Beauty
Lisa Atkinson – Hair Fairy
Republic Of Ireland Hair Extension Salon/Freelancer of the Year
Lynn Knox – Streetlife Hair
Lisa Cantwell – Plush Hair, Waterford
Brid Whyte – Hair Creative @ Hairology
Jolene McCarthy – The Hair Room
Niamh Kiely – Marbles Hair & Beauty
Most Charitable Salon/Freelancer of the Year
Strawberry Hair 
Caprios Hair Studio
Mr Smith's of London