When Clare and Christina Kimeze discovered that most glasses and sunglasses were designed for Caucasian features, they founded Kimeze their own eyewear brand aimed specifically for Black and brown facial structures. The brand is now available on Net-a-Porter.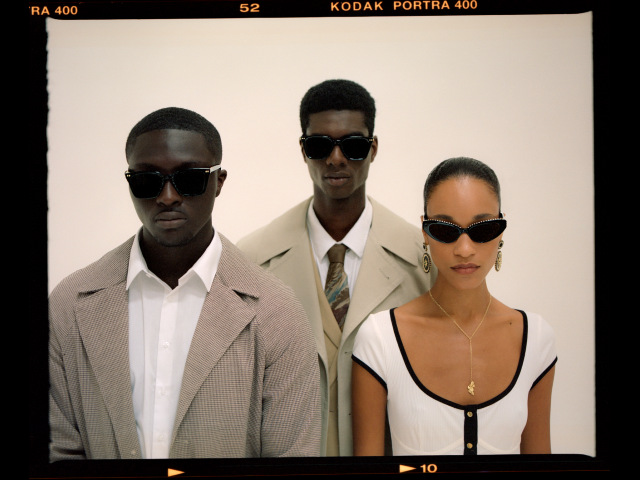 Combining craftsmanship with luxurious materials, Kimeze is a revolutionary new eyewear brand with statement style, everyday versatility and exceptional quality at its core. A world-first innovation in eyewear, Kimeze was born when its founders Clare and Christina Kimeze realised eyewear companies did not design sunglasses and opticals for Black and brown customers like them. So, the sisters set about designing eyewear that took into account lower bridges.
Kimeze partners with Net-a-Porter
They are now delighted to be launching their unisex handcrafted, fashion forward nine-piece collection exclusively on Net-a-Porter, the world's leading online luxury and fashion store that has a global reach of over nine million people. Not bad going for a brand that was having trouble convincing mainstream retailers that there was a definite need for eyewear designed for Black and brown faces.
Clare explained, "The Black community is very diverse, but typically we are talking about lower, wider nose profiles or narrower and low nose profiles with a much lower bridge than Caucasian people. Some people also have a wider nose at the bottom than Caucasians, but not everyone.
"These are all things we have and will continue to put a lot of thought into catering for via the shape and position of the nose pads, bridge width, and styles that are fashion-forward, but which fit. We have also chosen colours to complement our skin tones and variety. A majority of our styles are available with nose pads for people with flatter bridges."
Kimeze's unique range of eyewear
Kimeze, a London-based, British brand, was born of a lightbulb moment when the sisters discovered that 1 billion people had been completely forgotten when it came to designing the fit of sunglasses and opticals. Through their research they were shocked to discover that most glasses and sunglasses were designed for Caucasian features, that there had been an East Asian fit since the 80s, but that there was nothing on the market specifically designed for them. And so the brand was founded to address this, and to make sure more people have choice in their eyewear purchase.
It is the difference between wearing glasses that are designed for someone else and glasses that are designed for you. It is the difference between being looked at and being seen.

Christina Kimeze
Handmade in Italy, the collection is inspired by both London, and the sisters' British and Ugandan heritage. The design and creative direction comes from co-founder Christina Kimeze – a talented award-winning artist.
The launch on Net-a-Porter marks an important milestone for the new eyewear brand. Commenting on the partnership, Kimeze co-founder Clare said, "We are so thrilled to join the Net-a-Porter family of incredible fashion and luxury brands. Being able to showcase our ground-breaking and innovative collection to such a large global audience with a retail partner at the forefront of innovation, is an exciting and natural next step for us."
Christina added, "All our glasses are designed to be fashion-forward, chic and universally flattering. When it comes to making them fit, we have made changes to the nose bridge, temple length and angle of the glasses. This dramatically expands the range of people for whom the glasses will fit and look good on. These changes make a big difference. It is the difference between wearing glasses that are designed for someone else and glasses that are designed for you. It is the difference between being looked at and being seen."