Photographer and naturalista Shonay Shote explores how the natural hair movement has impacted black performers with her photographic exhibition A Black Actress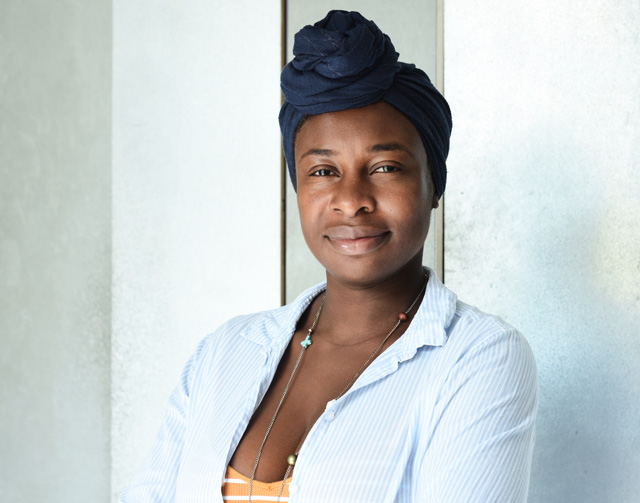 "The shift was inevitable, and we are now finally seeing the impact of the natural hair movement in mainstream media. From Viola Davis' epic removal of her wig in How to Get Away With Murder to model, and Bulletproof actress, Vanessa Vanderpuye sporting her full luscious 'fro in Matalan's latest campaign. There is a sea of change happening at the moment, and we are all the better for it.
As a photographer and a longtime natural, I am overjoyed to see that change. Growing up, though I looked to black women on the screen to quench my desire for representation, I found it was lacking. Even with TV characters like Gloria in the Channel 4 sitcom Desmonds, charmingly portrayed by Kim Walker, who spoke to my imagination of what a hip young black woman was. Back then there was a lack of natural haired women on stage and screen whose kinks and coils represented my own.
Being fed a beauty ideal that was so far from my own influenced how I wanted to approach my work. That giddy excitement that we get when we see ourselves beautifully imagined on screen is something, I wanted to replicate in this portrait series. A Black Actress shines by embracing and presenting a self-determined beauty standard.
It's a brilliant time to be a black actress in the UK, but the reality is that there is a lag when it comes to understanding and knowing how to handle my natural hair.

Koral Neil
Similarly, in the short film, Dolapo is Fine, which explores one black girl's relationship with her hair. The lead character finds her strength in owning her beauty. Joan Iyiola who co-wrote and features in the film says' "When we learn how the world may perceive us because of our natural hair it can be a shock! Dolapo's journey shows us what happens when we find self-acceptance and step into our true beauty."
In shooting the project itself, it was a priority for me to have a predominantly black team behind the scenes. We have all heard the far too familiar stories from black performers, who feel alienated when working on un-diverse sets. From the makeup artist not having the right colour foundation to match their skin tone to the hairstylist not knowing how to "deal with natural hair".
As natural hair advocate and black actress, Koral Neil comments, "It's a brilliant time to be a black actress in the UK, but the reality is that there is a lag when it comes to understanding and knowing how to handle my natural hair." In an honest and personal video documenting her experiences, Koral's goals to raise awareness around these issues, prompted the actors union, Equity to launch a survey in May (now ended). It aims to address the lack of training and low quality when providing hair and makeup services to black entertainers. And with Ofcom reporting a fall 9% to 8% in minority ethnic talent working in behind the scenes creative and content production in UK-based TV industry last year, it highlights the need for a shift in mindset when selecting a crew.
Hair and makeup artist, Claire de Graft who worked on some of the looks for the project says, "Even though we see more black faces on screen, it is important to have teams who understand and can work with different hair textures and skin tones. The lack of a diverse production crew means perspectives and feelings of working with non-white talent are not always taking into consideration, leaving them feeling unheard and unrepresented".
Working with a diverse team on the set of A Black Actress meant the women felt comfortable knowing they were in good hands with people who could work with their hair types and skin tones.
In a live-stream roundtable with actresses Gemma Knight Jones and Koral Neil among the panellists, we will be discussing these topics and my hopes for the project, how it inspires black women to embrace and celebrate their beauty. And to create a dialogue on better representation and challenging the status quo of black women on stage and screen.
Images from the series A Black Actress can be viewed on www.ablackactress.com
The live-stream takes place on YouTube on October 23rd 13:00 – 14:00 BST