Island MMTS puts Caribbean talent on the map, and at this year's competition held in the Bahamas, Black Beauty & Hair  were there to pluck out the next top models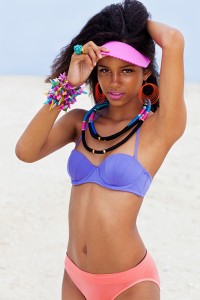 Name: Jessica Thompson
Age: 18
Height: 5' 8.5"
Bust: 32"
Waist: 25"
Hips: 35
Shoe: 9 (U.S.)
Eye Colour: Brown
Why did you want to become a model?
When I was growing up I was really sporty and I wanted to try something a little different so my mum set up a photo shoot and I ended up really enjoying it.
What's been the highlight of your career so far?
The highlight so far was being invited to go to Jamaica to walk in the finale of Mission Catwalk by a designer that was placed 2nd overall.
What would be your dream modelling role?
My dream modelling role would be to do the campaign for one of the top designers or make-up companies like L'Oréal, Alexander McQueen, Chanel or Armani.