Brixton based hairdresser Lathaniel Chambers wins two afro hair awards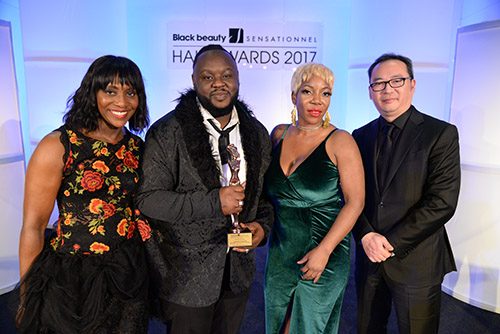 Lathaniel Chambers of Lathaniel Couture Hair & Beauty in Brixton became the youngest ever recipient to win the Stylist of the Year Award at the Black Beauty/Sensationnel Hair Awards 2017. The 26-year-old hairdresser sealed his number one spot at the top of the afro hairdressing tree by picking up two awards on the night.
The star-studded event was held on Sunday 26th November at the Hilton Metropole. Hosted by TV presenter Brenda Emmanus, more than 300 of the UK's top afro hairdressers were joined by stylists from Serbia, Spain and Japan to see who would walk away with the coveted prizes.
Each entrant submitted four photographs (six for Stylist of the Year), that showed their technical ability, as well as, their creative vision and presentation. They were judged anonymously by a panel of hairdressers including past winners of the awards and others who have since joined the Black Beauty/Sensationnel Hair Awards Hall of Fame; an accolade awarded to an accolade presented to those who win the same category three times.
On the night guests and finalists mingled and networked over an evening that started with a cocktail reception followed by a three-course Caribbean themed dinner. Comedienne Judy Love had the crowd in stitches with her observations of hair salons and a tumultuous love life.
The Polarity fashion show by fashion newcomers Chikeze Rose included one look from each of the Stylist of the Year finalists.
But the night was all about the finalists and the winners and talent was recognised across the 13 categories, covering regional entries and more specialist techniques like barbering and braiding.
The ultimate accolade is the Stylist of the Year which was won by Brixton-based stylist Lathaniel Chambers, who becomes the youngest recipient in the awards 23-year history. Lathaniel made it a double whammy by picking up Colourist of the Year Award. 'I wanted to push the boundary of achieving bright colours on natural and relaxed hair and I'm so happy my work has been recognised by the afro industry, which is a great industry to be part off.'
The young hairdresser, who first attended the awards as a student was so inspired back then, that he decided to enter the awards as soon as he qualified – he went on win Newcomer of the Year 2011 as well as a clutch of other awards in other categories. He is now giving back and is mentoring other young up-and-coming stylists. In fact, two of his protégés who also entered the awards went on to win their specialist categories on the night too.
Irene Shelley, editor-in-chief of Black Beauty & Hair magazine says, 'The economic climate has dealt a huge blow to services like hairdressing, but our stylists have proved their resilience and belief in their skills by entering this competition. Once again, the standard has risen, and the collections we saw are very creative and inspiring. We are very proud of our winners and would like to extend our congratulations to all of winners on behalf of Black Beauty & Hair.'
The full list of winners:
Stylist of the Year (sponsored by Sensationnel)
Lathaniel Chambers, Lathaniel Couture Hair & Beauty
Avant Garde Stylist of the Year (sponsored by Outre)
Emmanuel Esteban, Anne Veck Hair Salon
Barber of the Year (sponsored by Andis)
Michael Damiano, Image Barbers
Braid Stylist of the Year (sponsored by X-Pression)
Kimar Roache, Style Nation by Kimmy
Bridal Stylist of the Year (sponsored by Black Beauty & Hair)
Khadine Thomas, K J Academy
Colourist of the Year
Lathaniel Chambers, Lathaniel's Couture Hair & Beauty
International Stylist of the Year
Emiko Najima, Addition B, Japan
Natural Stylist of the Year (sponsored by Design Essential Naturals)
Gemma Moodie, Hype Coiffure
Newcomer of the Year
Kimar Roache, Style Nation by Kimmy
Northern Stylist of the Year (sponsored by Luster's Pink)
Deborah Daley, George Kosit Hair, Birmingham
Southern Stylist of the Year
Aycan Kemal, New York Hair Design
Styling Team of the Year
Junior Green Team, Junior Green Hair & Beauty
Weave Stylist of the Year (sponsored by The Feme Collection)
Lisa Farrall, Wig London