Young people can celebrate World Afro Day by entering a new modelling competition that helps them feel empowered about their afro hair
Are your little ones bored with being stuck indoors during lockdown? How do they feel about their natural hair? Youngsters aged from aged from 6 to 18, from around the UK, can now beat the lockdown blues by entering a competition that will help them feel empowered about their natural hair.
The Top Ten Modelling competition is organised by World Afro Day, which will be taking place on 15th September 2020. The annual event which first launched in 2017, is endorsed by the United Nations Office of the High Commissioner for Human Rights and embraces afro hair as natural, kinky, curly hair types of African descent.
Last year, WAD successfully launched the Big Hair Assembly (World Afro Day for Schools), where over 11,500 pupils signed up from eight countries. This year because of uncertainty in schools, organisers have decided to put families and children at the heart of what they do by launching the Top Ten Model competition.
The event's founder Michelle DeLeon says, 'Afro hair is not often considered beautiful by the modelling industry and there is still a stigma in society, but we want to turn this negative around!'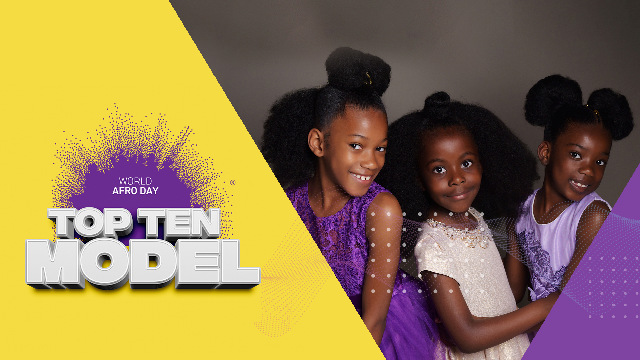 The competition is open to youngsters aged from 6 to 18, from around the UK. Organisers want them to tell their hair story using video clips on social media, as to why they should be picked as a World Afro Day, Top Ten Model.
The competition is not about breaking into modelling, but a chance for ordinary young people to feel empowered about their afro hair. The competition aims to be a body positive experience, with no height and size restrictions. Even entrants friends, without afro hair, can join in and show support, through a 'Cheerleader Clip.'
The judging panel includes US catwalk star Celai West, Scottish supermodel Eunice Olumide, and TV doctor Dr. Zoe Williams.