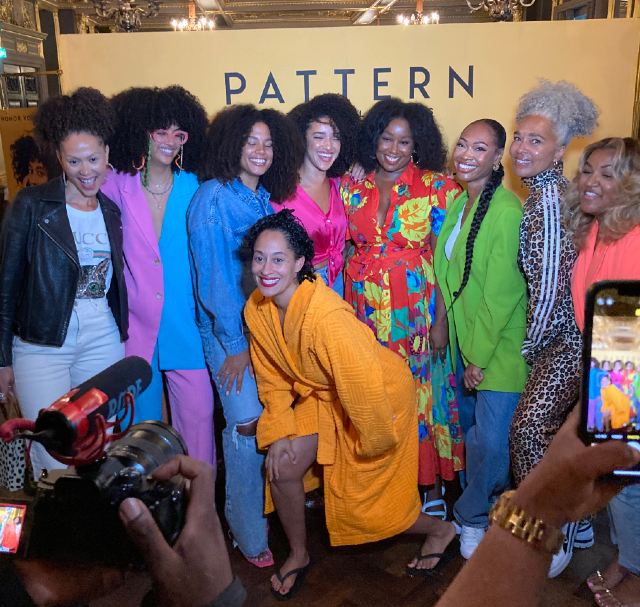 Beauty press and influencers joined Tracee Ellis Ross for the London launch of her haircare brand Pattern Beauty which is now exclusive to Boots
Tracee Ellis Ross, actress, producer and activist and star of hit series Black-ish was at te Cafe Royale Hotel in London to oversee the launch of her haircare brand Pattern Beauty which is now exclusive to Boots. Black-owned and black founded, Pattern was created to bring curly, coily and tight-textured hair to life.
The birth of a brand
After a lifetime of her own extensive experiential market research, Tracee recognised that there was a whole demographic of customers who, like her, needed products to support wearing their hair naturally that were not being served. Back in 2009, Tracee set out to create effective formulas to meet the needs of this vast community and to change how this community was marketed to. Despite facing ten years of roadblocks, she remained true to her vision and the promise of the brand. In 2019, she finally launched Pattern in the United States. And now following the hugely successful launch in the US and Canada, this innovative haircare brand is finally here in the UK!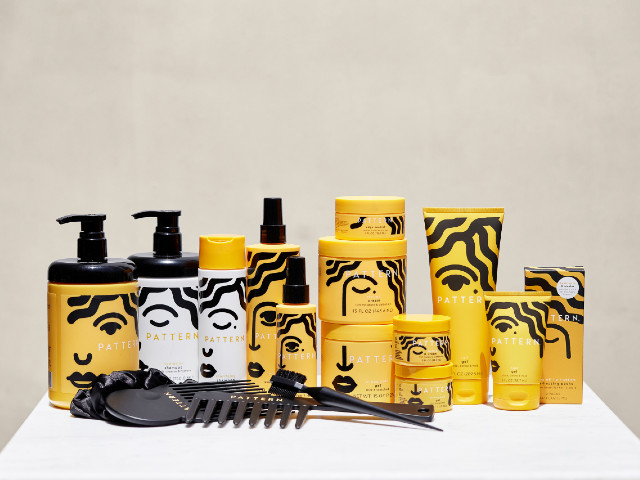 Tracee explained, "The brand was born out of my own journey with my hair and the realisation that the world was not mirroring back to me my own authentic beauty. The way my hair grows out of my head was not mirrored back as beautiful and I was not able to find products that were suited to me and that I could afford."
Pattern formulas provide nourishment for curls, coils and tight textures with nourishing ingredients including aloe vera, jojoba oil, shea butter and many more. Every detail of the collection has been thought through and designed with the textured hair community in mind. From conditioner tubes that are bigger than shampoos, (since we know curlies use way more conditioner than shampoo on wash day), to language that celebrates every wave, curl, coil and zig zag, Pattern aims to empower and celebrate those on the textured hair care journey.
Going over and beyond what you'd expect celebrities to do on their product launch, Tracee donned a swimsuit and gave us a demonstration on how she uses the Pattern products on washday with a rigged up shower on the terrace of the Cafe Royale Hotel.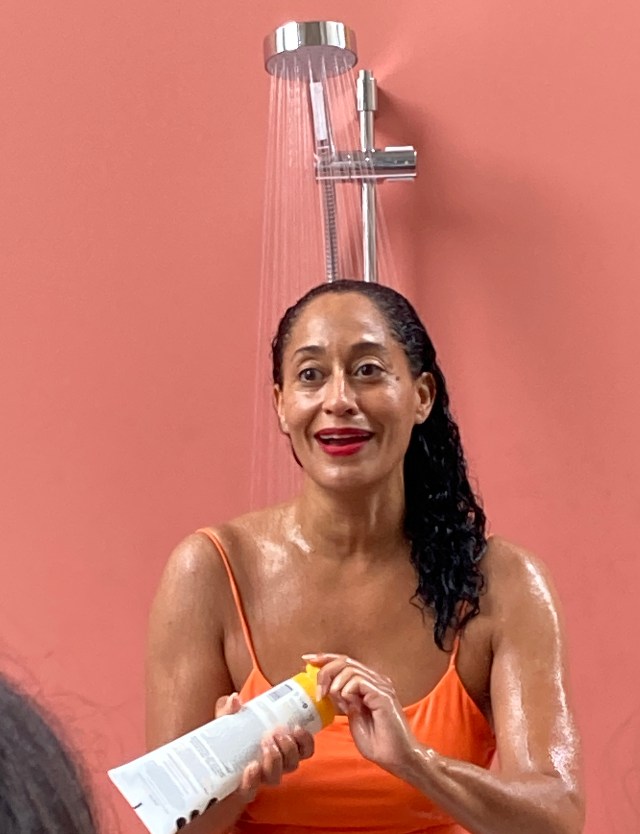 Boots don't stock the whole range yet, but the 14-piece assortment includes shampoos, lots of conditioners, styling products, styling tools and accessories.
"While not all of Patterns customers are Black, we have always been centered around the celebration of Black beauty," says Tracee. "With Pattern now being available in the UK, I am reminded of the importance of being a Black-owned business in one of the country's largest retailers. Today, we are one step closer to creating an industry where the curly, coily and tight textured community is no longer overlooked or overshadowed. Instead, it is centered and celebrated."
Pattern Beauty best-sellers
We always love the scoop on best-selling products and recommendations and asked Tracee what her favourite* products from her range are: "The Pattern Leave-In Conditioner (£25/289.8ml) is my holy grail, she explained. "Also, the Styling Cream (£25/443.6ml). You can bantu knot, swoop, swirl, braid, twist, knot, bun. You can do it all with this. And of course, the juicy and joyful Hydration Shampoo ($20/9.8 fl oz.) is also one of my favourites. The Pattern Treatment Mask ($25/15 fl oz.) strengthens the cuticle. It will make your hair strong, and shiny! Your hair should shine, that means it's healthy! Finally, the Edge Control ($12/4 fl oz.) will give you the hold that you need, but also continue to nourish your hair."
Whether you wear wigs or weaves, you can use the products underneath so that in your own sacred time you are caring for and loving your hair

Tracee Ellis Ross, founder of PATTERN Beauty
*Some products mentioned are only available on Patternbeauty.com
✶ You may also like ✶