Wella Professionals' two new in-salon services Express Silver Glow and Silver Glow by True Grey will help revitalise naturally grey hair and put you in the cool school
Grey hair is super on trend and has been over the past few years. The rise of grey hair is a conversation developing amongst influencers like @K_adore and @silverismynewnormal and the hashtag #greyisthenewblonde show that embracing your grey hair can make a statement.
With Ultimate Grey being one of the 2021 Pantone Colours of the Year, this hair colour is proving more popular than ever. Grey looks great on both men and women of all ages (particularly older clients who may want to embrace their natural greys) and can be tailored to suit the individual and their skin type.
Celebrities like Rihanna, Arianna Grande and Lady Gaga have been seen sporting grey tresses, showing that young people now view grey in a different way. Instead of being ageing it looks edgy and fashionable.
Statement grey
According to Zoë Irwin, Wella Professionals Colour Trend Expert. "It's been a slow-growing trend for the past decade, but now grey hair is well and truly having a moment. With well-known celebrities choosing to embrace their own grey hair, I see what I call 'statement grey' being one of the macro trends of the next decade."
"But once your hair is grey, it does not mean you can forget about it. It can go yellow, be patchy and dull and what's available for us now – going back to hair colour and purple shampoo – are not great alternatives. But now there is something for natural grey hair that has taken the scientists at Wella four years to perfect. It's a brand new in-salon service with breakthrough technology and it's going to change how we see grey hair forever."
Wella Professionals have two in-salon services to revitalise naturally grey hair – Express Silver Glow and Silver Glow by True Grey. Both treatments have been created to combat the issues that people with naturally grey hair can have – yellowing, patchiness, too much white, and hair that can be difficult to manage.
At the moment there are two options for people with grey hair who are unhappy with the way it looks – purple shampoo or going back to traditional hair colour. Until now there has been nothing in-salon for hairdressers to offer this growing market. And as Zoë observes, "Grey hair needs a treatment to bring out it's true beauty. The key to this colour to enable it to look its best is that the hair has a glossy shine to help enhance the colour."
True Grey treatment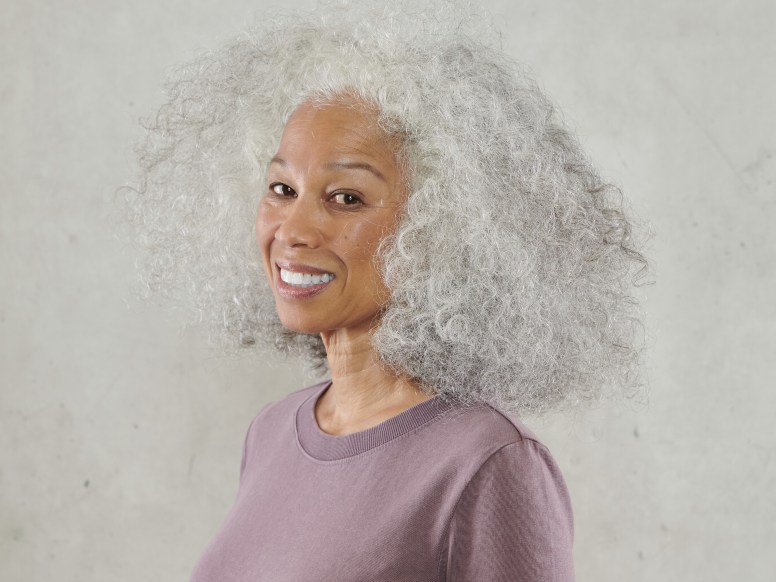 True Grey contains a brand new technology called Aqua Tone (patent pending) that has the same pH of water (pH7) and mimics the natural hues of grey hair. The technology deposits grey tones to enhance naturally grey hair, but will not permanently change the colour of hair – there is no commitment as the colour fades away naturally and there's no damage to the hair.
Grey specialists
Grey specialist @jackmartincolorist can take up to 12 hours to create beautiful grey looks on his clients with or without grey hair. But with this new Wella technology, bespoke grey hair can be achieved by your hairdresser in a couple of hours using the different colour tones and colour placement to create depth and interest. It's particularly beneficial to grey textured hair as the treatment offers more curl return.
Zoë predicts, "I see grey colour specialists becoming as sought after as balayage colourists as more and more clients decide to embrace their greys."