Prepare for holiday sales with trendy Christmas hairstyles. Follow our guide for resellers, explore Vietnam Human Hair, and boost sales with Top 3 vendors!
THIS POST IS FOR WHOLESALE HAIR SELLERS ONLY!
Are you a wholesale hair reseller, a salon hair extension owner, a local hair supplier or anyone planning to start a hair business? Then, your hair sale season – Christmas is coming!!! Have you made up your mind how to best prepare for this special occasion? If not yet, don't worry, as we are here to give you the best plan!
All you need to consider, from hot trend Christmas hairstyles, perfect timeline for hair in ordering to popular hair sellers' issues at Christmas will be now clearly explained.
1. Why hair resellers should early prepare hair for Christmas
Especially in the European, American markets, women in these countries always choose to buy hair extensions to beautify on major holidays, this is the fastest and most effective way to change their appearance. help them enjoy the best holiday.
Thanks to the increased demand, it is extremely reasonable to store hair extensions to be ready for the holiday season. With rapid consumption, you can fully supply customers with all different needs if you have stock. This is something that every business considers during the year-end holidays.
Allowing time for quality control: By ordering early, resellers have ample time to inspect the products, check for any defects, and address any issues with the supplier before the holiday season begins.
Marketing and promotions: By preparing early, hair resellers can plan their marketing strategies, create engaging content, and schedule promotions well in advance.
Managing inventory and fulfillment: Having a well-organized inventory system is essential for efficient order fulfillment. By preparing early, hair resellers can ensure they have enough stock on hand and avoid the risk of running out of popular products during the busy Christmas season.
Many deals and promotions: Hair suppliers offer many deals for Christmas orders, especially with pre-orders so you can save cost when ordering hair for Christmas early.
2. Detailed plan to prepare hair for Christmas
2.1. Determine Christmas hairstyles to prepare for Christmas
Christmas hairstyles are always in demand, so it is important to be on top of the latest trends. Below are some suggestions of hot-trend Christmas hairstyles you can consider:
Bone Straight Bulk Hair: This is an extremely popular hairstyle among European and American women. Besides, women also love outstanding hair colors for Christmas, so bone straight hair will definitely be great for your customers.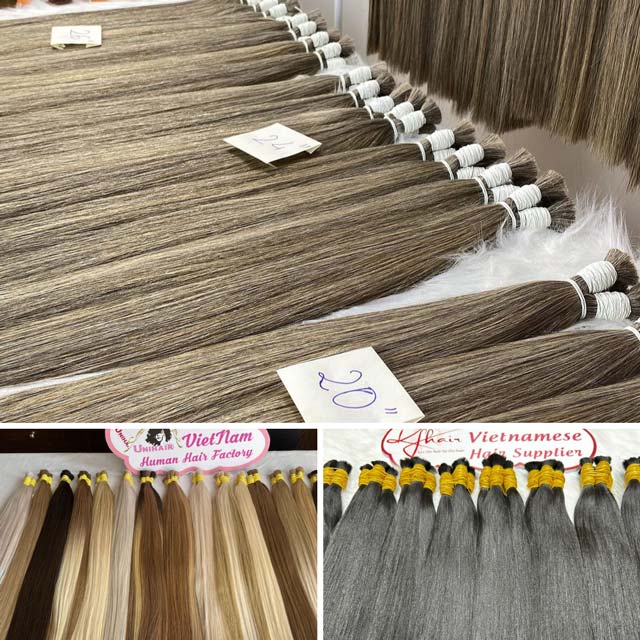 Curly hair: Customers from European and American also prefer colored curly hairstyles. The most popular choice of curly Christmas hairstyles are deep curly, kinky, water curly, burmese curly,….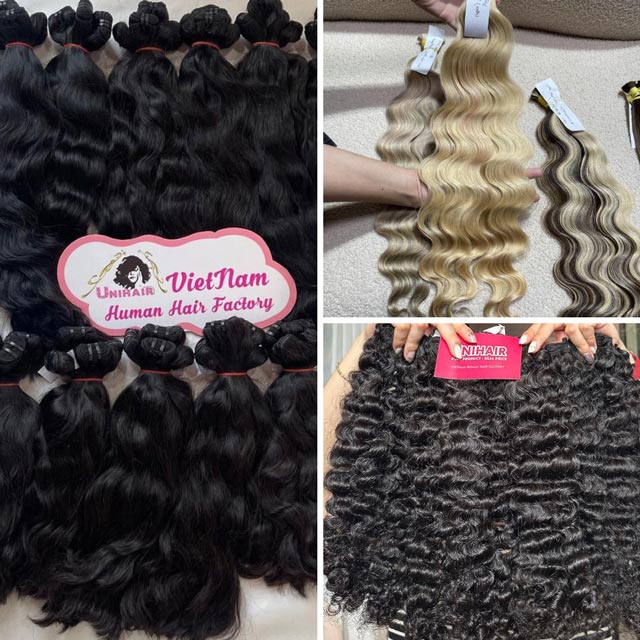 Extension: The European and American market saw a rise in demand for a variety of hair extensions, including clip-ins, tape-ins, sew-ins, and more. Customers were looking for extensions that matched their natural hair texture and color, providing a seamless and natural look.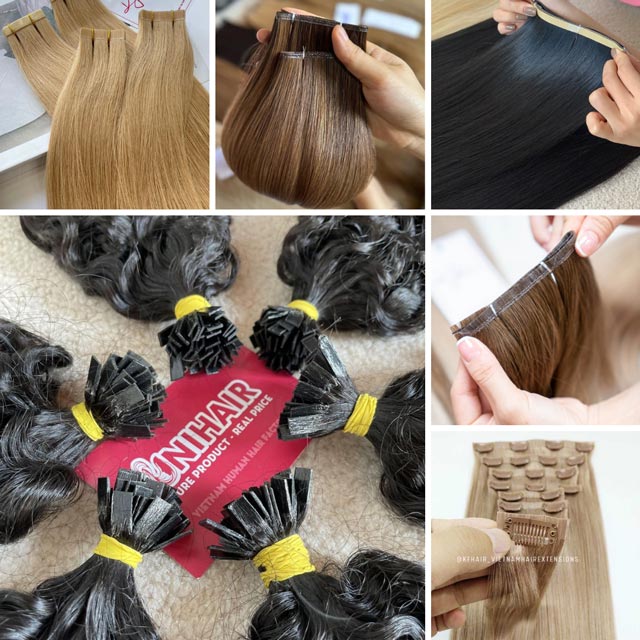 2.2. Create a timeline of ordering hair for Christmas
To ensure that you have the hair ready 2-3 weeks before Christmas, it is best to order hair for Christmas from now. This is because it takes around 20 days for a factory to produce a bulk order of hair, and the shipping time can take 3-5 days to the European or American
2.3 How is Vietnam Human Hair the greatest option for Wholesale Hair Vendors in the European and American market?
To be more specific, Vietnamese Hair Extension is the largest provider for the European and American market. Vietnamese Hair Factory was recognized as an official providing partner by more than 80% of Wholesale Hair Vendors in the European and American, and a protracted contract was inked.
About the qualities of Vietnamese hair:
● Raw hair is primarily taken from villager's women aged 18-25 who live in the highlands where their hair is not harmed by sunshine.
● Their hair is as long-lasting and robust as the donor's health (mountainous people).
According to the characteristics of Vietnamese hair:
● Vietnamese ladies seldom straighten or bleach their hair
● Be thick, soft, and silky – Addition to its potential to keep curling as well as its smoothness, this hair is in high demand.
Vietnamese hair categories are as follows:
● Single drawn hair, double drawn hair, and super double drawn hair were all separated into three levels.
● A few real hair manufacturers use fourth grade hair, which is also known as VIP hair.
Skilled Workforce:
Vietnam has a skilled workforce experienced in the art of hair processing and extension making. These skilled artisans ensure that the final product is of top-notch quality, meeting the high standards of the European and American markets.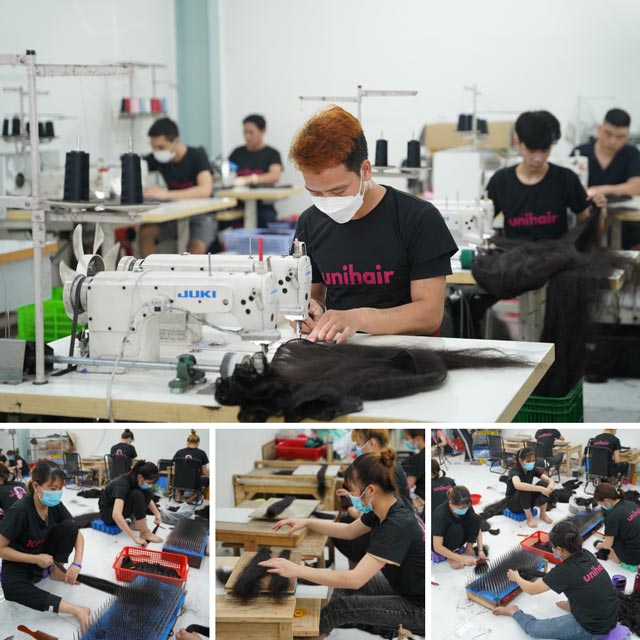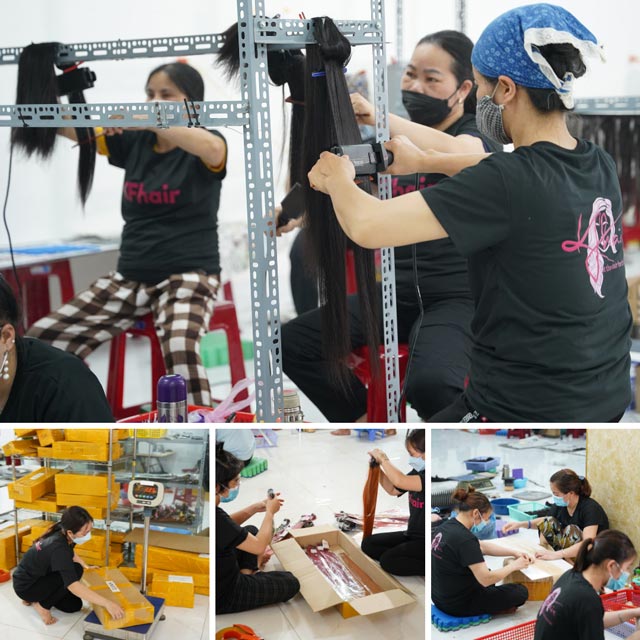 2.4 Where do the Hair of European and American Vendors come from?
The following content is the recommendation of the Top 3 Biggest Wholesale hair vendors that supply the hair extensions for European and American Hair Vendors. All the prominent ones are from Vietnam. You will see that Vietnamese hair factories can completely meet your demand.
Kfhair is one of the top companies in the human hair industry. Offer top notch quality hair, hair is not chemically treated. Currently, Kfhair employs over 1000 cooperators in the world.
Hair extensions are a high quality product, trusted by our wholesale professionals that want to find the greatest hair products for their customers and enable them to shine at all times. There are many different types of hair extensions, including tape-in hair, clip-in hair, U-tip, I-tip, V-tip, ponytails, micro rings, nano rings and halo, etc.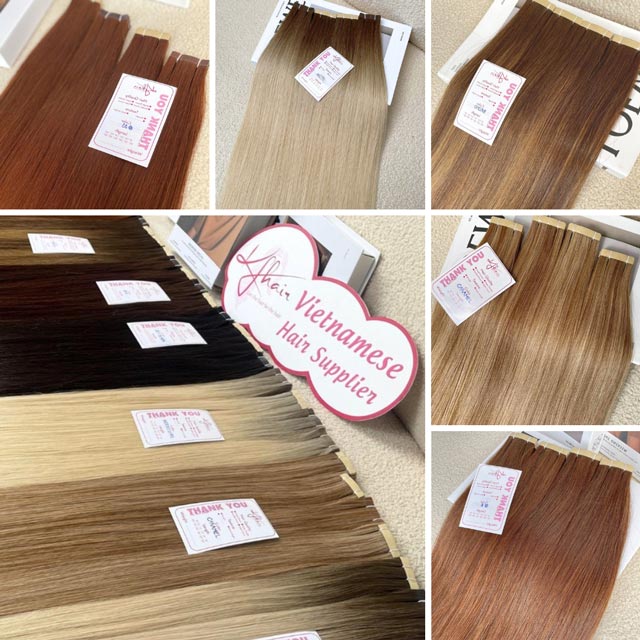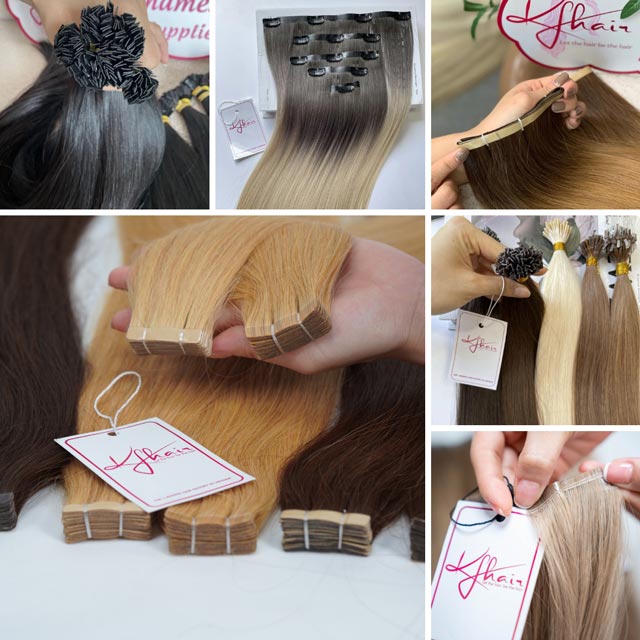 At Kfhair, Bulk hair retains its natural state, meaning it hasn't been chemically treated or altered. This makes it highly adaptable for different styling and application methods.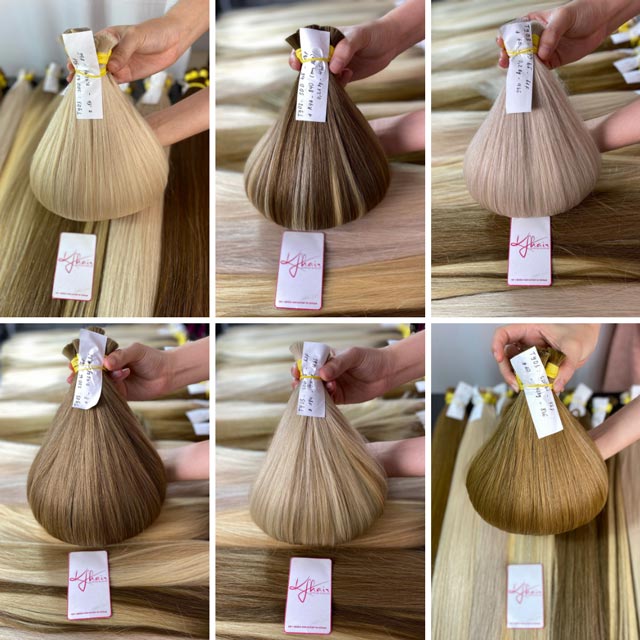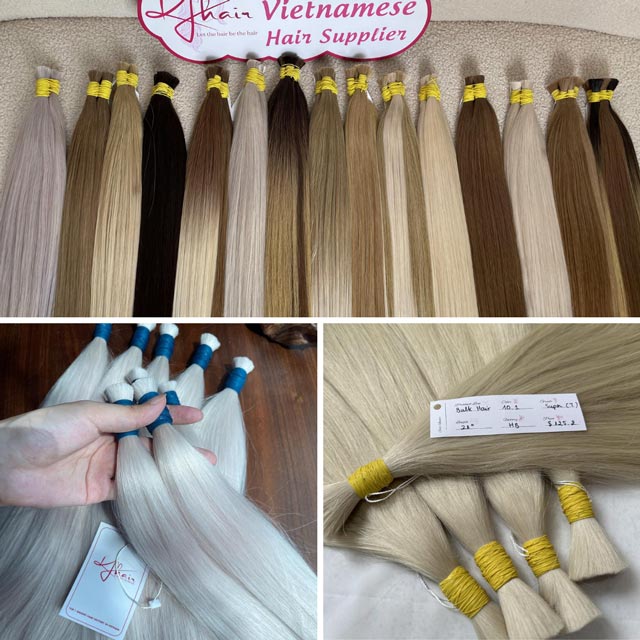 Promotion: XMAS
3 – 5kg Discount $50
5 – 10kg Discount $75
10 – 20kg Discount $100 + 1 bob wig 10″ (black)
Over 20kg Discount $200 + 1 bob wig 10″ (black)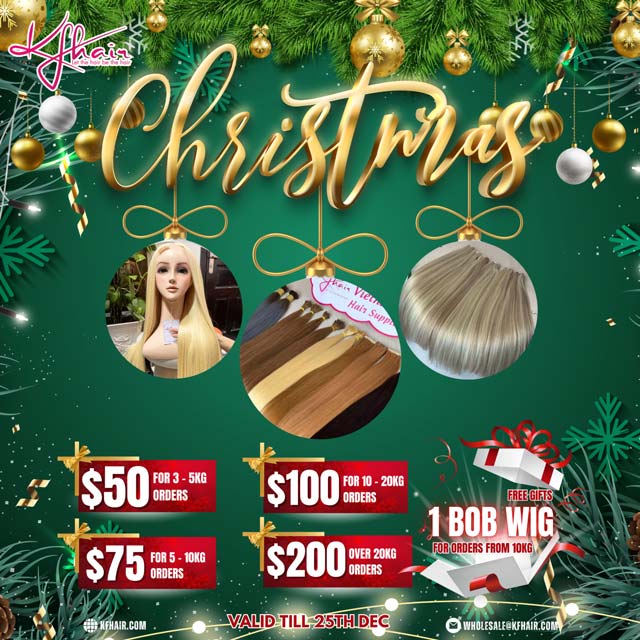 Contact:
Unihair Factory is one of the top wholesale hair suppliers in Vietnam, is an internationally known brand with retail stores and distributors throughout the world, especially in Europe and America.
With many years of experience, we are receiving positive feedback from customers all over the world. Unihair's slogan is "Pure product, Real price". They alway give you an opportunity to experience top quality Vietnamese hair at affordable prices.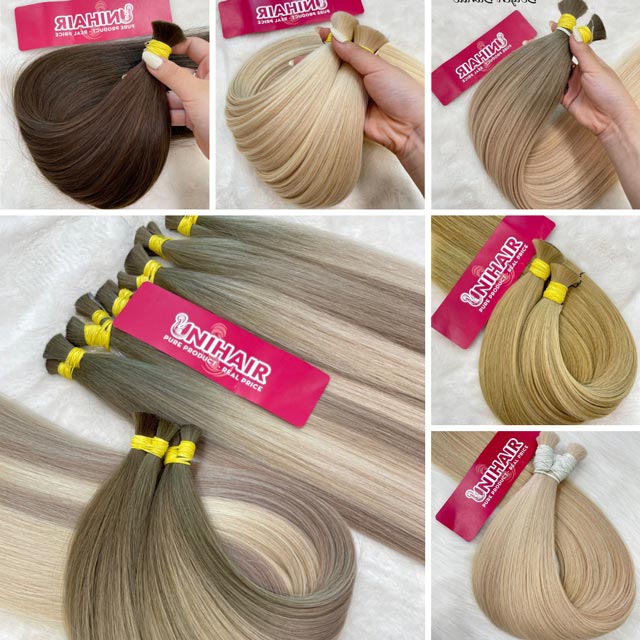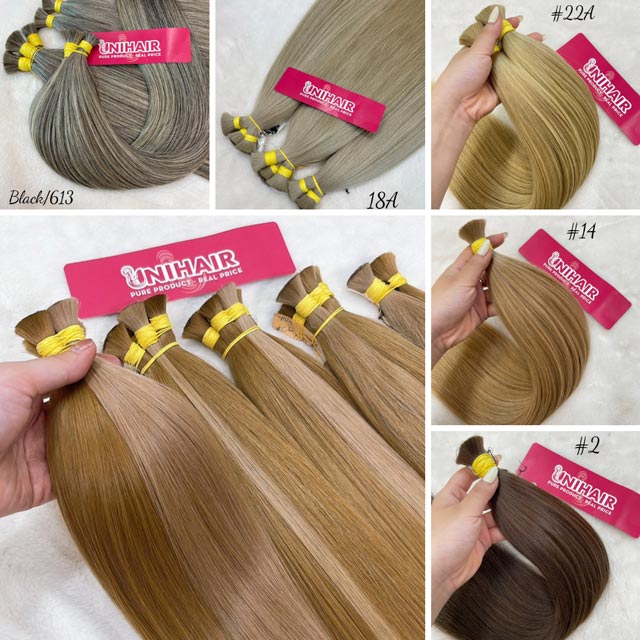 Unihair supplies all types of Extension, tapes-in, tips in, clips, ponytails, halo, wigs, topper & toupee, and more made from raw Vietnamese hair.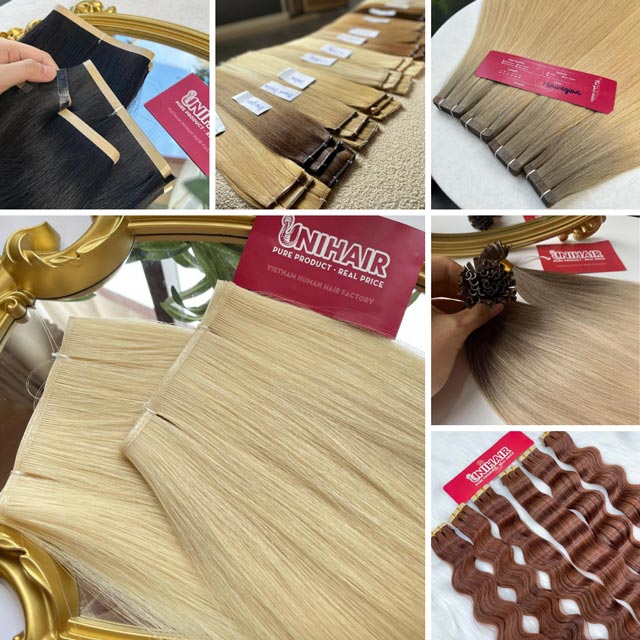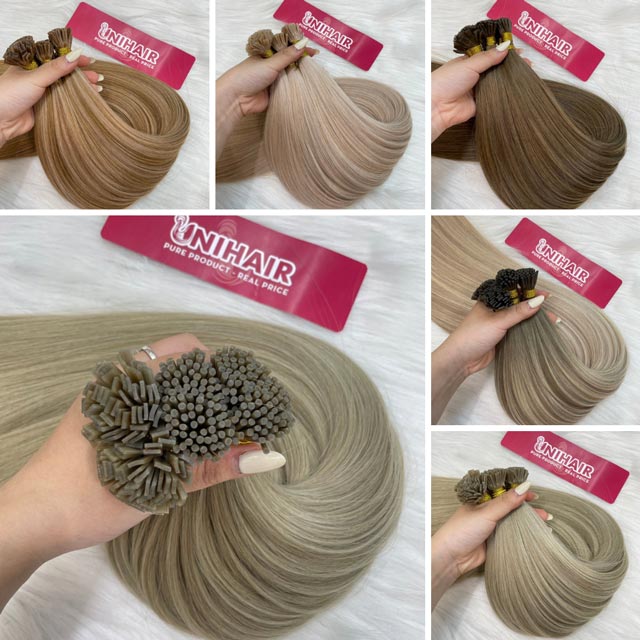 Unihair's curly hair from one donor is a premium and coveted hair type that promises unmatched beauty and consistency. The uniqueness of curly hair from one donor lies in its natural bounce, defined curls, and lustrous appearance, making it a top choice for those seeking a glamorous and effortless look.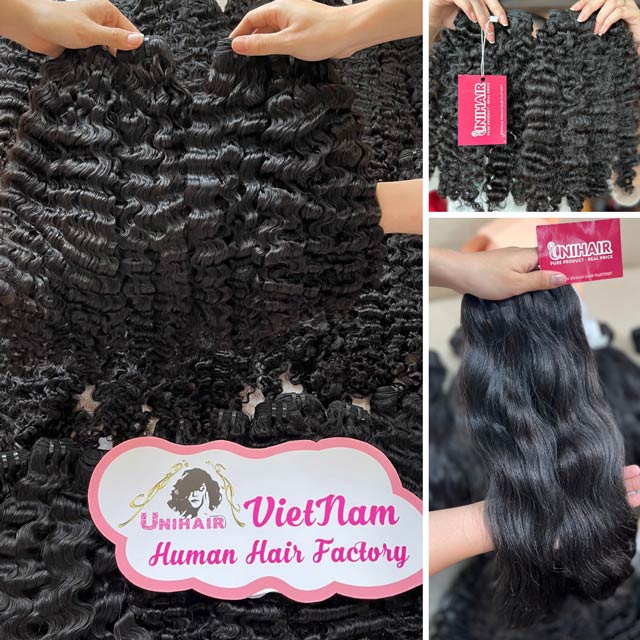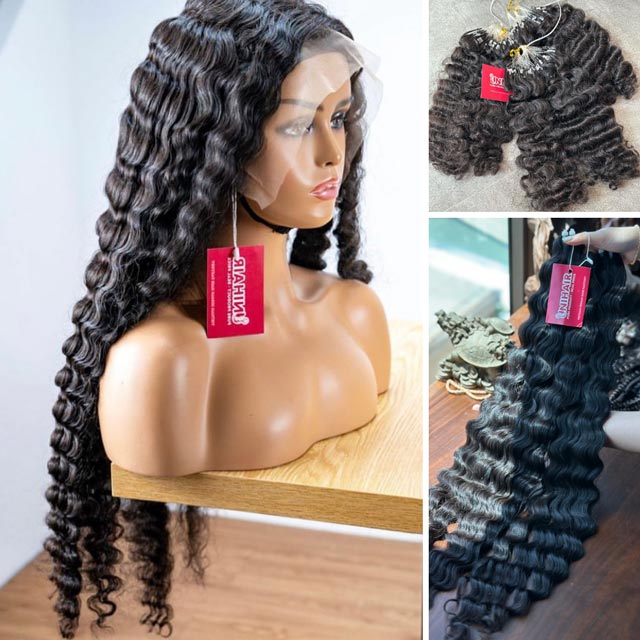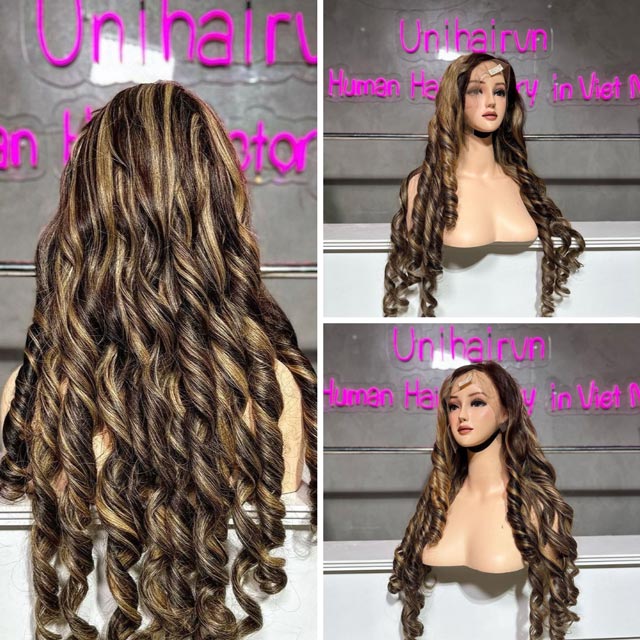 With their fame, they participated in the International Hair Fair in China to show Vietnam Hair products. At that fair, lots of European customers were very impressed with their high quality products and customer service.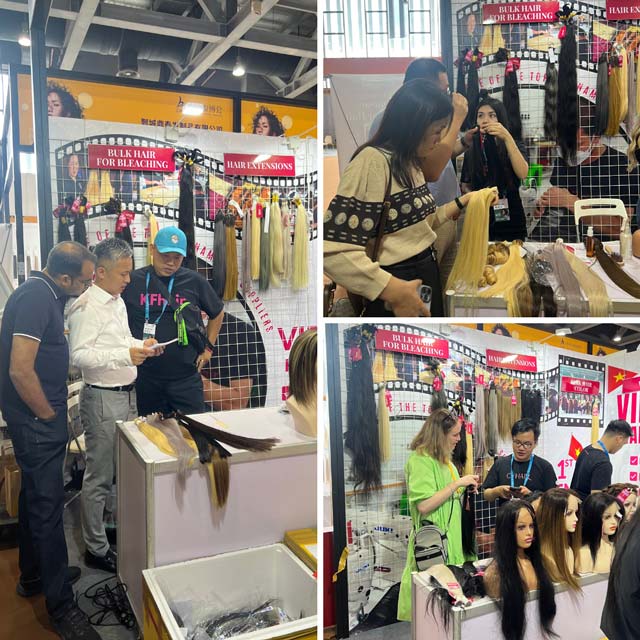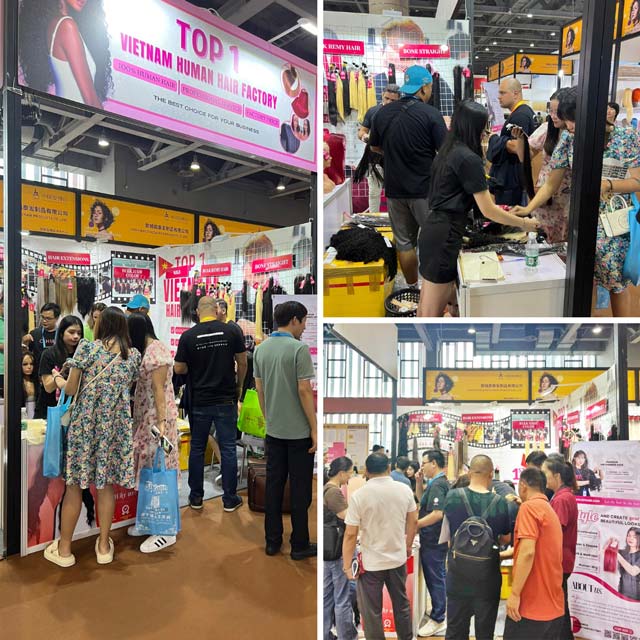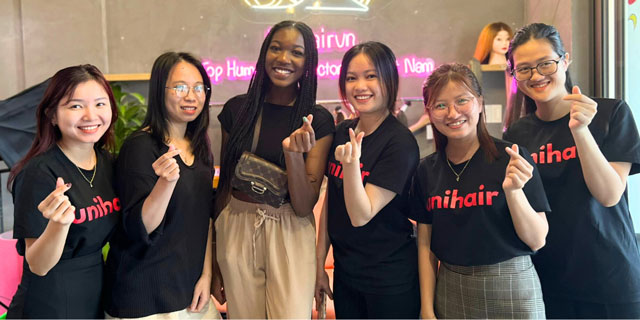 Visit website Unihairvn.com to explore the wide range of human hair products available.
8hair sources only the finest, 100% natural hair. Each strand is meticulously treated to maintain its natural shine, strength, and softness. They have the ability to handle large orders, especially during peak seasons like Christmas with the latest technology for efficient and high-quality production
Bulk Hair: 8hair – a leading human hair manufacturer in Vietnam is proud to be a supplier of high-quality bulk hair at factory direct prices.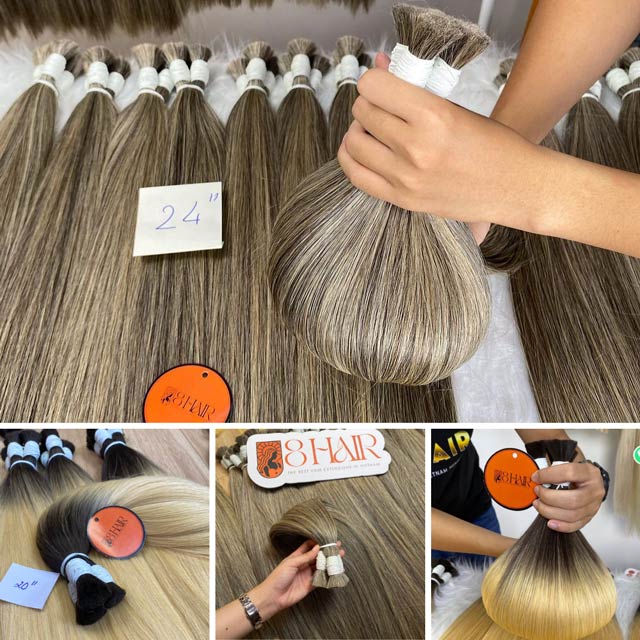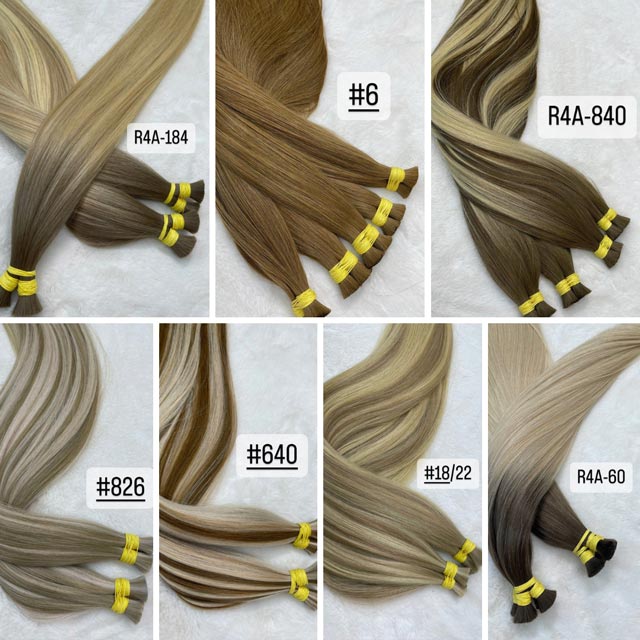 Curly and straight: these are popular Christmas hairstyles in European and American countries. Customers from these countries prefer the natural texture in black color or cool tones.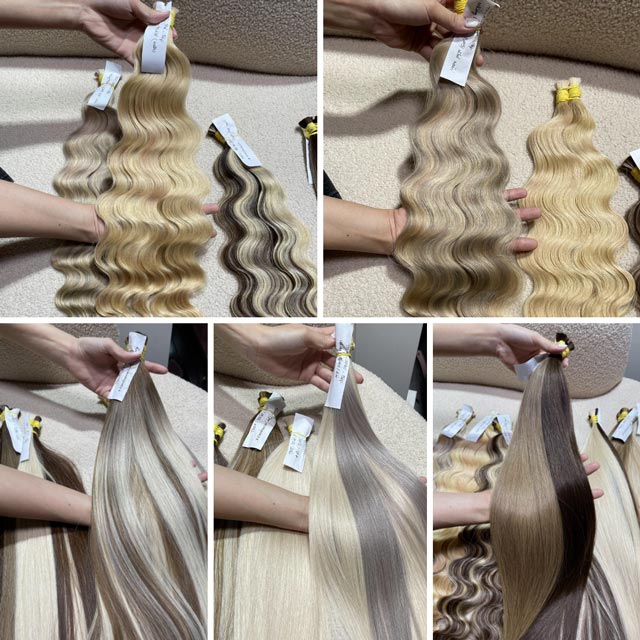 Extension: 8hair's factory always quickly updates the trending hairstyles, thereby creating hair products with eye-catching designs and hot trend colors to meet the beauty needs of every customer.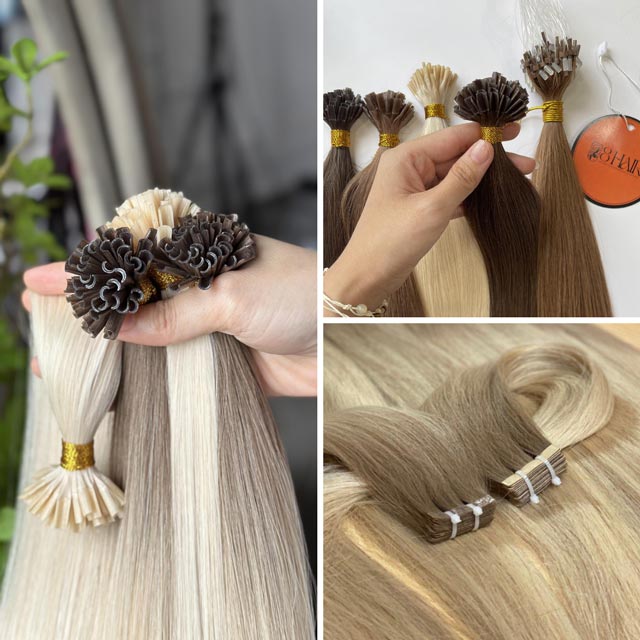 Promotion: Enjoy a whopping 50% OFF on shipping fees for all your festive orders.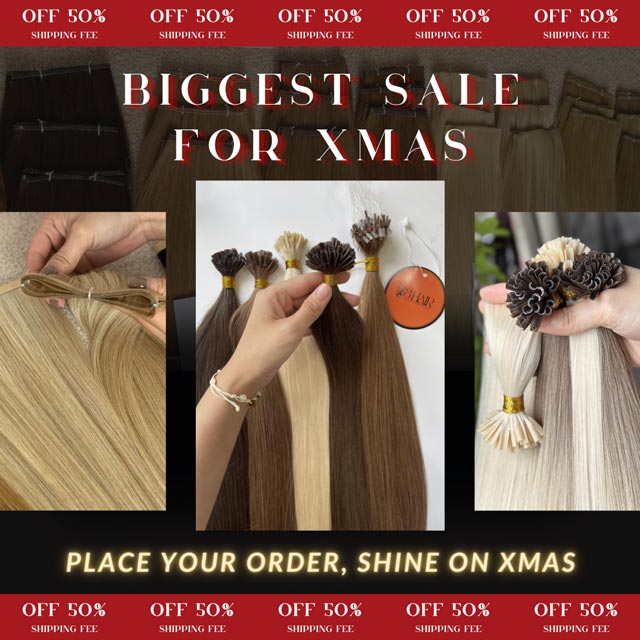 Xmas – Place to order Promotion
Contact:
Conclusion
The key to success is selecting a hair distributor. The correct actions may help your company grow, but the wrong ones might wreck your career. Instead of dealing with low-quality hair or untrustworthy suppliers, the first step should be a thorough search. With the Top 3 Vietnam hair factories in the United Kingdom, you can add three more important options to your list.
Christmas is a great time to increase sales for your hair business. Therefore, in order to make the business more convenient, you should prepare the source of hair products carefully to provide to your customers. We hope that the knowledge we have mentioned above will help you do business effectively during Christmas in particular and major holidays in general.