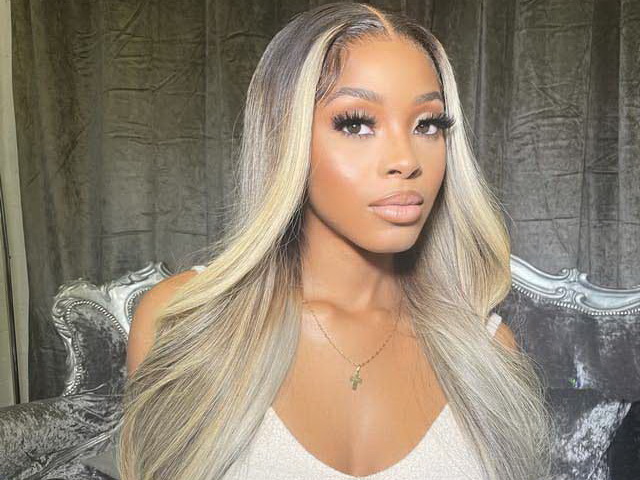 Is it really true that blondes have more fun? Get ready to answer this popular question for yourself all summer long with these insanely fierce golden looks!
Have you been pining over platinum tresses lately? Are you itching to give sunset golden locks a try? Blonde hair, with its amazing glow against any skin tone, is the perfect way to sashay through the summer in style. Not only does blonde hair make you stand out from the crowd, it looks its best when kissed by the sunshine. Blonde even enhances other hair colors, allowing you to play around with ombre ideas for a vibrant blend that is absolutely gorgeous!
Is it really true that blondes have more fun? Get ready to answer this oh-so popular question for yourself all summer long as you satisfy the craving to switch up your hair with these insanely fierce golden looks! In no particular order, here are 14 blonde wigs that are hot enough to rival the sun:
The Top 14 Blonde Hairstyles of the Summer
1. Swept Honey Blonde Side Part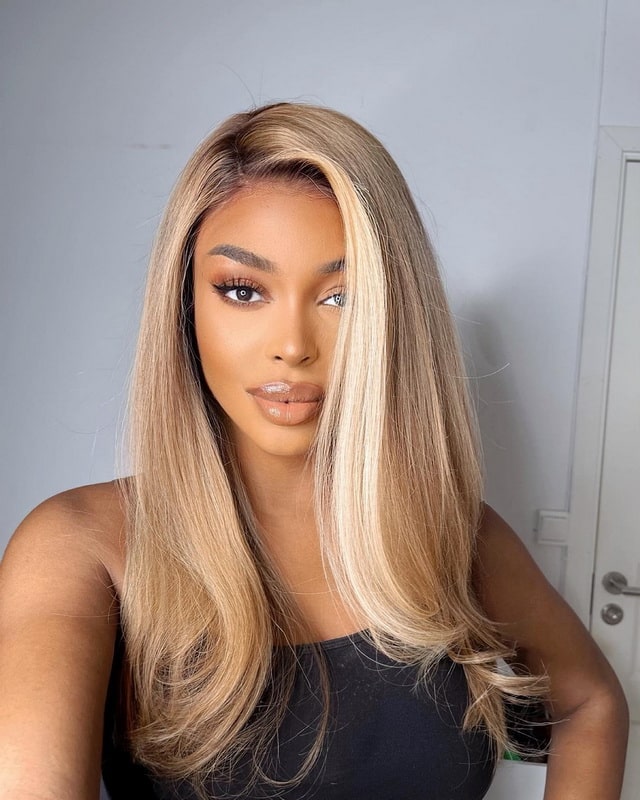 If you like your lace front wig with a soft, elegant flair to it, the Swept Blonde Side Part is the perfect look to kick off the summer festivities! By sporting gently flipped honey blonde tresses and a trendy side part, you will highlight your beautiful facial features – you'll fall in love as your hairdo accentuates your eyes and jawline. Try pairing your golden shoulder-length hair with dark roots for a natural-looking finish.
2. Blonde Highlight Coily Bob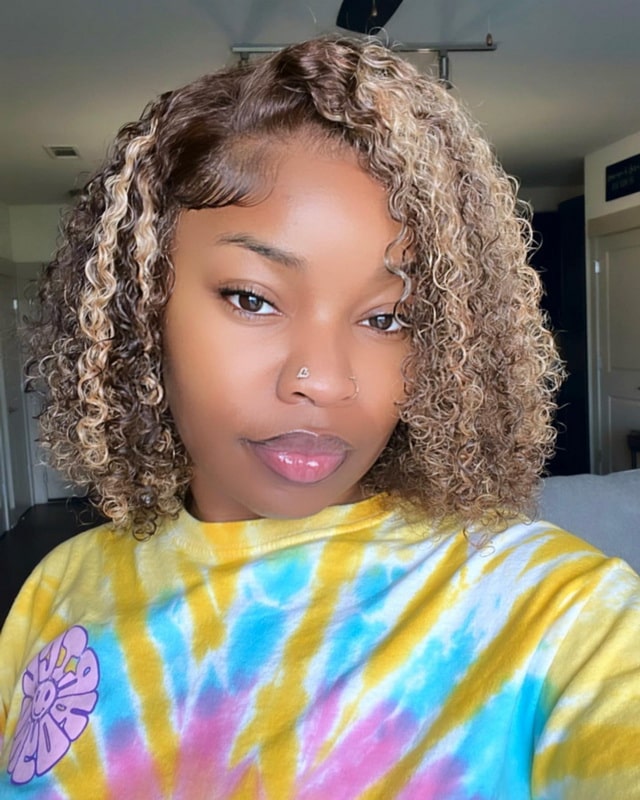 Of course, summer brings plenty of heat, and with extra heat, you can certainly expect lots of sweat! If you are tired of humidity turning your long locks into a damp, matted mess, try going with a short style during the hotter months. The versatility of the bob is one of the reasons why it has remained a forefront in hair fashion and this summer definitely will follow suit! Try an alluring, dark-hued coily bob kissed by bright blonde highlights.
3. Honey Blonde Front Highlight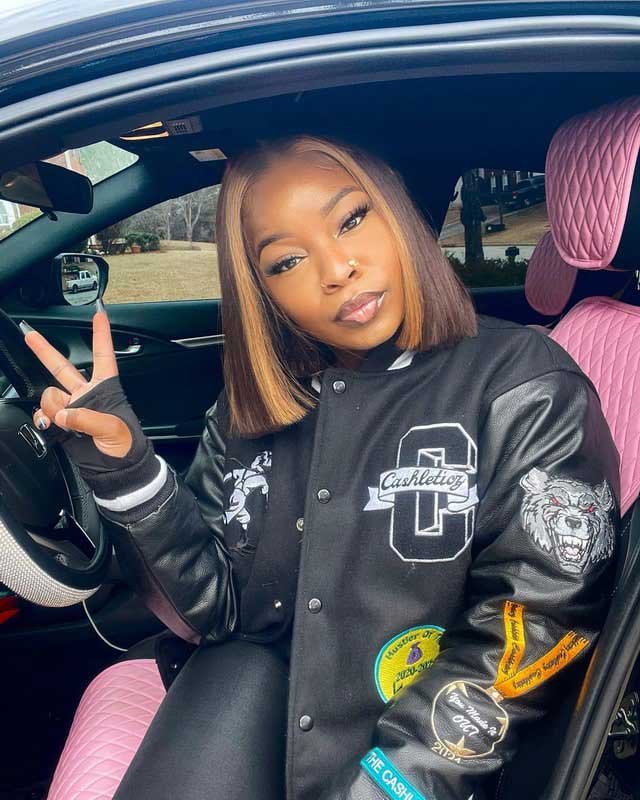 Just because you want to take the subtle approach to golden locks doesn't mean you can't still turn heads! Blonde highlights are just as effective as a head full of blonde coils or waves, bringing elegance to any style. Pair a shoulder length, blunt cut bob with raven black or chestnut brown tresses. Seal the deal with honey blonde highlights resting only in the front of your wig for some extra unique pizzazz.
4. Honey Blonde Wavy Bob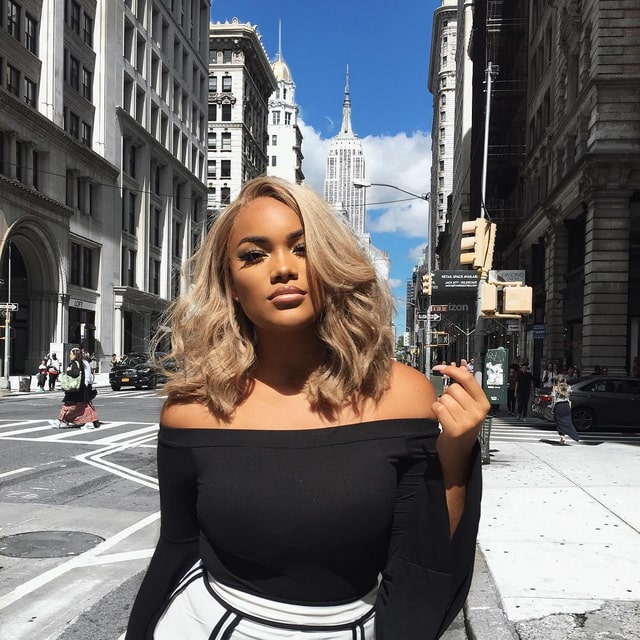 If you want to make a few waves of your own, adding a bunch of them to your crown is a sure way to get the attention of anyone in your vicinity! Try switching up your look with a honey blonde wavy bob lace front. As the sun bounces off of your loose tresses, bringing out each different hue hidden in your blonde blend, you'll see why beach waves and honey hued hair are such a phenomenal pair.
5. Bone Straight Platinum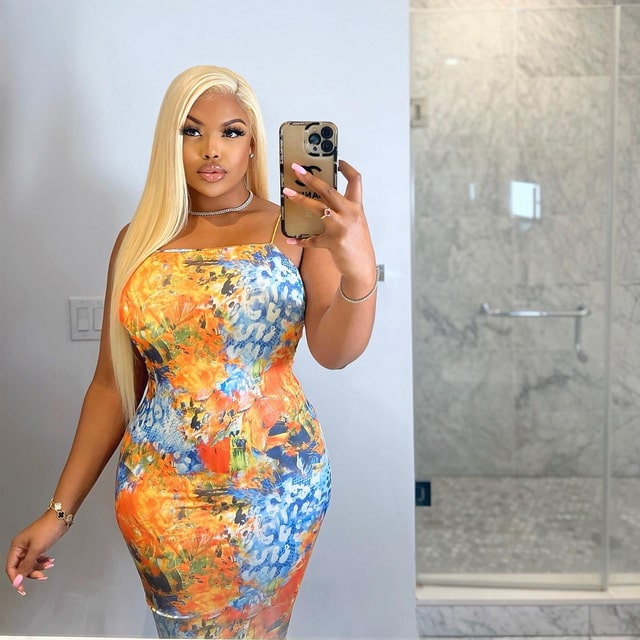 There's something about bone straight, platinum tresses that screams "no nonsense." (Not to mention they also look great whipping in the summer breeze!) Instead of going for a look with blonde ombre or highlight, how about making it the star of the show? For a fun mashup of "material girl" and "business babe," try pairing alluringly bright and lengthy blonde locks with a haute side or middle part. Up the ante by styling the baby hairs on your lace front wig for an added flirty charm.
6. Honey Blonde Ombre Middle Part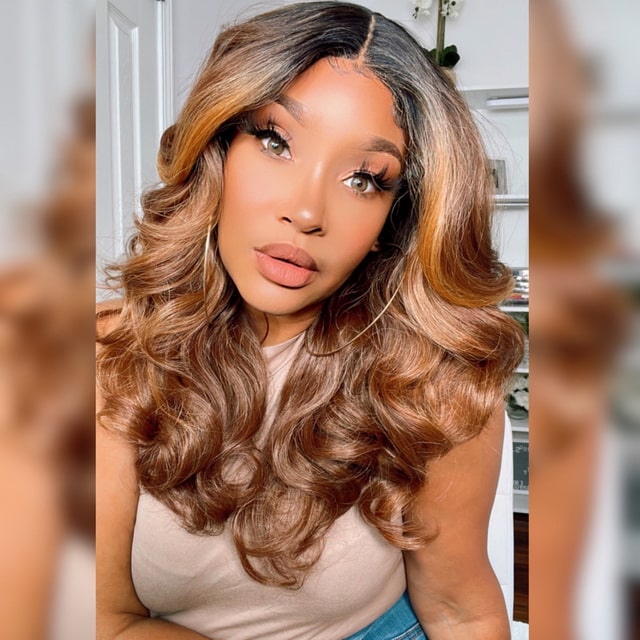 Speaking of bone straight tresses, they happen to look amazing in any shade of blonde. Are you a fan of gradually easing into a different look? If you would rather try a simpler approach to your new beach blonde style, how about starting with dark roots for a honey-hued ombre blend? This playful transition allows you to enjoy the fun of brightly tipped tresses while giving a natural flair. Pair them with a middle part for easy styling and a flawless meltdown.
7. Ash Blonde Bob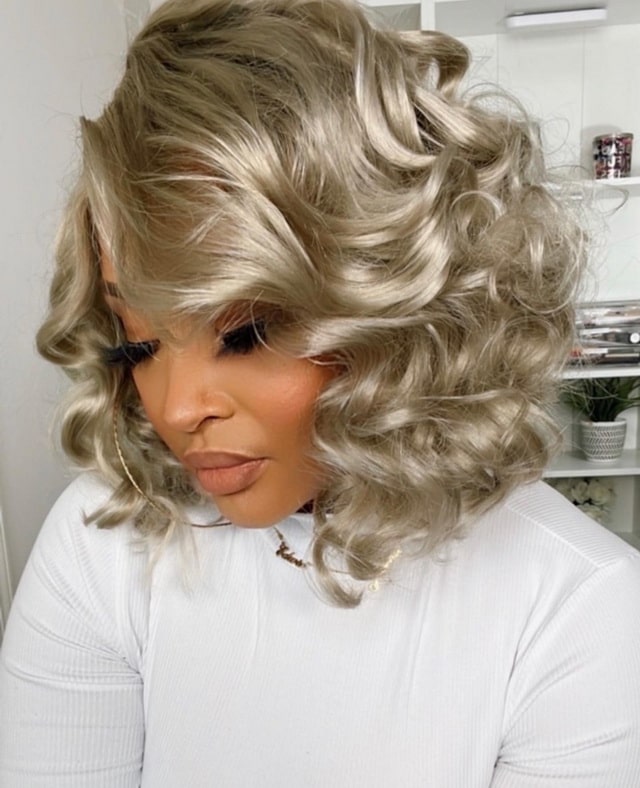 With a shoulder length, ash blonde bob, you'll be ready to slay all year 'round – how neat is it when a style is cool enough to serve during the winter and spicy enough to become the topic of conversation at the family barbeque during the summer? This look gives you the opportunity to sport a head of icy tresses without the extra length. If you don't have a bright, sassy bob in your lace wig collection, it just isn't complete!
8. Golden High Pony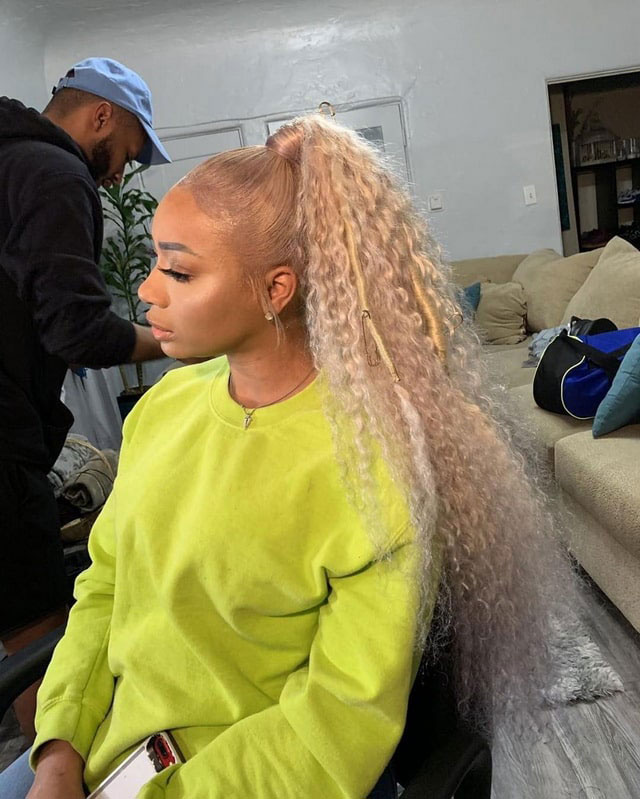 Golden locks look absolutely breathtaking when lengthy as well. Instead of a short icy pixie or blunt cut bob, how about choosing a wig option that serves flowy tresses for days? Are you a fan of long hairstyles, but hate dealing with hair whipping in your face throughout the day? Turn heads by pairing golden blonde locks with a fashionable high ponytail. Go for a classic, naturally blended straight hairline, or style your baby hairs to show them you mean business!
9. Ash Blonde Side Part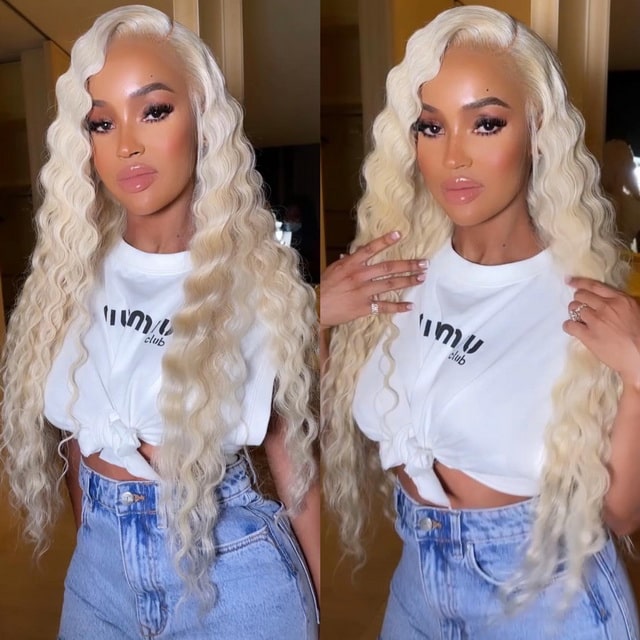 Now, who says golden girls get to have all the fun? If you want a hair hue that has a little more brightness than golden or honey blonde, you should take a chance on silky, ash blonde tresses for the summer! Leave your lace wig straight or throw in a few crimps to show off the shiny, lustrous appeal of the human hair. Pair your locks with a side part, letting your hair swept near the eye for a little added mystery and allure.
10. Blonde Body Wave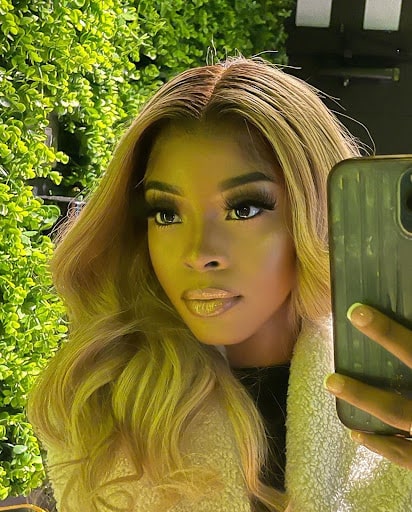 Are you worried about your blonde not being truly believable? If you prefer your wigs with a natural finish, choosing dark roots will aid with the process of achieving a convincing, undetectable blend. Be the talk of the town and heat things up with voluminous, shoulder-length, loose golden tresses! Make sure you choose a wig with dark brown or black roots for a salon quality finish.
11. Blonde Ombre Wavy Bob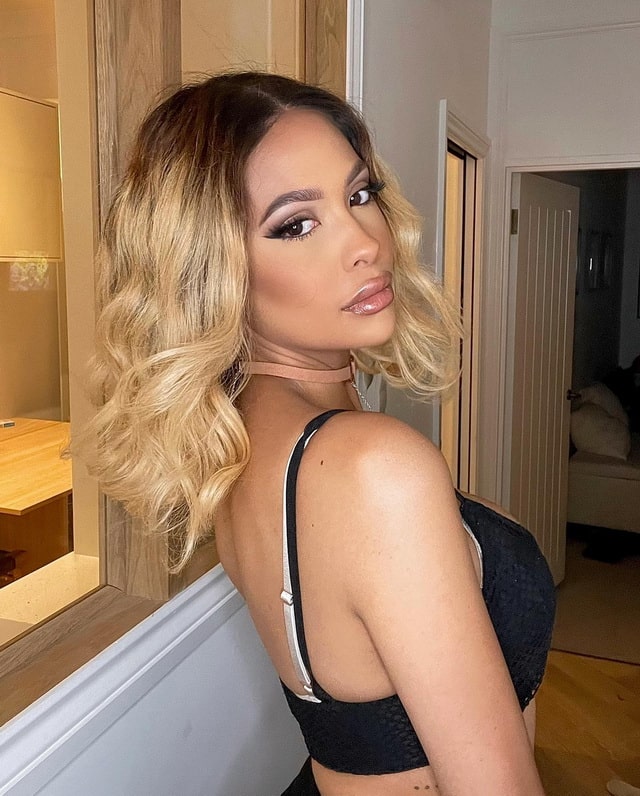 Keep the waves coming all summer long by wowing your friends with a few of your own. If you love a head of curls, but don't like them too tight and restricted, opt for a loose wave instead. Also, if you are skeptical about trying a whole head of blonde, choose a wig that showcases dark, natural roots. Instead of creating a blend with platinum blonde, try an ombre look that features a playful transition from chestnut brown to golden blonde.
12. Blonde Peeking Highlights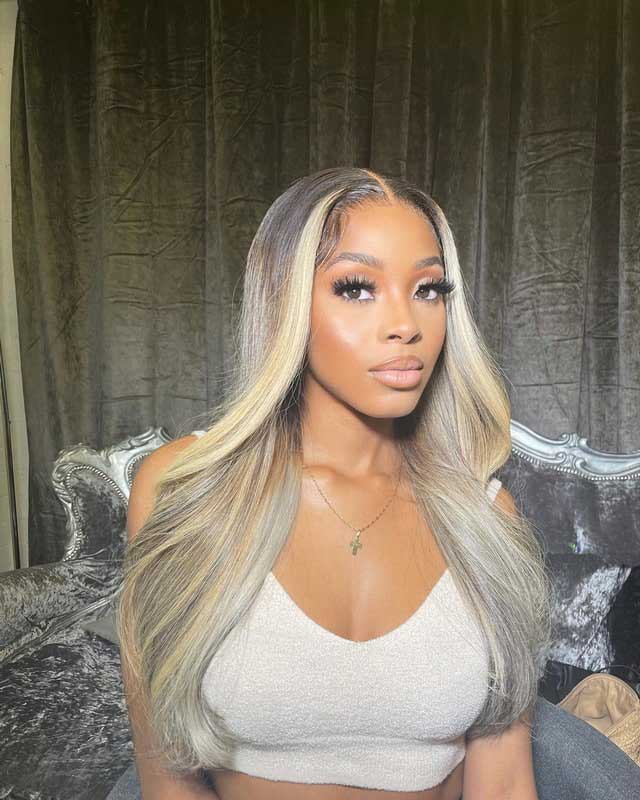 Are you dying to switch up your look, but want to take the "back to basics" approach? The good thing is if you want to change your tresses this summer, your new look doesn't necessarily have to be drastic. Give your friends a little tease of blonde by sporting a lace wig with shoulder length, jet black tresses kissed with blonde highlights. You'll love how the peek-a-boo effect manages to still turn heads without causing too much of a ruckus.
13. Golden Strip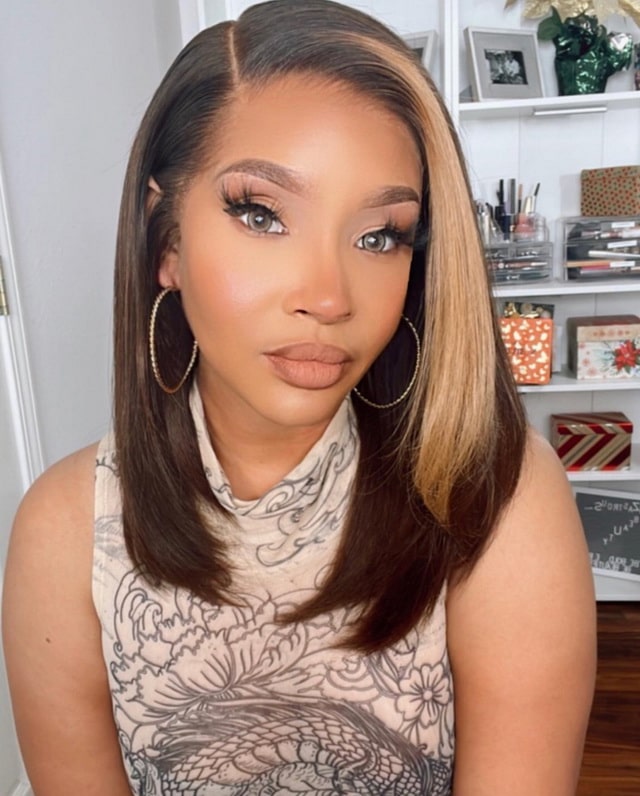 Speaking of a subtle approach, there are so many ways to have fun with blonde hair without donning a full head of golden tresses. Highlighted locks are the perfect way to sport your chosen color choice this summer without full commitment. Rather than featuring highlights throughout your whole head of hair, become the belle of the ball with one big, bold golden highlight strip resting at the front of your crown. You can leave it straight or even add a few soft waves, delivering a soft charm to the look.
14. Brown & Blonde Piano Highlight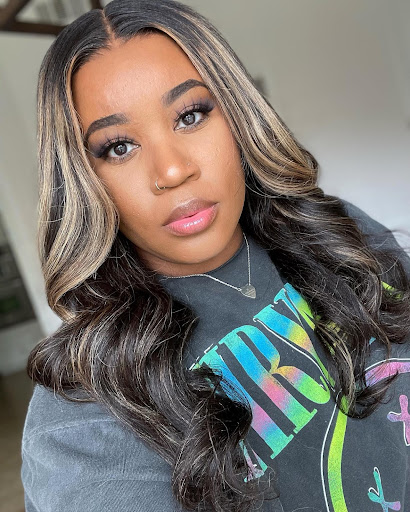 If the highlight strip doesn't provide enough of a pop of color, and normal highlights are too predictable for you, then the piano highlight style is perfect for you. With wider strips of color alternating throughout your silky straight unit, you'll deliver a fresh, new edge to the blonde approach!
What You Need to Remember
From luxuriously long to short and sassy, the possible ways to have fun with blonde hair this summer are endless. Throw in a few bouncy curls, keep it breezy with some loose waves, or opt for the classic straight approach. Any blonde selection will leave you feeling as cool as the ocean breeze and truly summertime fine!
If you want to keep your natural hair safe from dying and frying while you try a new look, choose a salon quality lace front blonde wig for the best results. For easy upkeep and routine maintenance, simply grab a few wig essentials and you'll be all set to slay all summer long. Continue to stay on top of the hottest hair care trends all year long with Black Beauty and Hair!