Quick-and-cute dreadlock 'dos for contemporary cowgirls
Post by Candace Dantes | Bridal images by LaSundra Davis/@respect.theshooter
Have you been paying attention to Hollywood lately? Well if you haven't, a new posse of leading ladies are taking over the Old and New West on the small screen. And guess what? They're all black and beautiful.
Just this month, London-born A-lister Thandie Newton won the 2018 Emmy for outstanding supporting actress in a drama series for her role as a saloon madam named Maeve in HBO's Western sci-fi series, "Westworld." The award became a first-time Emmy win for Newton.
Also, Oprah and award-winning filmmaker Ava DuVernay teamed up to create popular TV series "Queen Sugar." The show follows three siblings (Rutina Wesley, Dawn-Lyen Gardner and Kofi Siriboe) who are trying to save their late father's cane farm. And we refuse to forget Jurnee Smollett-Bell's role as Rosalee in critically acclaimed drama "Underground" — even though the pre-Civil War series canceled last year.
Inspired by the natural beauty and effortless coiffures of these African-American outlaws and farmhands, a trip to Atlanta Street Bridal Co. in the United States' McDonough, Georgia, became a good enough reason (and ideal location) to recreate a few of these TV character's charming looks during the fall wedding season. Co-owned by bridal specialists Laurie Burney and Alex Swinney, Atlanta Street Bridal Co. is the only bridal shop in Georgia that offers an array of exclusive, independent designers customized for brides wanting a Southern belle experience and tons of lace.
The Knot, dubbed the United States' largest source for wedding news and inspiration, even named Atlanta Street Bridal Co. as its 2018 "Best of Weddings" pick for becoming the most-rated vendor in its area that real couples love. Below are country Western-inspired bridal hairstyles taken at the boutique that pay homage to black Wild West culture and hair with a modern, sassy slant:
THE HIGH BUN BRIDE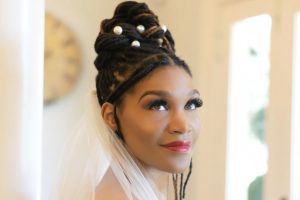 Topknots and buns were common hairstyles of saloon girls and ranch women of the 1800s. Tiaras, coronets and hair combs usually helped these updos stay put. As time passed, topknots moved from the top of the head to the crown and nape. Newer hair ornaments that fashioned this style included flowers, foliage, ribbons and strings of pearls. TO ACHIEVE MY LOC LOOK: Separate a couple of loc strands toward the front of the head to create a parted bang effect. Next, gather the rest of locs up into a high ponytail using a thick elastic. Divide the ponytail into halves. Twist the halves, then swirl and tuck them around each other. Finish the look by adding pearls or other jewels to the bun for extra farm girl glam. Click here to view more DIY high bun options for wedding locs.
THE BOBBY PIN PRINCESS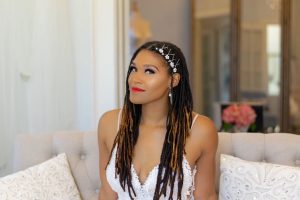 A darling way to slay on your wedding day is with lots of bobby pins — preferably ones that dazzle with every head turn. A useful hair tool for country women working and living on the land, bobby pins have traditionally held short strands in place. Women who wore bobs greatly profited from their use (hence the nickname). Today, bobby pins have diversified. They pin down flyaways, lengthy locks, half updos, flowing finger waves and anything in between. TO ACHIEVE MY LOC LOOK: Simply divide your locs to your favorite side. Then, gently slide decorative bobby pins through locs, securing a few together at a time. You can pattern bobby pins (crisscross, stack or scatter them) to your bridal hair desires, but do so without overshadowing your dress.
THE BONE STRAIGHT STARLET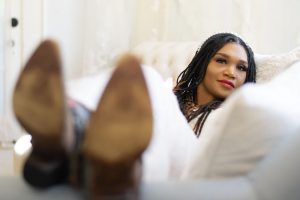 Smooth, even locs are a simple and sexy option to coordinate with mermaid, sheath, A-line and trumpet gowns. This elongating look also served as a typical hairstyle to accompany frontier classic gowns, cowgirl hats and boots. TO ACHIEVE MY LOC LOOK: Again, part locs to your favored side or straight down the middle. After that, smooth roots, lumps and bumps with your preferred setting lotion. Interestingly, setting lotions like Shea Moisture's Jamaican Black Castor Oil Strengthen & Restore Conditioning Design Foam sculpt and slick down locs for long-term hold, which is perfect for all-day wedding celebrations. This bone straight hairstyle works well bare, especially with busy bridal dresses. Or you can crown your sleek locs with gem-encrusted headbands, fascinators, hats or veils.
Benefited from this post? CLICK HERE for more hair and lifestyle coverage from Candace Dantes, a.k.a. Cowgirl Candace.
---