Natural hair entrepreneur Angela Smalls (left) with Dawn Butler MP (right) at the recent launch of Ms Natural Hair UK at the House of Commons
Where did your love for natural hair grooming begin?
They say 'life begins at 40!' I left the corporate world at this awakening age and entered the voluntary sector. New career and new me! I rocked a variety of natural hairstyles before I locced my hair in 2004. I recently received a photo on Facebook of me at the age of 17 rocking my afro. In retrospect, my natural way of being was originally a natural queen, however; my perceived career and determination to succeed in the corporate world took me away from my true self.
What do you love and loath about mainstream beauty and hair ideals?
I recently attended a woman in business networking event in the city. I was approached by a couple of Caucasian ladies paying me a compliment about my hair then directly asking me, 'where do you buy your hair from?' When I replied it was all mine, they then called over a few more friends, proceeded to have a discussion about my hair being real and then asked the question we all loathe, 'can we touch it?'
I think it's a real shame that other races, are beginning to believe that if our hair is long it has to have been bought. I love the fact that we are able to share and promote the length, quality and versatility of our hair, with the increase in more black women wearing their natural hair.
Can you predict any hair trends that black women should be wearing this summer?
This summer with the change of climate and the increase of more natural hair expo's, you will see more black women rocking their Teeny Weeny Afro's (TWA) and taking the chop to either cut out the relaxer or repair damaged hair from the sewing. We will see an implosion of TWA's accessorised with flowers, hairbands and other hair accessories.
You're also a psychotherapist, how do you use these skills to enrich your Conscious Vibes magazine and expo's?
Conscious Vibes is all about elevating true self; I use my psychotherapy skills to help get behind the mask and encourage all to enjoy and get in touch with their true authentic core. I have run workshops in the community called 'You are not your hair' giving women the opportunity to explore how their hair has impacted on their career.
What advice would you give to young girls looking up to you about maintaining their natural hair?
My elders always said, 'Anything worth having never comes easy,'  therefore take time with your hair and don't look for a quick fix. Form a relationship with your hair and put the time aside to experiment and style. In addition visit a natural hair salon, find out about your own specific hair type and the best natural products to invest in.
Who are your inspirations?
Iyanla Vanzant an American inspirational speaker (always rocking her natural hair) sharing words of wisdom. A quote taken from her twitter quotes can give you an indication as to why she is one of my inspirations 'Many of us invest a fortune making ourselves look good to the world, yet inside we are falling apart.'
My main inspiration though, is my father, a single parent, who shaped me into the woman I am today.
What's next for Natural Hair and lifestyle Expo?
Conscious Vibes are hosting the first Ms Natural Hair Expo on Sunday 3rd April from 12pm, hosted by Judith Jacob. After that, we begin an exciting venture, a nationwide hair pageant, visiting four cities across the UK. We have also been invited to participate in a natural hair event in Africa as well, at the end of the year.
Sum up your signature style in 3 words?
Colourful, Creative & Amazing!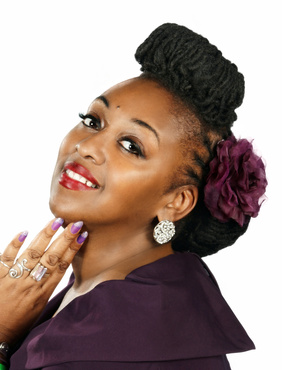 Tell us a hair secret that you've discovered?
I have discovered that my own hair is naturally very greasy; therefore I don't need to put any products in it between washes. In addition, I truly believe that our hair is not meant to be combed as the only time it really grows is when left alone.
Trapped on a desert island, what 3 products and/or tools are your must haves?
LOL, only three? That's hard. A Kindle is a must. I love to read. A fire starter – I have to stay warm at all times, especially when the sun goes down. And I definitely need to be able row somewhere to recharge my kindle!
Where can we find you?
Twitter @consciousvibesm
Website: consciousvibes.co.uk