An ageing, receding hairline is no longer a problem with New Fade – a new hair unit system for black men facing hair loss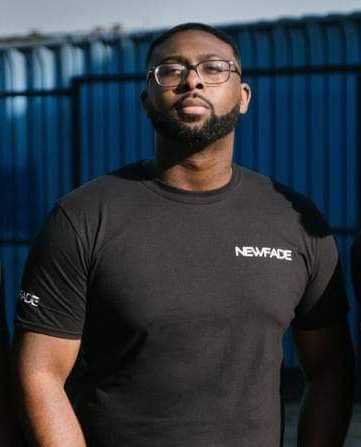 NewFade is a subscription male grooming service that provides luxury yet affordable solutions for male hair loss. Set up by medical professionals, the founders used their expert knowledge to create stylish bespoke hair replacement units.
NewFade was founded when Dr Joel Akwenuke, CEO and co-founder, began to lose his hair in his early 20's. Having looked into a variety of hair loss solutions, including tablets and hair transplant surgery, it became clear that what he really needed was a solution that would provide instant results, with no health complications and could also be easily maintained.
After eventually discovering hair units, he couldn't find anywhere that could provide stylish, quality hair units or a service that catered to his busy lifestyle. Joel realised that if this was a problem for him, it would also be a problem faced by other black men throughout the UK. As a qualified medical professional, he realised that he was in the perfect position to safely and effectively solve the problem, so with the help of his friends Moses and Cyril, a doctor and pharmacist respectively, NewFade was born.
Blackbeautyandhair.com caught up with Joel to find out a bit more about the product…
What is your medical background?
I'm an A&E doctor, but have also worked in General Surgery and Clinical Oncology.
What got you interested in starting up NewFade?
After having looked at different hair loss solutions for myself, I found the hair unit as a potential solution in 2016 and realised that I could create a service-based business out of it – with style and lifestyle as the main selling point.
Has it been hard convincing black men that they now have an option for hair loss?
It has been pretty easy actually, we've had a significant number of clients sign up and express interest. We're currently at max capacity and are having to put all new client sign-ups on waiting lists. The interesting thing is that a lot of our client's partners or the women in their lives are often the people that refer them to NewFade.
Is this a toupé or a man weave? How is it attached to the head?
We call it a hair unit; and it is attached using a skin-friendly adhesive and is then blended into the client's existing hair by our expertly trained barbers. NewFade is a subscription-based service, so in addition to the installation of the hair, we provide our clients with maintenance appointments and free trims which keep them looking and feeling great at all times.
How many styles do you offer?
Currently NewFade offers three main unit types: Ultra-minimal; Minimal; and a Luxe unit, which can be styled into a variety of finishes such as Afro Twist, Classic High Top and London Wavey. NewFade can also provide bespoke units for other ethnicities and hair types.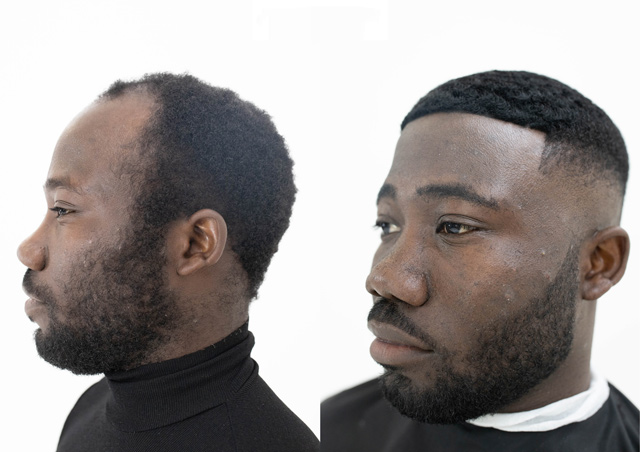 How often does it have to be fitted?
This depends on the subscription package that clients sign up for. Typically we have a monthly installation unit, but we also have a bi-monthly installation unit that lasts two months and includes additional maintenance appointments for that duration. We also provide skincare check-ups as a service, as our staff are being taught by doctors.
Does this suit an active lifestyle?
Yes, we've had clients play rugby, go to the gym and have even had professional premier league footballers wear our units. Our focus as a company is ensuring that men can live the way they want without any interruption to their lifestyle.
Can it be shampooed; can you wear it while swimming etc?
Yes it can be washed. We actually have maintenance kits that our clients can purchase, which contain the appropriate shampoo and conditioner that they should use. Yes, our Luxe collection units can be used when swimming.
What is the starting price for an install?
The starting price for an installation is £95/month for hairline units, and £110/month for general hair loss (hairline and crown). Contact NewFade for further details.
See the amazing transformation
NewFade is part of Google Start Ups 2020, which has two cohorts of Black and Women founders driving change in their industries. The Black Founders Immersion is a 12-week program for high-potential startups with at least one black founder. The selected startups will be partnering with experienced Google mentors, specialists and investors to help them grow and give them better access to fundraising opportunities while further advancing their leadership skills.
---
More amazing Black founders…