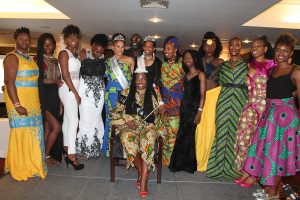 Sunday, July 24th 2016. The Clayton Crown Hotel hosted the finals of Ms Natural Hair UK 2016. Fourteen beautiful natural hair queens from across 4 cities were selected to participate in the final. In total the Conscious Vibes team had 50 women competing in all of the heats.
International singing sensation Bashiyra of London was the succesful lady to be crowned Ms Natural Hair UK 2016 at this ground breaking event while Vanessa Morgan (Birmingham) and Oshauna Peters (London) was crowned first and second runners up.
BASHIYRA holds 19 music award distinctions. She is a health conscious advocate for natural levity and its way of being in all aspects from her hair, skin, mind, body spirit and soul. She stated, "Wearing my hair natural is the most satisfying, rewarding and self-accentuating manner in which to style and maintain my crowning glory".
As winner of Ms Natural Hair UK, Bashiyra has won a modelling contract with Frame Perfect; receives a one-year subscription to Black Beauty & Hair magazine; will have a Natural Hair greeting card of her image created by Nefateri Asantewa; will grace the cover of Conscious Vibes magazine; undergo a biochemical assessment by Empress Devine and a photo shoot by BQuavs. Vanessa Morgan wins Divine Shea Cream from Empress Devine and a bespoke frame from Opal Frames. Oshauna Peters wins Divine Shea Cream from Empress Devine and a wash, treatment and style from V Unit Spot.
Unlike other beauty pageants, the winner of Ms Natural Hair UK was not presented with a sparkling crown; instead Bashiyra was adorned with an African-inspired crown of cowry shells designed by Yvonne Allen of Zayunu Designs. Long before our era the cowry shell was a traditional symbol of wealth and payment throughout Africa.
Contestants competed in two categories: day wear and evening wear with at least one of the garments having an African theme to it along with interview questions, relating to their personal views or experiences on natural hair and lifestyle
The crowning of all three ladies was carried out by Dawn Butler, MP for Brent Central, whose moving speech to the winners and audience included a recital of Maya Angelou's "Still I Rise".
Hosts for the evening were Judith Jacob and Livingston Gilchrist. The judges were Angela Rose, Angela Plummer, Chi Bowmani, Daniella D-James, Douglas Williams, Gavin Bryan,
Angela Small, founder of Conscious Vibes, said that the event was "a huge success" and "highly important in encouraging women of colour to embrace and elevate natural hair." Ms. Small is enthusiastic about the pageant's future. "This is the inaugural Ms Natural Hair UK. We have made history with this contest, and I expect that the phenomenal interest in it will only increase. The pageant will go from strength to strength in future years. It has been an amazing experience in seeing these beautiful, proud, strong women express their pride in their heritage and it ensures that natural Afro and Caribbean hairstyles are now front and centre in the public's consciousness. I couldn't be more thrilled."
ABOUT MS UK NATURAL HAIR
The Ms Natural Hair Pageant is intended to generate positive dialogues and images for both young and mature people in the UK. It elevates natural African hair to a higher level to ensure its acceptance in the beauty industry, the fashion world and the workplace as well as ensuring that the winner serves as an inspirational ambassador of afro-textured hairstyles.
For more information about Ms Natural Hair UK and positive images of African and Caribbean identity, visit www.consciousvibes.co.uk.