Photo by Derrick Reed/@ptseventyeight
Candace Morrow picks out earrings to wear with locs
Psst. Hey, loc divas: Come here. A little closer. Yeah. Right there.
Well, did you know there's a strong possibility you've brought in the New Year wearing the wrong types of earrings? Yasssssss sis. The length of your locs — and facial structure — can help make or break your locked look.
Don't worry: I've got your earring backs (badum tish). These are the best dangling doodads for short, medium and long locs, taking into consideration the shape of your face as well.
HAIR LENGTH vs. EARRINGS
Whether you're rockin' budding free forming locs or waist-length traditional ones, you want earrings that accentuate your face and complement your current loc state. That said, take these rules of thumb into consideration before making jewelry selections:
Short Locs
[one_half]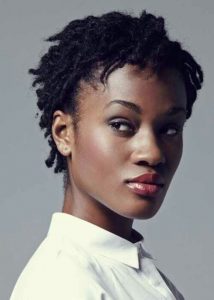 [/one_half] [one_half_last]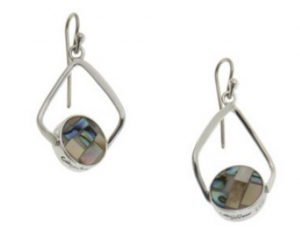 [/one_half_last]
Loc wearers of beginner sprouts to the ear-length variety should take advantage of pretty much any type of earring. Yep! You're a free earlobe agent, so you can usually pick an edgy pair and push. Keep in mind, though: Because your locs aren't able to frame your face, dangles or teardrops are the best choice to pull the focus back to your facial features.
Earring style to consider: An award-winning jewelry designer to the stars, Sandy Baker's designs like the Vortex Earrings (above right) focus on modern women of color. Her artistic earring creations range from elongated to dainty fish hook pieces that companion this loc length.
Medium Locs
[one_half]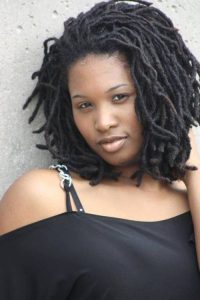 [/one_half][one_half_last]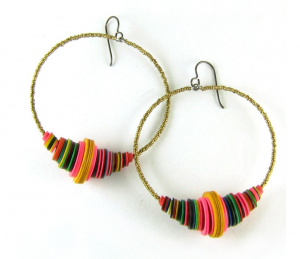 [/one_half_last]
From the ear down to the collar bone, here's where earrings' effectiveness can get hairy. Why? Because your tresses can easily block them. Hoop or cuff fans at this particular length should tuck locs behind one ear — or both — to showcase adornments. Note: Hoop earrings reinforce a curvy appeal, so they balance long faces well and make round faces rounder.
Earring style to consider: Former New York and London runway models, Cheryl Freeman and Donna Freeman Hughes founded eclectic accessories studio, theFFS. The sisters' earring collection features colorful crescent and hoop ones of vintage vulcanite and brass accents worth medium locs' wear time, just like these gorgeous Crescent Earrings (above right)
Long Locs
[one_half]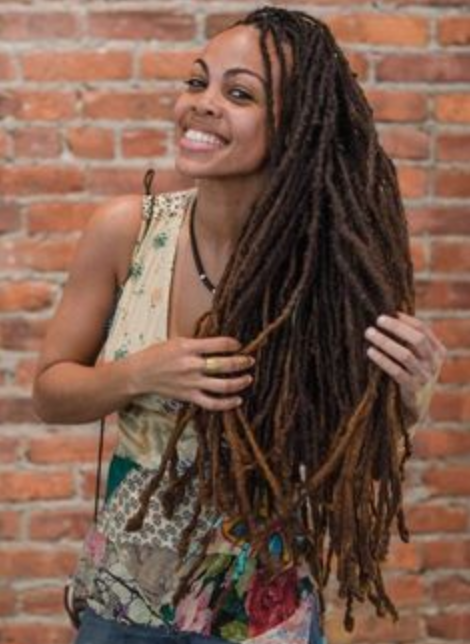 [/one_half][one_half_last]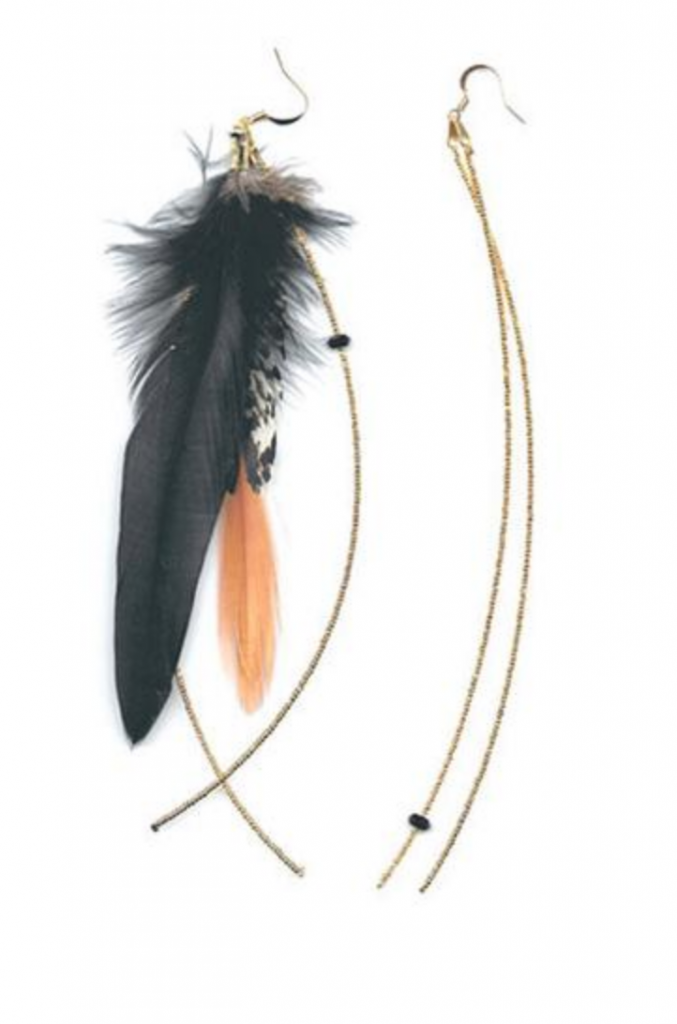 [/one_half_last]
The bigger, the better, especially for locs of dimension. Extravagant earrings usually win with shoulder- to hip-length locs since they garner more visibility while still balancing the face. And there's nothing wrong with earrings that blend into long locs, too. Seemingly endless feather, fringe and chandelier ones actually add fullness to strands.
Earring style to consider: International, celebrity jewelry design team Sheanan Bond and Cherise TrahanMiller developed New York-based accessory line Adha Zelma. Using precious metals to exotic, over-the-top materials like tusks, this line's selection of earrings become instant topics of hair and beauty conversations. You're sure to cause a stir in their BKLYN Earrings (above right)
Candace Morrow, a.k.a. Cowgirl Candace
---
✶ You may also like ✶