The company aim to make natural haircare easy by using technology to connect mobile afro hairdressers with clients
Who are the team behind Afrocks?
There are four co-founders behind Afrocks: Hervé Despois and Régis Rolnin who both initiated the project; and Simone Williamson and Stella Lucien who joined the team shortly after.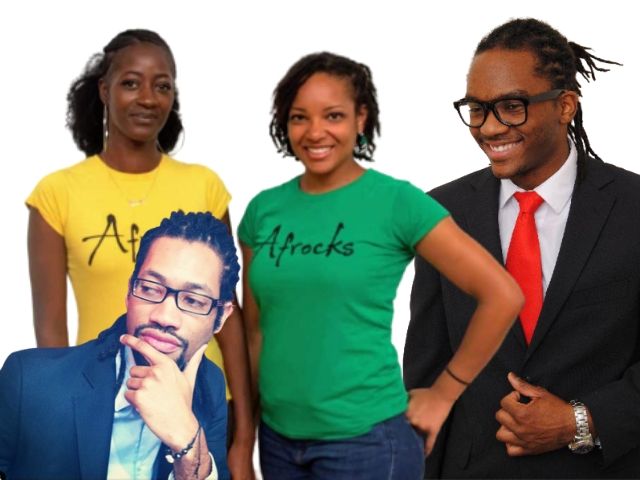 Afrocks is an online service booking platform, do you have digital backgrounds?
Our co-founder Hervé is our tech guy! He has a background in digital marketing, and he used his skills to build the platform's structure.
Why did you feel the need to set up this service and (when did it go live)?
The four of us co-founders have been wearing our natural afro hair for many years. We are strong advocates of natural hair and want to encourage women, men and children to embrace their crowns.
But how to achieve that, when for some people, natural hair is arguably seen as time-consuming and challenging to care for? Or when it is a nightmare to find a good hairstylist who can actually look after and style non-chemically processed afro hair using the right techniques, tools and products? And thinking about it, spending a whole day at the salon is an additional hurdle!
With that in mind, we launched Afrocks in September 2016 with the main idea of making natural haircare easy by using technology to connect mobile afro hairdressers with clients and offer them a smoother, enjoyable haircare experience from the comfort of their own home.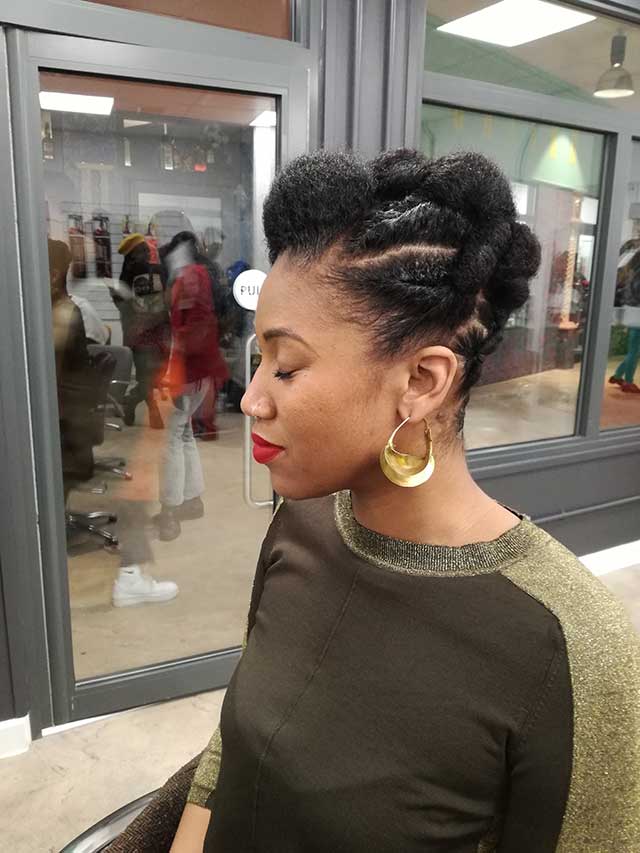 As a black-owned business we are conscious that it is important to contribute to and make a difference in our community. So additionally, the idea was to help independent mobile hairdressers to develop and professionalise their businesses by providing them with a unique platform to promote their work online, gain more visibility, manage their bookings and take online payments.
Very few black-owned businesses have access to venture capital, were you able to get funding or is your business self-funded?
Recent studies in the US have highlighted that white males make up more than 70% of venture capitalists, which automatically translates into a well-documented bias against minorities, and particularly black founders. In fact, only 1% of VC funding goes to black-owned companies of which 0.2% goes to companies led by black women.
Knowing this, we focused – and are still focusing – on creating a viable business and a great company first. We did have a few opportunities here and there, but it wasn't the right time and the right partners. So yes, this is a totally self-funded business.
We all know how technology can be glitchy, did you have many teething problems with setting up a digital hairdressing platform?
The technology behind it is pretty straight-forward to be fair. The great thing is, unlike 20 years ago, you can now use a lot of templates and free-base software to help you out. I would say the biggest issues were around the user experience and interface: How to make it functional for both clients and stylists using the platform? This is a never-ending task and we're obsessed with improving the user journey.
How does Afrocks work?
As mentioned, we built our platform to provide users with the smoothest booking experience possible.
The booking process starts by entering your postcode; then you select the desired hair service and style for which you can enter details such as length and thickness; and finally, you pick a date.
The search engine will show you all hairdressers available with the price of the service selected and the time slots you can choose. You can browse each hairdresser's profile and portfolio for more details about their skills and services, including ratings from previous clients.
Once you have made up your mind, just click the 'Book now' button and you will be directed to our secured online payment system to finalise your booking; in the meantime, we send a notification to the stylist and your booking will be confirmed within 24 hours, once the stylist accepts it. Your card is then charged, and the money put on hold.
On the day of your appointment we send you a notification to ask you to confirm that the job has been completed; only then, the money will be definitively withdrawn from your account and payment made to the hairdresser.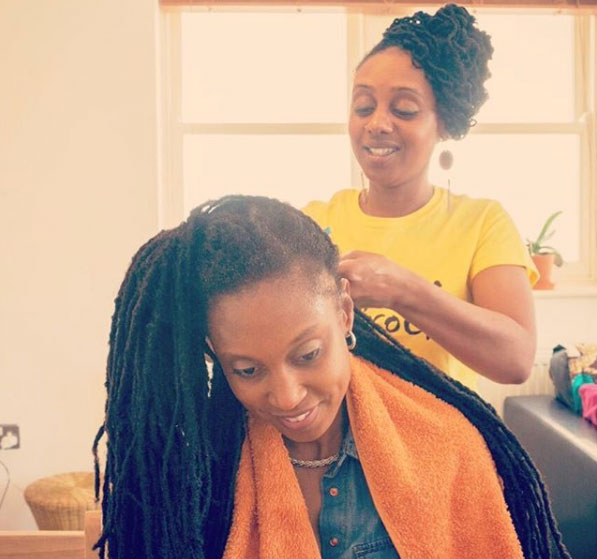 On the hairdresser's side, we are also trying to make things as smooth as possible with text and email reminders, dashboards and tools to manage their bookings. We still have work to do though, improving the experience and adding new functionalities. It's really a full-time job.
How do you screen the salons and hairdressers on your platform?
As it is, we essentially focus on mobile afro hairdressers and small/private studios as we want to offer a different, more personal touch to the market.
Whenever we receive an application via our platform, we first take the time to review the stylist's portfolio. If portfolios and pictures are reaching our standards, we then proceed to interview the stylist, whether in person or over Skype/Zoom to discuss experience, technique and motivation. Our co-founder Simone, who is a natural hairstylist with over 20 years experience, takes care of this part.
After the interview, if all boxes are ticked, we move to ID, insurance and proof of self-employment checks with our third-party partner.
Once all lights are green, the stylist's account is validated.
Are the hairdressers on your books registered/insured?
Yes indeed, since last year following requirements from our payment service provider, all our stylists need to be registered and insured to use our platform.
What happens if a hairdresser gets complaints about his/her services?
We're really glad to say that to date, stylists on the platform have achieved 97% of positive ratings. Unfortunately, misunderstandings and mistakes do happen, and our policy is to swiftly deal with these. We take time to understand the client's experience and never hesitate to refund or send another stylist at our own costs if necessary. We also noticed that the faster we respond to negative feedback or experiences, the better for the client relationship.
How can interested mobile hairdressers/salons join up?
We are recruiting new hairdressers and locticians at the moment!
So, do not hesitate, the best way to get in touch and start the process is to fill in the online form available at afrocks.com/register-stylist/
Otherwise there is a 'Become a stylist' section on our website with further information about our services to stylists. And remember, Afrocks simply connect independent service professionals with customers, so using and promoting yourself through our platform does not take away from your existing clientele but helps expand it
Afro hairdressers have been hit hard by the pandemic, how can businesses like yours play a role in supporting them?
The pandemic has been a disaster for the afro hairdressing industry, and it's been truly heartbreaking to see some small independent stylists go out of business.
We have always supported black businesses and stylists and will continue to do so by encouraging them to sign up on our platform to get extra bookings on the top of their own clientele. We are also using our blog to write about, and list salons and hairdressers to give them more exposure.
Finally, we also believe that sound financial and business information can help us reach the next level: self-employment advice, tax return understanding, navigating government aid for freelancers etc.
Salons will be opening from the 4th July and will have to practise social distancing as well as safe practise, like wearing PPE. What measures will you be taking to make sure that your mobile hairdressers keep themselves and their clients safe?
We take safety seriously and as we speak, we are working on clear guidelines to communicate to our hairdressers and clients when taking or placing a booking; and encourage everyone to be responsible in protecting themselves and others.
We have also sent an 'Afrocks pack' to our stylists including a face mask, hand gel and other hygiene and wellbeing items to make sure they deliver their services with confidence and peace of mind.
What advice would you give to budding entrepreneurs?
Get used to the ups and downs, work on your ability to adapt quickly and stay focused!
It can be a lonely road sometimes… well most of the time! So, build a good network and make sure you are surrounded with like-minded people.
And another important thing, take care of yourself by making your health and wellbeing a priority.
Are you ready for opening? Can we book ahead of time?
Yesss… We cannot wait to re-open the platform and take bookings… our stylists are ready too! Plus, we have just reshaped our website and added new functionalities, so we are looking forward to our clients' feedback.
Until the platform is open, we cannot take advance bookings, but once it is live you will be able to book ahead of time – up to 48 hours of the desired appointment. We are waiting for you!
What are your plans for the future?
In the short/medium term, our plan is to grow our stylist's database in the London area and start looking for partners to expand our services to other cities in the UK and then in Europe and Africa. We also want to develop a real partnership with our stylists by offering them tools to develop their skills and business.
In the longer term, we are looking at offering other types of services and workshops for clients and also develop accredited courses and workshops around natural haircare and services for professionals.
Where can we find you?
Website | www.afrocks.com
Instagram | afrockshair
---
More black tech…