Braider Ceirra Rouse showcases knotless braiding upkeep with our US correspondent Candace Dantes
Post by Candace Dantes | Images courtesy of BraidsbyCeirra
Braids are a creative cornerstone to black hair culture worldwide. Has been for millenniums. Still is today. Styles that stay trending: individual plaits, cornrows, fishtail, box and goddess braids. Now into the start of a new decade, U.S. professional hair braider Ceirra Rouse says the knotless braids are headlining city streets to celebrity Instagram feeds. "Knotless braids are better for protecting natural hair," said Rouse, an 18-year braiding specialist who braids and styles at BLUXE Beauty Bar and Salon in Georgia. "They decrease tension on the hair and create more versatile styles for ladies wanting different looks." The knotless technique has become popular most recently because these particular braids don't start with the knot at the root, which can add tension. Instead, hair extensions are added in small pieces to natural hair, which gives a more blended effect at the root to the end. While plaiting, the braids naturally lie down without tugging at the scalp or edges. Whether this hair fad or the next, Rouse tips avid braid wearers and future stylists on the following yays and nays to dressing one's crown with this hairdo:
INVEST IN PROPER PILLOW PROTECTION
When vogueing your braids is done each day, it's time to tuck them in for bed. Rouse recommends always covering this protective style with a bonnet. "You don't want your hair to dry out," she said. "Cotton sheets will absorb your hair's moisture, which is why braids can sometimes start to itch."
KEEP YOUR HANDS TO YOURSELF
Braids are fun and flirty, so it's only natural to start playing with them in the bathroom mirror, car mirror, office mirror — any mirror at that. Don't. "If you want your braid styles to really last, you need to try to keep your hands out of them," Rouse said. "Braids are low maintenance. Just let them flow."
CALM DOWN ON UPDOS
Creating messy buns and sleek ponytails with braids is always super cute to do. Not the best styling move, though. "Constant high manipulation increases tension to your edges, which causes breakage," said Rouse. "It's better to keep braid pulling to a minimum so you're not stressing your roots."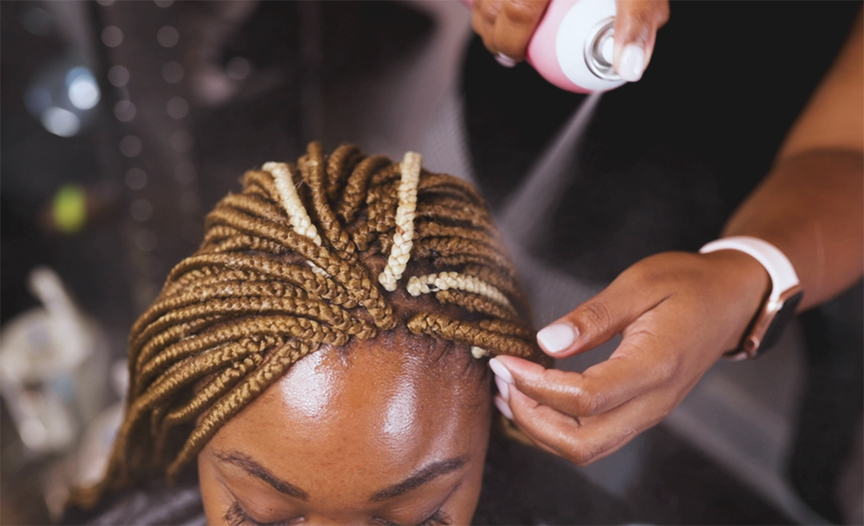 LIMIT YOUR PRODUCT PUT-ONS
Hair product options for braids come on the form of custards, oils, sprays and elixirs. However, they're not all needed to keep braids neat and your scalp conditioned. "Don't weigh your hair down with so many different products," Rouse said. "You may use a sheen once every other week if needed, especially if you have a dry scalp. That's about it."
CHOOSE AN EASY-TO-WORK-WITH EXTENSION BRAND
Hair extension choices are plentiful and at times overwhelming to pick just the right packs. Don't know which brand to purchase for your braiding style? Simply ask a professional stylist their recommendation: "The absolute best braiding hair I use on my clients is Urban Beauty Queen B," said Rouse. "It's pre-pulled, which cuts down on braiding time. It's also versatile. You can get different lengths within this same brand."
PRACTICE RELIGIOUSLY FOR NEXT-GEN STYLING
The black dollar is strong in a now $4.2 billion hair and beauty industry. Black consumers aren't afraid to pay to look and feel pretty. For those more interested in getting behind the chair of this booming business, Rouse highly suggests non-stop research and application. "With social media, there is no excuse to not learn how to braid," said the self-taught braiding genius. "It's a talent that does require practice, practice and more practice. Mannequins are the best models to learn techniques, strengths and weaknesses."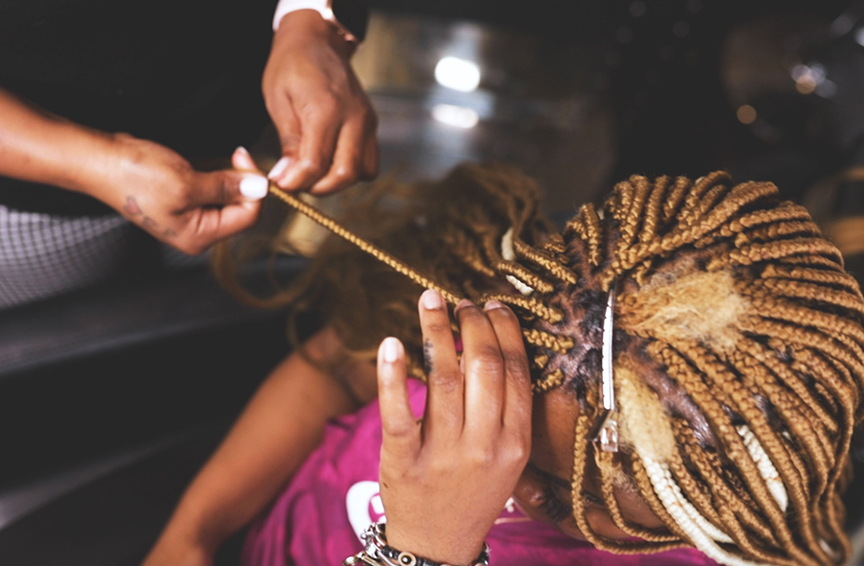 Go behind the scenes of BraidsbyCeirra. Loved this post? CLICK HERE for more hair and lifestyle coverage from Candace Dantes, a.k.a. Cowgirl Candace.
---
✶ You may also like ✶