Scarlette Douglas, 28, is back on our screens this week presenting A Place in the Sun – Winter Sun. We find out about her hair care routine, favourite app and off-camera style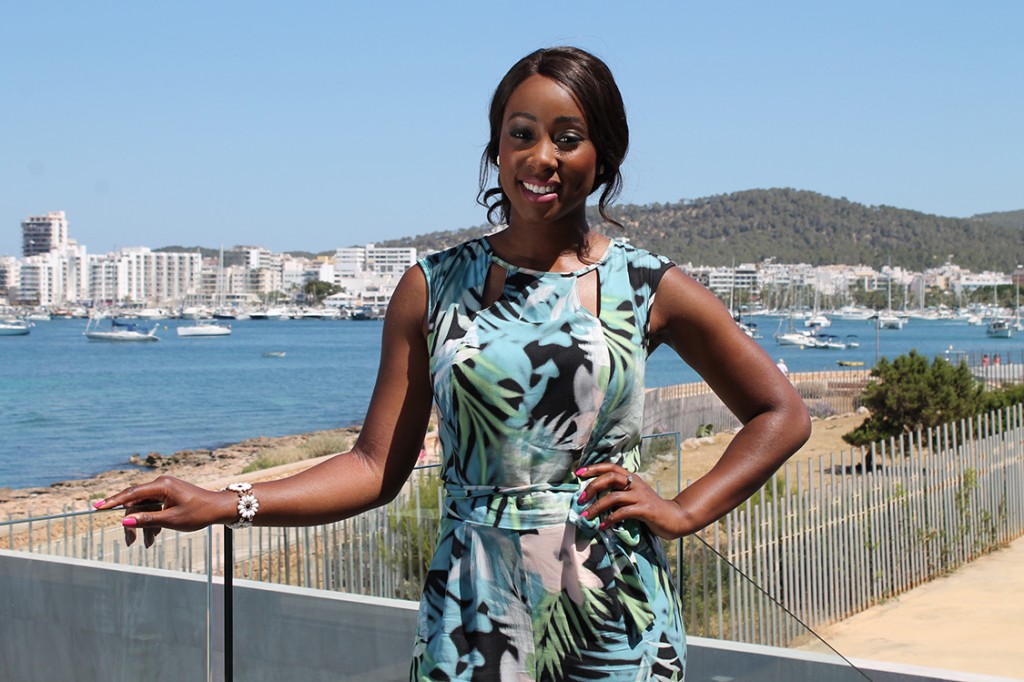 Presenting Place in the Sun-Winter Sun must be super fun! What's it like jetting off to warmer climates?
Without making anyone jealous, I have to say it's got to be one of the best jobs ever! I get to help people make their dream of owning a holiday home in the sun a reality. Getting to jet off to warmer climates is just bliss. I love the sun, I love how happy it makes people and I love to be able to leave my house in one outfit and not have to worry about the weather changing on me and needing a brollie a few hours after the sun has just been out!
With all that travelling, how do you take care of your hair?
As much as I love my natural hair, travelling takes it toll so I usually wear wigs. A lot of the time going from the cold or rain in England to air con on the plane to a hot climate really confuses the hair and can distress it. The cold makes it brittle, air con dries it out and then the humidity gives it moisture, but that in turn means it needs more product, meaning it needs to be washed more often from the build up which then strips the hair of its natural oils. Because of all this, wigs are my best friend! I film with them during the day so that my hair is protected from the blazing sun. Every other evening I add black castor oil and sleep in a silk head cover. I wash it every two weeks or so with a deep conditioner afterwards that I leave on for about half an hour to an hour. I then plait it wet so it doesn't have any heat processing thrown on to it too regularly.
What are your must-pack hair and beauty items and why?
Black castor oil, silk head cover, wide toothed comb and and my 'HAIRepair' Nourishing Conditioner. With all these items my hair will stay well maintained! My must bring beauty products are definitely my Nivea Vanilla and Macadamia Nut Lip Butter, Mac Blot Powder, Mac Mineralize Skin Finish Powder and most importantly my body lotion. I can't be having dry, ashy skin on screen!
Wigs are becoming increasing popular nowadays. Do you prefer the traditional sew in weave or wigs?
I must say I prefer wigs to weaves. Weaves can get irritating after a while and everyone knows that "Pat it, don't scratch it" trick, but after a while it gets boring hitting your head all day! A wig can go on and go off real quick and you can change your do in minutes!
How would you describe your off-camera style?
Comfortable all round… A vest, shorts and my natural hair either in canerows, as they are under my wigs, or with a bandana tied around my head. Cosy!
Where or who do you look to for inspiration?
I don't like to steal people's looks as I am very individual but in terms of inspiration I do like to look at Instagram for tips and ideas. I love Beauty by JJ (Jennie Jenkins) because not only is her make up always on point, but her hair and wigs always look incredible as does she; WOMAN CRUSH! I'm actually starting to get wigs made by K Mighty Hair now, they have some gorgeous styles so I look to them to make my image top notch! Check their website at www.kmightyhair.co.uk
What's your favourite app at the moment?
It has to be Criminal Case! It's a detective game where you have to work out who's the murderer and I am on it every day! Hooked!
Do you prefer winter or summer?
Oh I most definitely prefer summer over winter. Everyone is so much happier, everything looks more dazzling and my skin glows! Plus I can wear wedges and playsuits more in the summer!
Where is your favourite destination of all time?
So far it would have to be Jamaica. It is beautiful. My parents originate from there so it is close to my heart. Seeing where they were brought up, learning about the lifestyle they had and getting to know my extended family over there is a winning factor for me. The food is delicious, the people are laid back, the sun is always out and if not, the rain is hot!
Check out Scarlette's style chronicles below
Channel 4's hit series, A Place in the Sun – Winter Sun goes out on Monday 4th January at 4pm on weekdays for 5 weeks, and every Tuesday from 6th January at 9pm. Also catch it on Mondays at 9pm on More 4 from 11th January