In mega style (of course)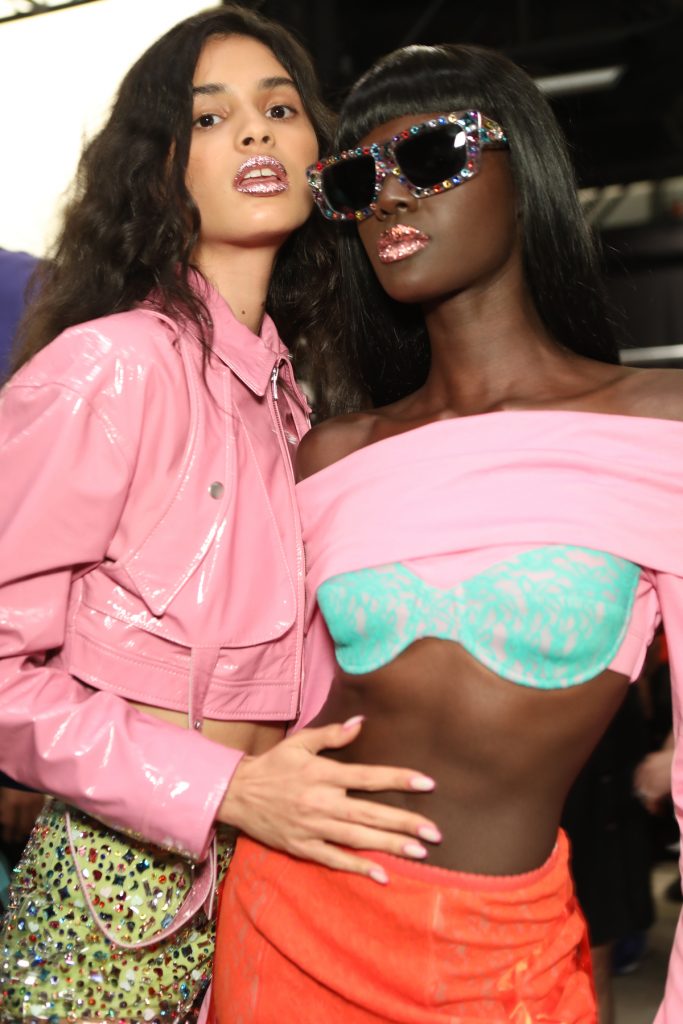 Eugene Souleiman, Wella Professionals Global Creative Director and ghd Fashion Week Ambassador, celebrates individuality and diversity as Jeremy Scott reveals his SS19 Collection.
Post-self and past-self, Jeremy Scott's latest collection is a homage to his heritage but one which insists on looking forward. Not quite 90s, not quite the noughties either, the look answers important questions about what it means to live in the post-millennial age. His inspiration is himself, in this "meta-muse", gender-fluid tribute.
All the staples from past decades combine in Scott's series; we see sportswear mesh on heavy, motocross jackets, practical attire such as military grade, combat trousers are complimented with high-heeled over-the-knee boots and jackets are adorned with bold, neon prints. The whole ensemble combines to "evoke a utilitarian aesthetic as a high-fashion hybrid".
WhatEugenelovedaboutthisparticularshowisthediversity in the cast. For Eugene, "gone are the days where you createonelookandrollitoutonyourmodels,it'smuchmore personal now. It's about the model, their hair type and the collection. Fashion is no longer about what's in and what's not, it's about personality, demeanour and the individual".
THE KEY TECHNIQUE
Using the ghd Platinum+ styler (£175), the world's first smart styler, which contains ultra-zone technology, allowed Eugene to perfect the invisible but technical subtlety in texture he was aiming for, "What we developed is a way of styling hair from the inside, from the underneath, hidden volume. You can't really see how it's done. It just looks like the hair was naturally like that even though hair's not naturally like that. We're tonging the insides of the hair to support the rest of the hair to give it width, volume and lightness."
Behind the scenes

GET THE LOOK
"For the afro hair, I simply ran the ghd platinum+ styler over the hair and gently pressed it to create glass like shine. For some of the other girls, I added volume at the root and a natural yet dishevelled texture through the ends using the ghd air and diffuser and working in kinks and bends using the ghd curve classic curl tong. This again kept the shine in the air, but also created a veryunderstatedandsubtlefinish".
"I believe that true craftmanship should be invisible, I want the hair to honour the collection, it's a new glamour, a different kind of glamour… one that harks back to the 90s but is very current, very now." – Eugene Souleiman