MUA artist and illusionist RJ Tulloch shares bold new makeup looks inspired by the colours of the new Samsung Galaxy S20 FE
Spending more time at home has inspired Brits to get experimental with makeup looks; from neon lids and floating eyeliner to bright mascara – searches for 'colourful eyeshadow looks' have even risen by more than 250%.
With most of us being at home, one of the positives has been the extra time spent being more creative in make-up trends as a result of lockdown. And beauty enthusiast and content creator TJ Tulloch has embraced the trend of maximalist 'more is more' make-up with her collection of inspiring looks for Samsung.
Romaine-Jade Tulloch, who goes by the handle cakefacerj on Instagram could be like other young women of her age: a makeup enthusiast, creating cute and soft-glam makeup looks. But she chose another way to make her name. For four years now, the Nottingham-based artist, 20, better known as RJ Tulloch is one of the most en-vogue UK artists on the 'Gram, creating mesmerising make-up concepts and illusions with her face used as a real canvas. Her pictures will make you do a double take!

RJ explained, "I started getting into make-up from a young age, I loved watching my mum put her make-up on. I loved doing my make-up and I loved art, combining the two was almost instant because I always viewed make-up application like drawing on your face."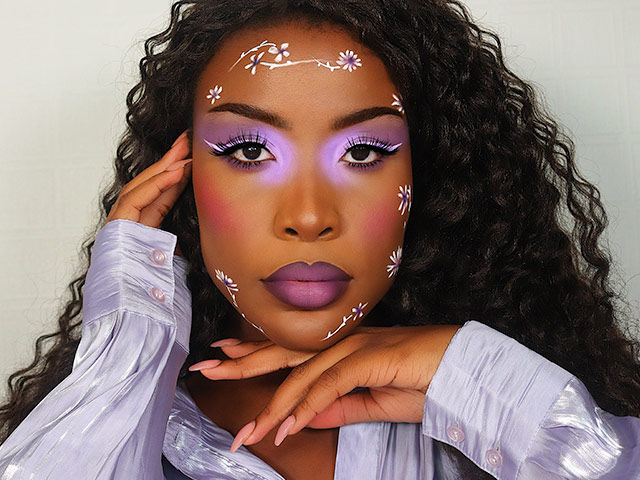 The young artist said she started off small at the beginning. Her passion into makeup quickly made her to evolve from simple eye make-up looks into full make-up illusion.
RJ saw a gap in the make-up industry. At a time when most black women were doing the usual eye make-up looks, only a very few specialised in cosplay and illusion makeup. Seeing that no one was actually using their face as an actual canvas for drawing on, she decided to create her own art.
A few years later, she is now recognised of one of the top influential illusion make-up artists in the UK.
For this autumn-winter season, RJ has partnered with Samsung to launch a series of bold looks and illusions, inspired by the vibrant colour palettes of the new Samsung S20 FE device.
Here she shares useful advice on how to recreate her two winter-inspired illusional looks. The Cosy Evening Fire look, complete with a miniature poker to emphasise the illusion and The Festive Spiced Latte, a contemporary take on the seasonal beverage.
Each creation took her a day to design, with a further 10-and-a-half hours spent bringing the two looks to life.
"I spent a day trying to design and execute the designs. I wanted them to really grab attention and give off cosy winter vibes at the same time, whilst celebrating the things I love about winter such as cosy fires and festive spiced lattes. I was inspired by the vibrant colours of the new Samsung Galaxy S20 FE devices and mainly used a mixture of their autumn and winter colours for this," said RJ Tulloch.
Looking to create winter make-up illusions yourself? Follow RJ's top tips:
Ensure you have plenty of food and drink to hand. The looks take a little while to create, so it's important to keep energy levels as high as possible

Make sure that you have the right equipment for filming, even if just a lamp. Lighting is key for illuminating the face

"I prefer filming on a smartphone as easy to edit on one, you don't even need a computer. I used a Samsung Galaxy S20 FE to shoot the looks as the triple lens camera is amazing quality. It also has a 32MP Selfie Camera on the front and comes in six stunning colours so you can choose your preference – Cloud Navy, Cloud Red, Cloud Orange, Cloud Lavender, Cloud White and Cloud Mint."

Written by Trishad Atanga
---
More make-up…