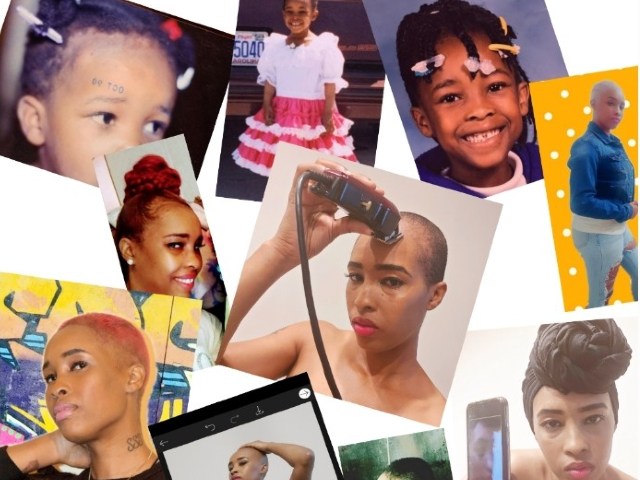 Most of us take our healthy heads of hair for granted. For Shatina Smith her hair loss started when she was very young. Here Shatina shares her story in the hope that she can help other hair loss sufferers
My hair loss started when I was two years old. I was starting to have issues with my skin and hair. I went from dermatologist to dermatologist and was eventually diagnosed as suffering from eczema. UNC Chapel Hill Hospital told me how to manage my skin and scalp using medicated ointments and shampoos.
When it was at its worst stage the eczema had spread all over my body. From all the itching and scratching I developed a scalp infection, which took most of my hair out. My hair and scalp always seemed to be dry. I used many products to add softness and moisture and there was one product that really worked for me. It was call T Gel Shampoo which helped soothe my scalp.
Using weaves and extensions to cover up hair loss
I remember wearing my short hair to school when I was younger and coming home crying from all the name-calling I received. It broke my confidence. My mother thought she could fix the issue by adding extensions and weave to my hair, which I wore until I was an adult. At that time I thought I was saved and accepted. At least to us we thought I was presentable and I fit in. For over 20 years I never really wore my hair short again. My grandmother and mother both suffer from hair loss too, so it was normal for us to always wear weaves.
Some of the braids and weave styles have been damaging to my hair, mostly from being too tight. As a result, I lost even more hair. It seemed that hair loss had taken over my life. I tried using so many products and vitamins for hair growth but nothing seemed to work. Being a licensed hairstylist for 10 years, I knew some of my hair follicles were dead. That's the moment that I knew I had Alopecia areata (where hair loss forms in patches) and it was time to make another visit to the dermatologist.
Cutting my hair
By the time I was 29 I knew I was tired of the weaves and wigs. I decided to make a conscious decision and cut my hair short and wear it in certain styles to cover up the hair loss.
I couldn't wait to go out in public or to work to show them the true me. That's when all the negative thoughts and insecurities came flooding back to the surface. I felt scared of what others would think and that I would appear less attractive.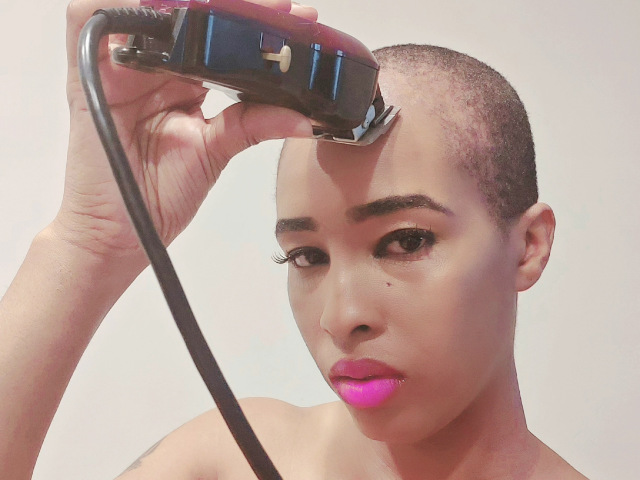 After a while I decided to let my hair grow a little, so I wore hats and scarves. I was confident at first but also felt incomplete because I knew at that time, I had a condition which I needed to learn more about. I didn't accept that I had hair loss. Some days were depressing but not every day. For almost a year I kept my natural hair short. I tried comb-overs fades and colour dyes to make my hair appear thicker.
I finally shaved off all my hair when I was 33. When I cut my hair, I felt a great sense of relief and felt confident when I looked in the mirror. Seeing Jada Pinkett Smith opening up about her hair loss encouraged me to open up about mine too.
I wouldn't actually say I didn't live a normal life, but I had limited myself from things I could have done or achieved. I did everything to fit in or what I thought was acceptable in everyone else's eyes. I barely went swimming or took part in sports activities because I always wore wigs and didn't want my weaves to get wet. I was covering up and not being true to myself.
Just because you have flaws you still can do anything you want to do and inspire others. We all are beautifully made.

Shatina Smith
I've had relationships and have dated, but only told a few of my partners about my hair loss. I felt that they wouldn't see me as attractive. I had a partner who also suffered from hair loss. It was hard for him at first to accept it and the reason why I was hiding behind my wigs. He always encouraged me not to wear wigs and bought me hair products and even encouraged me to go back to the dermatologist.
Despite doing all those things, on some days I still felt less attractive. All I wanted to know was that I am beautiful with or without my flaws. It is OK to be different and not fit in. Now that I'm in my 30's some days I feel confident and other days I don't. I believe everyone can relate.
Recently in June I was seen and diagnosed with Traction alopecia and Cicatricial alopecia (or scarring alopecia, an inflammatory condition that destroys hair follicles, causing scarring and permanent hair loss). I'm currently using topical ointment on my scalp twice a day.
I've decided to take one day at a time and learn to love me, regardless of where I am in life. I'm building my confidence up and I'm stronger than I ever been. Hair loss is a topic that needs to be talked about, but no one wants to bring up. Just because you have flaws you still can do anything you want to do and inspire others. We all are beautifully made.