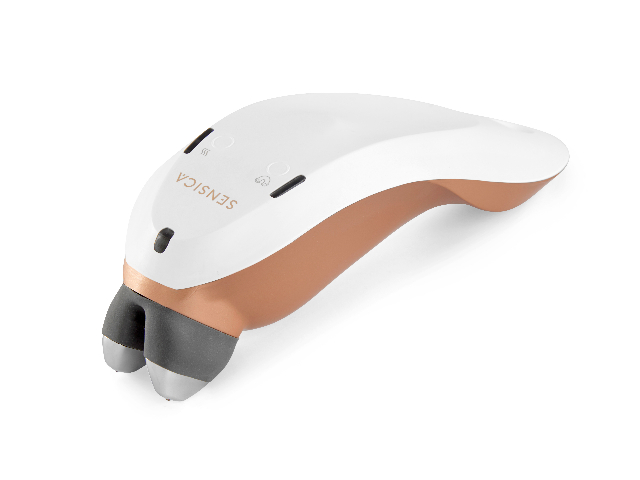 Could this nifty gadget be a lockdown skin saviour? Emily Berryman puts it to the test
After weeks of staying at home and social distancing my skin was in need of a serious seeing to, so I was excited to get my hands on this high-tech gizmo. Hailed as the ultimate at-home alternative to Botox and fillers by many beauty insiders – armed with high hopes and the instruction book, I got to work on warding off wrinkles, lockdown style…
The bumf: Using radio frequency technology to stimulate collagen production and lift the skin, the brainboxes at Sensica claim Sensilift can banish fine lines and wrinkles in just five minutes when used once a week. Promising visible results from the first session, it comes with a Base Gel (which costs £24.99 when you need to buy more), which you simply pop on the area you want to treat before going all guns blazing with this skin-salvaging device.
The verdict: With work to do and two sprogs to home school, I loved how quick and easy Sensilift was to use. The massaging sensation felt lovely at the end of a long day – but did I drop 10 years in five minutes? No – you actually need to dedicate five minutes to each area you want to work on. Saying that, my face did look perkier after the first session – and after three weeks of use, my nose-to-mouth lines and 40-year-old crow's feet are definitely fading. More powerful than similar gadgets I have tried (which it would have to be when you consider the hefty investment price-tag), Sensilift makes an impressive alternative to professional 'tweakments' and facials at a time when the panpipes and fluffy towels of a salon seem like a lifetime away….Keep safe everyone.
Sensica Sensilift Anti-Aging Device costs £279 but is now £186 at Boots. Click www.boots.com to shop.