Photos courtesy of Fiona Compton Photography
Candace Morrow talks locs, lessons with the London fashion creative
Global fashion designer Fiona Compton has a natural knack for hand painting her garments onto clientele worldwide. And she's rather quick with her colourful technique, too. The simplest way to describe the self-taught, East London-based painter's hair and style sense on local streets and international runways: fun, flirty and doggone fabulously fierce.
During 2013, the award-winning creative and also photographer launched clothing line, Paradise Prints, on Facebook. Today, she operates a digital storefront, and her tropical, floral pieces are stocked in clothing stores in the Caribbean — from her homeland of Saint Lucia to Barbados, Tortola, Saint Vincent, Grenada and Trinidad.
In fact, she's garnered rave reviews for her fashion brand, which has appeared in prominent fashion shows from the United Kingdom to the United States and Caribbean. If you've seen "The Voice UK" or America's "Top Chef," her designs have been featured on these popular TV shows as well. I caught up with the dreadlocked talent to learn what's happening in her creative world and with her statement-making locs right now: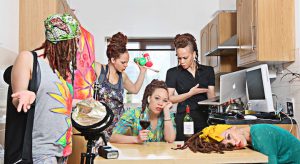 Candace Morrow (CM): Where do you find all this inspiration for your innovative hairstyles and fashion brand, Paradise Prints?
Fiona Compton (FC): Saint Lucia, which is where I grew up, has always been a massive source of inspiration for me. My childhood was a very colourful one. I was always surrounded by nature, barefoot and in the bush somewhere. It was and still is therapeutic for me. When I am in the Caribbean, I use my eyes more because there's so much colour, texture, light. In terms of my hair, I always liked changing my hairstyles — from relaxers, texturizers, all kinds of weave, braids to cornrows (canerows), peppered (bantu knots) and full on 'fros. You name it, I have done it. I have settled into my locs now.
CM: And you pull them off so brilliantly. Well, where did you develop your passion for painting? Was it something passed down from your parents?
FC: My mother is a very creative person. I have never seen her paint, but she has an amazing creative eye. How she decorates and makes things always had me interested in doing those things as well. She is also a hopeless romantic, and as children, sometimes she would take us on drives to star gaze. My father was a man who loved nature and always took us out to rivers, the forest and the sea. A culmination of all these things led me to what I do now.
CM: How would you describe your painting style?
FC: I'm a messy painter. I always critique how I paint almost in a reckless manner. Painting for me is incredibly liberating, and everything I make is an extension of myself.
CM: And the results are rockin'. Love it. So tell me: What makes your fashion brand, Paradise Prints, unique and worth purchasing?
FC: I don't use stencils or screens. I paint completely freehand, and while I will be inspired by many things, I produce my designs as I go. Every piece is a small burst of expression. No two pieces are the same. It has come to a point people recognize my prints without introduction. I find that humbling and encouraging too.
CM: So what's new with Paradise Prints during 2017? New designs? Upcoming fashion shows set for spring/summer?
FC: I am working on refining my brand to what works best for my clients. My classic tropical florals have been hands down the favourites, so I am working on expanding them. Although I thoroughly enjoyed my Face of Africa line — exploring different African masks — I think I will also go more into that as well. I consider it important to incorporate my culture into my work, make it current and make it cool. Other cultures are appropriating ours, and I think its our responsibility to represent our heritage.
CM: Absolutely! You're representing amazingly, too. Switching gears, let's talk about your funky locs. How long have you grown them?
FC: For about eight years. They should be longer though. I have a terrible habit of picking my locs open, but I also like to tie them high up and fall everywhere. It — for one — feels like a happy expression and also stops me from picking them…sometimes. Although I have the side of my head shaved, that allows me to be a little creative in terms of the designs I have shaved in. I love having my hair natural, but I do miss the freedom of changing my hairstyle completely every few weeks.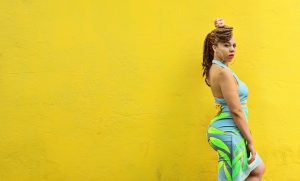 CM: Any specific natural hair products you use we should know about?
FC: I have tried many products, but it has been hard to get the balance of moisturizing them without the buildup, so I stick to just natural oils.
CM: Gotcha, and I completely understand the hair product search process. Lol. Now, getting back to business: What major successes/milestones have you reached throughout your creative career?
FC: Tough question. Last year was an incredible year for me. I was flown to a private island in the Virgin Islands to speak and show Paradise Prints. I won several awards for my work in the UK, USA and Caribbean, yet my biggest milestone is starting the campaign Not Asking For It, which is an anti-rape and abuse against women campaign. It focuses a lot on issues in the Caribbean. The response has been amazing — reaching 1.5 million people in the first four days of launching. I feel a sense of purpose when I am giving back something to society.
CM: Wow! It shows you're making so many positive impacts. Now, with such successes, what creative career challenges have you faced? How have you overcome these challenges?
FC: Being creative in itself is a challenge. The greatest challenge is the internal battle with yourself. Everyday you are in a constant battle as to whether what you are doing is good enough. It's a beautiful struggle (doesn't feel beautiful when you have to pay rent!). One frustration is that so may people have the mentality they do not want to pay you for something you are naturally good at. Like you must only get paid if you hate what you do, but I wouldn't change my journey for the world. I love what I do, and I am truly grateful for the support I get.
CM: For beginner entrepreneurs of the arts, fashion and beauty, what starter tips can you give them as they continue to chip away at their craft?
FC: Practice makes perfect. My first dresses took me eight to 10 hours to make. I now produce in half the time or less. You will mess up, but that's not failing; it's learning. It's all about persistence. The universe always gives you back what you put out. Don't compare yourself to others because you don't know what battles they are going through. Just keep going with your journey for nothing is more rewarding than living life doing what you love.
CM: Right on. Awesome advice, especially for the ones of us constantly questioning our craft. Lastly, are there any projects — whether fashion-, beauty- or hair-related — we can expect to see you at in London, Saint Lucia or even in the United States?
FC: I am currently working on doing a show in New Orleans this year in conjunction with a fellow Saint Lucian designer: Meme Bete. In London over the summer, I'm planning several pop ups all over the city so customers can see my work firsthand.
CM: Well, we can't wait. Thanks so much for your time and talent. For more about Fiona, visit Paradise Prints and look out for her across the globe again this year.
Candace Morrow, a.k.a. Cowgirl Candace
---
✶ You may also like ✶