Sheer Chemistry is a range of nude tights for women of colour and they recently got the 'royal seal' of approval for providing the hosiery for the Kingdom Choir at Prince Harry and Meghan Markle's wedding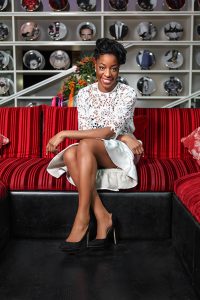 Christian gospel choir, The Kingdom Choir flawlessy performed during Harry and Megan's royal wedding ceremony. Not only were the choir decked out in wonderful pastel colours that set off the myriad of skin tones, the female members were sent nude tights to complete their look, courtesy of Sheer Chemistry. They gave a beautiful performance that was seen by millions of people worldwide.
Founded by Tahlia Gray (left) as a result of her time working in New York, Sheer Chemistry was born out the frustration from the lack of hosiery products available for women of colour. In her high powered job, working in Talent Development and Recruitment, Tahlia was often left wondering, 'is my beauty valid?' In affirmation, and realising there was a major gap in the market, she decided to create an empowering brand focused on validating and celebrating the beauty of women of all shades of brown. Women, who don't often see themselves reflected in the mainstream hosiery brands.
There are five shades that reflect international cities ranging from the lightest shade: Havana Glow to the darkest: Parisian Dream. In order to find your true shade, match it with your MAC, Bobbi Brown or Nars foundation. There are three styles to choose from: 10 Denier Gloss, £8.50; 15 Denier Matt, £8.50 and 15 Denier Matt Control, £12, all available in the five shades.