Aaron Wallace, the ambitious entrepreneur behind the brand wants to provide everyday solutions to grooming problems that black men often face
Who is the man behind Shear & Shine?
I would say I am a determined man with clear goals and ambitions in life. I have faced plenty of difficulties, like most have and what I would like to do is achieve a level of success I can be proud of.
I started off in music, which still remains a passion of mine. After I graduated, I worked for the Prince's Trust for a while, through which I met a few inspiring and ambitious young business owners and mentors. Watching them take risks to achieve their personal goals, inspired me to do the same. Owning a barbershop/men's salon has always been a dream of mine and seeing others take that leap, encouraged me to do so too.
What's your day job?
My day job is split between running the daily operations of The Shear and Shine Barbershop and growing the grooming brand.
I often speak to customers on the shop floor to find out more about what is important to them, what they expect from their barbershop and what they expect from the grooming products they use.
Why did you decide to launch a grooming range for men?
When I first set out to start my barbershop, I knew I wanted to create a brand that stretched beyond the shop floor and would become a part of people's every day life. I know first hand how important appearance is, which is why being well groomed is essential to me. However, I always felt that the market didn't cater enough to my specific needs and when they did, the options presented to me were limited in choice.When I discussed this with friends and family, they often expressed the same frustration. So when I opened the Shear and Shine Barbershop in 2014, I did so with the vision of bringing about much needed change to the industry.
How did you fund the project? (Prince of Wales Trust, Dragon's Den etc)
My first cash injection came from a loan I took out with Start Up Loans and money I had raised through music. This was a big help in the early stages of the Shear and Shine Barbershop. Since then everything has come out of my own pocket. I reinvest as much as I can back into the barbershop and into the further development of the Shear and Shine Grooming brand.
What's your hero product?
The hero product for me would have to be the Shear & Shine Hair and Body Shower Gel, I didn't think I would replace my current ones as I had grown to love them, but I just fell in love with the smell! I also feel like the Shear & Shine Shower Gel lathers much thicker and cleans fully with only a very small amount.
I probably sound like a right advert right now but it's the truth!
Do you have a product that tackles shaving bumps?
Not yet, this is a problem that I know us black men face often and an irritating one at that. We are currently developing a range of products that will effectively treat and potentially prevent shaving bumps. The hope is that we will be able to add this to our range in the near future. Quality is extremely important to me so I want us to make sure that when we do introduce products to tackle this problem, that these products will actually work.
Is it easy to get men to use your products?
It's not hard to convince a man to invest in looking good. In part it's about educating black men on what they can do to maintain healthy hair and skin. I find that a lot of men that walk into my barbershop are not always aware that keeping their hair healthy also has a massive impact on the quality of their hair cut. We address this by informing them of the benefits of using the right grooming products. Customers who visit our barbershop in Croydon often buy our products because they are able to experience the quality first hand.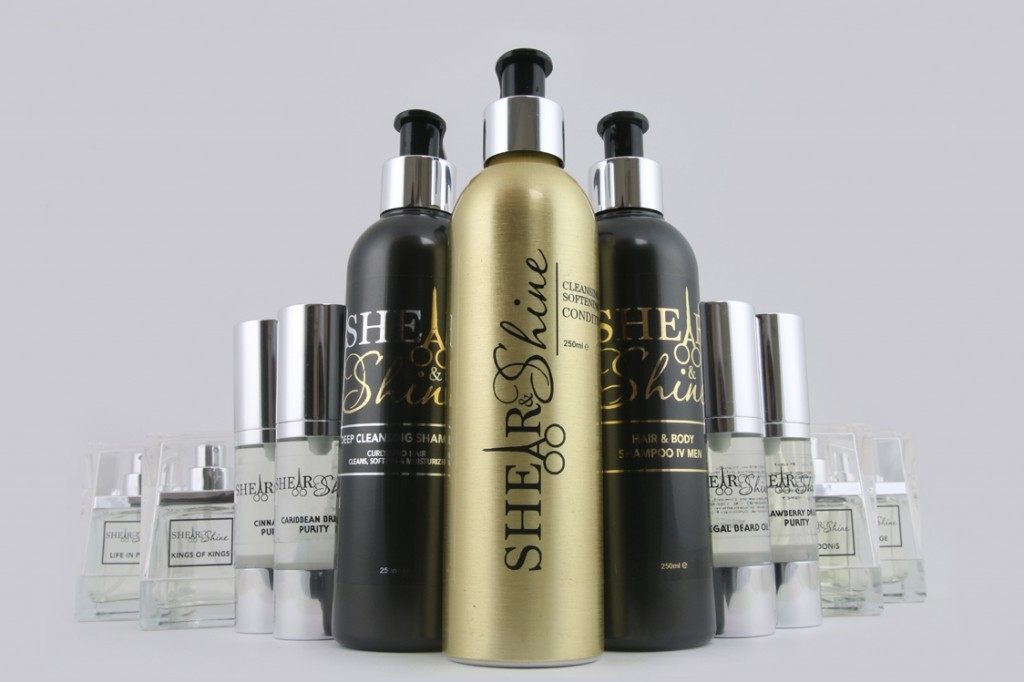 What are the products in the range?
Right now we offer the following products:
Argan Infused Shampoo, which is our most popular product
Deep Cleansing Shampoo with Tea Tree
Hair and Body Shampoo, which is my personal favourite and I use it every day
Cleansing and Softening Conditioner, which is great for maintaining healthy hair and scalp
Regal Beard Oil, another product I use daily. It's ingredients are really good for clearing pores and hair follicles from daily dirt, creating an environment conducive to healthy beard growth
Fix & Hold Spray, which is a favourite of my barbers because it helps keep haircuts fresh and neat for longer
In addition to these products we also have a range of great smelling aftershaves, massage and body oils and styling products.
Will you be adding to your range in the near future?
Most definitely. My vision for Shear & Shine Grooming is for it to become a one-stop shop that caters to all grooming needs. Like I mentioned earlier, we are already developing products to tackle shaving bumps. Other future products include body lotions, facial scrubs and many more. In fact, one of my personal favourite additions will be the 'Grooming Club'. It's essentially a monthly subscription that will ensure that customers get a selection of grooming products delivered to their doorstep every month.
What are the price points?
Our prices start from £8.99 for the massage and body oils to about £12 for the shampoos.
Where can we find you?
Our products are available online on our website byaaronwallace.com.