Siána Scott, founder of vegan nail brand BEAU Nails reveals her favourite Autumn/Winter nail colours guaranteed to suit darker skin tones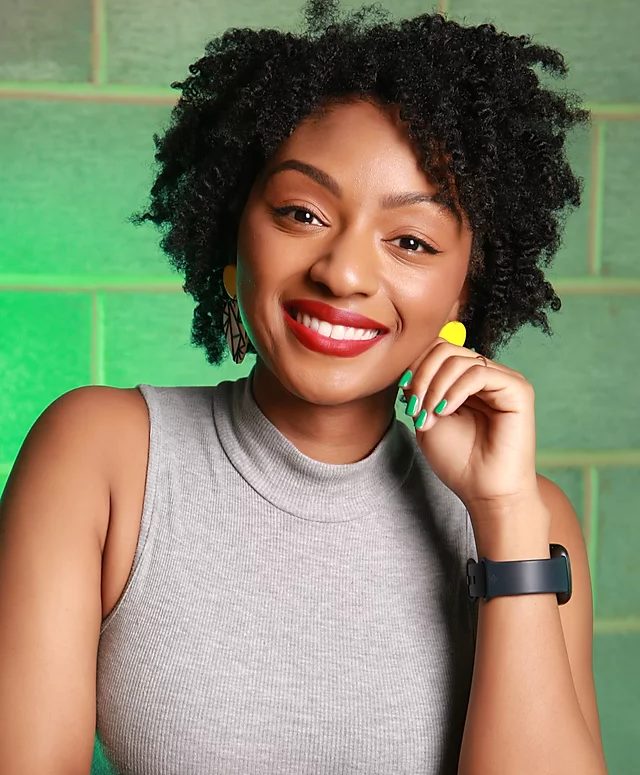 BEAU Polish is a new kid on the nail brand block. This black-owned vegan friendly, 10-free, handmade, nail polish brand was launched in 2019 by nail technician Siána Scott, who describes herself as a 'bold colour enthusiast.' And you can see why, as BEAU specialises in brighter, bolder colours not commonly found on the high-street, and caters to an audience that loves to express themselves through nail polish.
The brand stands in support of equality and self-love, and expresses this through motivational, sassy nail polish names, like Preying On Your Man Sis (bright green) and Run the World (neon red).
"There is no question or doubt in my mind that darker skin tones can pull off all colours and shades," explains Siána. "Deeper tones harness the duality of carrying subtler shades as well as making a statement by showing just how good brighter colours can look.
"But as we've ditched the summer neons, and moved into cooler climes, we could quite easily go back to those tried-and-tested nude colours that just work for us. But this is a new and different time, where freedom of expression is ever-prevalent, so what better way to ring the change in season and explore seven brilliant colours from the BEAU Nails range that suit darker skin tones for this Autumn/Winter 2021."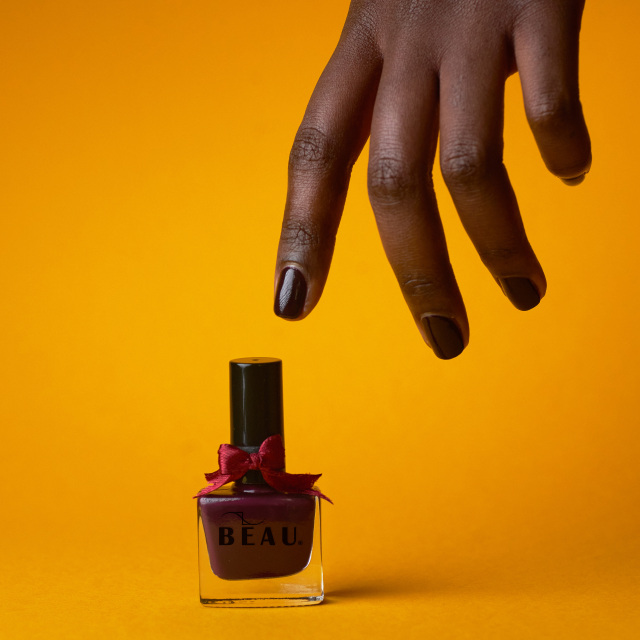 Berry colours are winter staples. Berry Funny ticks the box. This deep plummy purple will look great for a special occasion. It brings out those deep red tones, and works well for both cool toned and warm toned skin.
We say: One of our favourites. This gorgeous deep red is reminiscent of black cherries and is a perfect winter colour. Hints of Chanel's Rouge Noir but miles better (and cheaper) as it glides on easily – even one coat gives good coverage. Adds glamour and sexy to your party nails.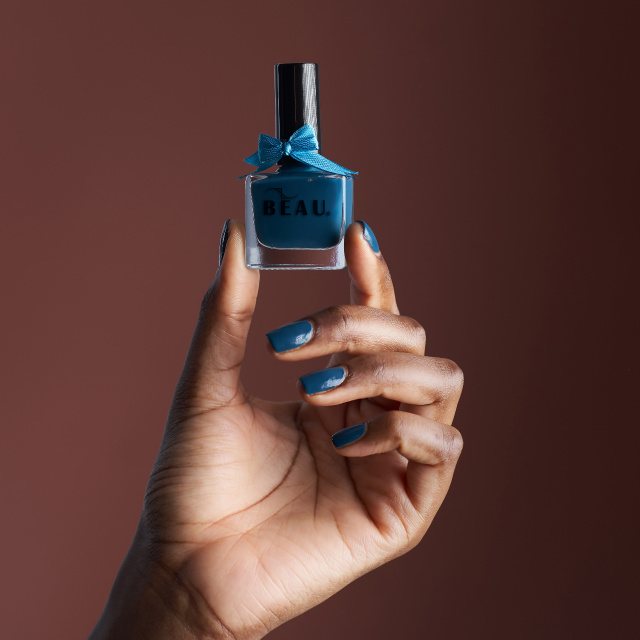 A deep and rich blue that is a different offering to a navy or royal blue. This shade brings in a little more black and complements those darker notes in your skin.
We say: The plush velvety hue of this bold teal colour is great for autumn and winter and is flattering for darker skins. It works with most outfits and is the perfect festive party polish.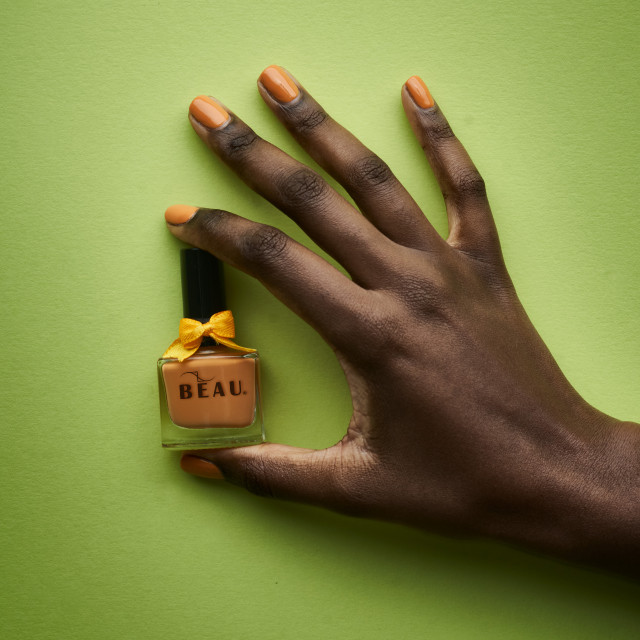 Inspired by the background of Kente cloth, there is no way we would could leave this one out. The brown undertone of this colour lends itself well to bringing out the earthy brown tones in your skin. The yellow notes also compliment any golden undertones and works for cool, warm and neutral toned skin colours.
We say: This colour has an echo of something familiar, so when we read it was inspired by kente cloth, everything fell into place. This perfect warm yellow has black people DNA and is a great shade for winter.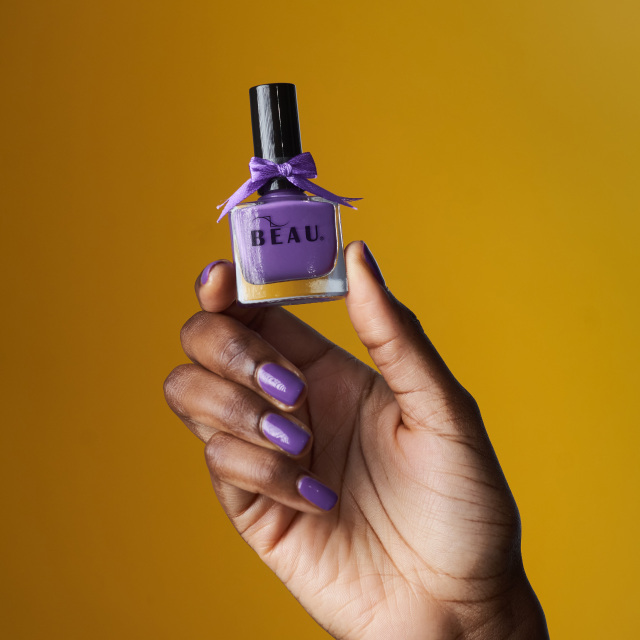 A rich bright purple. It is a perfect complement to skin that has more golden tones as yellow is the complementary colour to purple on the colour wheel, and works well for warm toned skin. If you are looking for something brighter with a touch of winter richness, this colour does the job perfectly.
We say: Purple reigns and this shade is no exception. It's bold, bright and brash in a good way. That's what makes this colour purple so much fun to wear.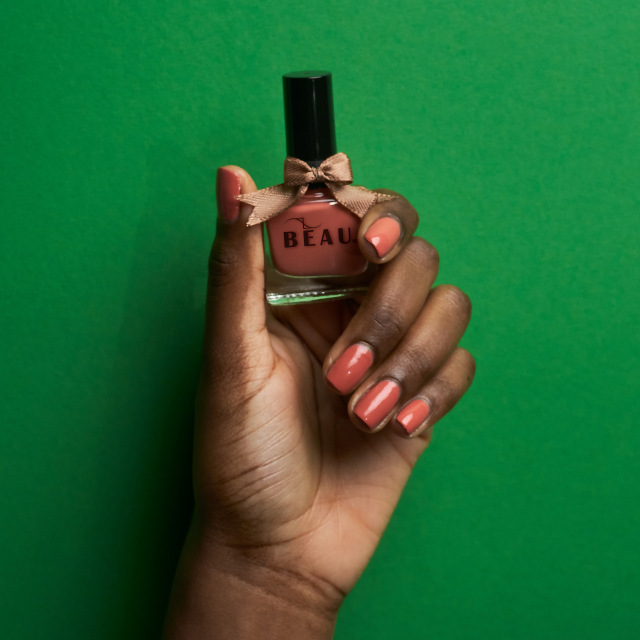 This gorgeous terracotta shade brings in those earthy brown and red colours to really showcase the lighter and more golden tones to your complexion it also works really well with cool toned skin.
We say: We love the name of this varnish we also love how this shade is so wearable. It's rich and creamy and like that summer perennial coral, it works well on all skin tones.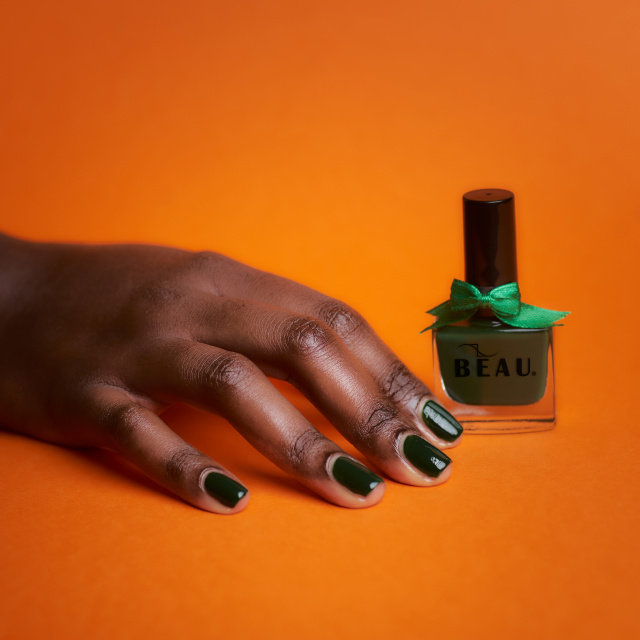 Greens are some of our best sellers and this one works very well for cool toned skin and much like purple and blue, it has a deep, luxurious feel but brings in that beautiful rich winter look as we move into the Christmas season.
We say: Never underestimate how good greens looks against deeper skin tones. This is a deep green that looks rich and sophisticated. Would work well on shorter nails too.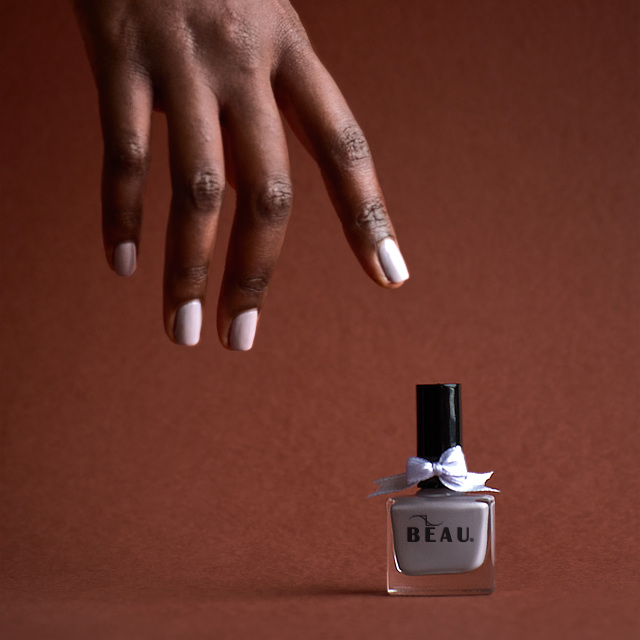 A soft dusty lavender purple that makes a great neutral with a twist. If your skin has more golden tones, this colour is perfect for you as yellowy tones are a complementary colour to purple. This colour also works twice as hard as it contrasts with darker skin tones with its soft hue.
We say: Deeper skin tones look striking when contrasted with a lighter polish. This is one of our favourite shades from the collection. If you haven't been able to nail grey polish, then try this as the purple hint adds a welcome warmth.
So there you have it, a round-up of seven nail colours that are guaranteed to look awesome against your deeper complexion and will take you from work to play during the colder months.
All colours available from Beau Polish
Photography by Ash Daniyan. Nails by Siána Scott at Beau Polish. Lighting by Pete Davis. Art Direction by Keshia Daniyan. Model: Ana DaSilva