Tired of pesky hairs sprouting out of the most embarrassing places? If you're on a quest for silky skin, laser hair removal could be the solution you've been looking for
By Carly Lewis
Excessive facial and body hair can spell big problems for those who constantly have to worry about ridding themselves of the stubborn stuff. Not only does hair removal require regular upkeep, those repeat trips to the salon for painful threading and waxing sessions aren't cheap.
Laser hair removal has proven to be an effective solution for many and if the recommended course of treatments is completed, 60-95 per cent of hair is removed permanently. But there has long existed the myth that black women aren't suitable candidates for the procedure because of the melanin in our skin. Times have changed, however, and as technology has advanced there are more options for people with darker skin that won't cause any adverse effects.
Lasers explained
So what exactly is laser hair removal and how does it work? The name of the procedure sounds a little intimidating, but it's essentially self-explanatory. During the process, known as selective photothermolysis, an intense beam of light is directed towards the skin. The pigment in the hair attracts this light which heats up and kills the cells that produce the hair. This is why the procedure is most effective on dark thicker strands.
There is often confusion between laser hair removal and IPL (intense pulsed light) technology, which differs because it emits multiple wavelengths instead of one concentrated beam. Therefore it cannot properly focus on specific areas, meaning that only some of the wavelengths can aid hair reduction.
More importantly, not all of the light can be absorbed into the surrounding tissue which can lead to the pigment overheating, resulting in burns. This is why it's not suited for people with dark skin. 'Ethnic skin can be from Mexican right up to an African skin type,' explains skin specialist and clinical trainer Bianca Estelle. 'Anybody after a skin type four, which is Mexican or Hispanic, we would class as an ethnic or darker skin type. We wouldn't use IPL on skin like mine, which is Afro-Caribbean, because the wavelengths used are too short therefore you get more interaction with the melanin in the skin.'
THE BENEFITS OF LASER
• Shaving and waxing can cause ingrown hairs
• Creams sensitise the skin and can be messy
• With other methods hairs tend to come back more frequently
• In the long term is cheaper and saves time
• Gets rid of ingrown hairs
• Thins the hair
• Permanently reduces hair growth
• Can boost your confidence
Do your research
If you're considering going under the beam it's crucial that you get clued-up before committing to a clinic or technician. Failing to ask the right questions can lead to hyperpigmentation (excessive darkening of the skin), and even worse, severe burns.
Bianca advises that the experience of the laser operator and the type of machinery that he or she uses are the key things to consider. 'Not all machinery is suitable for dark skin. We might look at using a laser which has an 810 nanometer diode wavelength or longer, which tells us that in terms of the melanin absorption, it's going to be targeting the melanin found at the root of the hair follicle and not on the skin,' she says. 'Obviously choosing the correct practitioner that is knowledgeable about how lasers affect darker skin and light interaction is very important.'
Niva Massey, senior aesthetic skin practitioner at Notting Hill's Premier Laser Clinic recommends the ND YAG Laser. 'It differentiates between skin and hair a lot better than any of the other lasers do, so it's safer to go a lot higher without damaging the skin,' she says. When in doubt, bail out! If someone is unable to answer questions to your satisfaction or reluctant to prove their experience, it's best to move on to the next. And don't allow yourself to be lured in by low prices; permanent hair removal is a procedure worth shelling out for.
Picking a part
Laser hair removal can be administered pretty much anywhere on the body. This includes the arms and armpits, legs, face, pubic area, and the back and chest, which are becoming increasingly popular with men. The frequency with which you'd need to repeat treatments depends on the area you want to work on. For example, the bikini line only requires appointments every six to eight weeks, whereas the face needs to be done every four weeks.
Depending on the individual, the sensation experienced whilst under the laser can vary. Some people only experience a mild prickly sensation whilst others find it very painful. Charlotte, 25, decided she wanted her bikini line taken care of, but changed her mind after the first session. 'I felt like she was setting me on fire,' she said. 'The pain was too much so I moved to my snail trail [the area between the bellybutton and pubic area] instead.'
The burning question
Suffering from burns, especially when they're visible, can be difficult to come to terms with. Not only does the skin look damaged but it can be very painful. 'If someone experiences burns or hyperpigmentation, we can put them onto a product that's going to help to address that,' says Bianca. 'Products that contain kojic acid, burberry extract or liquorice are what we call tyrosine inhibitors, so they suppress excess melanin.' You should consult your practitioner immediately to find out what they can do to treat your condition.
If the problem still doesn't improve it's best to seek a skin specialist who has experience nursing burnt skin back to health. Hyperpigmentation is usually a temporary side-effect, though in some cases it can be permanent.
Tried & tested
Bharti Vyas ND Yag Laser
WHAT THE EXPERT SAYS
Priti Vyas, partner at Bharti Vyas Holistic Therapy and Beauty Centre ND Yag Laser is excellent for black skin as it will find the pigment in the hair follicle and target that without disturbing the pigments in the skin. Hairs on black skin are often very dark and because the follicles are curlier, they are prone to ingrowing so cannot take a lot of heat. We give all our clients a consultation and test patch before starting any treatments. We need to see how the skin responds to the heat and make sure they are suitable for laser.
In the consultation we look at their medical history and stress levels to assess the heat and treatment duration. We usually see clients once a month, however to see the long-term benefits and depending on the area being treated, generally 20 to 25 ongoing sessions are needed. Although, each time you should see less patchiness of growth and even no growth.
We also will make sure we get the clients to polish their skin with the BVM MD Face & Neck Polisher or salt scrub to prevent ingrown hairs, as these can often scar and damage the skin. This treatment can be done even after coming back from a holiday, because laser works on the pigments in your hair rather than on your skin. It is very important to go to a recommended salon because black skin is often more sensitive hence why we apply aloe vera gel after each course.
All of our therapists are trained to treat deeper skin tones making this a very low risk procedure with no burning or scarring. We do not carry our laser treatments on those pregnant or breastfeeding as the hormonal changes sensitise the skin to heat.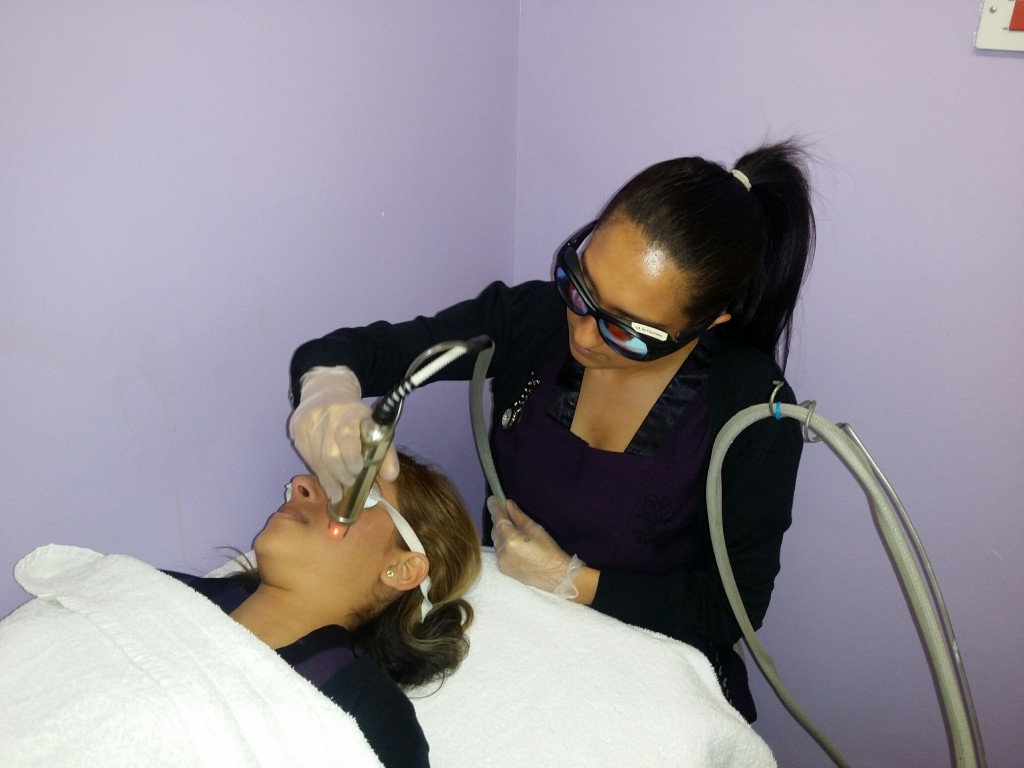 WHAT THE CLIENT SAYS
Jemima Cousins, Production Editor
Laser and black skin are seldom used in the same sentence so it was comforting to know the Bharti Clinic specialised in treating darker skin tones on every spectrum. I chose to have the hairs under my armpits treated as the irritation from shaving darkened the area.
My consultation was brief but concise. Everything was explained thoroughly from how the laser worked, after care and how it feels; something I probed about after hearing one too many horror stories. The patch test was a quick dress rehearsal of what's to come. My armpit was shaved and a cool conductive gel that protects the skin's surface and enhances the laser's effects was applied. A probe-like device was moved along the area that picks up the pigment in the hair and attacks them.
How did it feel? Surprisingly relaxing, however it was on a low/high setting. As the hair's lessened, and by session three, a low/high frequency was being used and by this point I could feel the concentrated heat, the laser grabbing the follicles and the smell of burning hair – but it was all bearable and justifiable in the quest of beauty.
To date I have had four sessions and my appointments are every three weeks. I am no longer shaving and the dry exfoliation with the Bharti Vyas Salt Scrub, three times a week, is steadily lifting the dark pigmentation. I hope by summer I will be raising my arms up with confidence. Costs vary depending on the area being treated. Book a course of treatments to receive a special discount. For more information about the ND Lag Laser at Bharti Vyas Holistic Beauty & Laser Centres call 020 8863 6353 or visit www.bharti-vyas.com
Sk:nclinics LaserHair Removal
WHAT THE EXPERTS SAYS
Expert from Sk:nclinic Those with darker skin tones are more prone to pigmentation and are at higher risk of burning from badly carried out laser or IPL treatments. Sk:n clinics use a variety of different lasers to treat different skin tones. The practitioner carries out a patch test, using the Fitzpatrick Scale skin grading system to determine what your skin tone and the right laser is selected and calibrated to suit your skin tone.
This process eliminates the risk of skin burns, ensuring the laser only targets the dark hair follicle and not the skin surrounding it. We usually see clients every six weeks and you will generally need between eight to 12 treatments. During that time hair is significantly reduced, and the hair that does grow back is finer and softer.
Laser hair removal is a method of long-term hair reduction with good results – there is usually at least 80 per cent permanent hair removal. It uses an intensely concentrated beam of light to target the hair follicle and disrupt hair growth. There are three phases of hair growth – Anagen, Categen and Telogen. Anagen is the 'active' growing phase and when the laser will have the best effect. And as hair is never in the same growing phase at any one time, more than one treatment is required to produce hair reduction.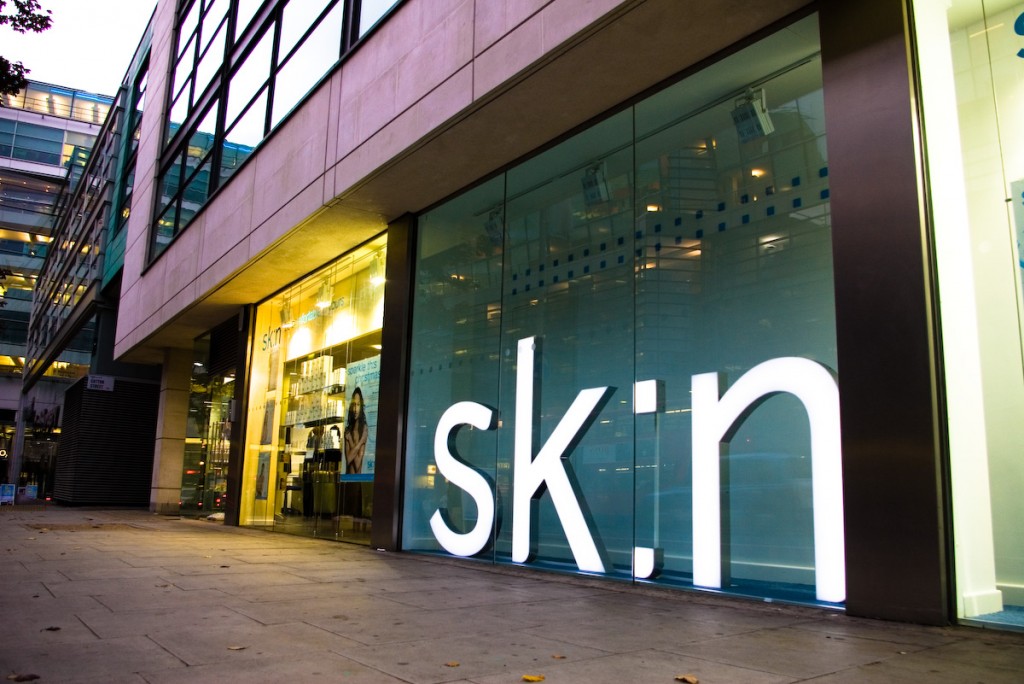 WHAT THE CLIENT SAYS
Irene Shelley, Editor-in-chief
After reading that singer Beverley Knight had undergone laser hair removal to keep her pins smooth for her West End musical performances, I chose to have my legs treated. They're not that hairy but it can be a bit of a drag shaving them in the shower. There was no reaction to the patch test and I was able to have my first treatment several weeks later.
I'll admit now that I have a low pain threshold, so I was a little apprehensive before the treatment. I was told it would feel like an elastic band flicking the skin. I did experience some discomfort during the treatment.
A jet of cold air is used throughout the treatment to keep things cool, but every so often I would feel hotspots where the laser was zapping through the more stubborn hair (and I seem to have a lot of those!). The treatment took 45 minutes for both legs.
The appointments were six weeks apart and in the early stages I shaved my legs once or twice between each session rather than every week. By session four I had experienced about a fifty percent reduction of hair and by session six, it had increased to an 80 percent reduction.

By the end of the eight treatments, I probably have a 90 – 95 percent reduction of hair growth. The most sensitive areas were around my knees – my practitioner told me that it was because of darker pigmentation in this area – but hey, who said beauty was pain-free? Despite the pain, the end result is permanantly smooth legs.
Full Legs x 8 treatments costs £1,830. Call 0800 028 7222 or visit www.sknclinics.co.uk to book an appointment.