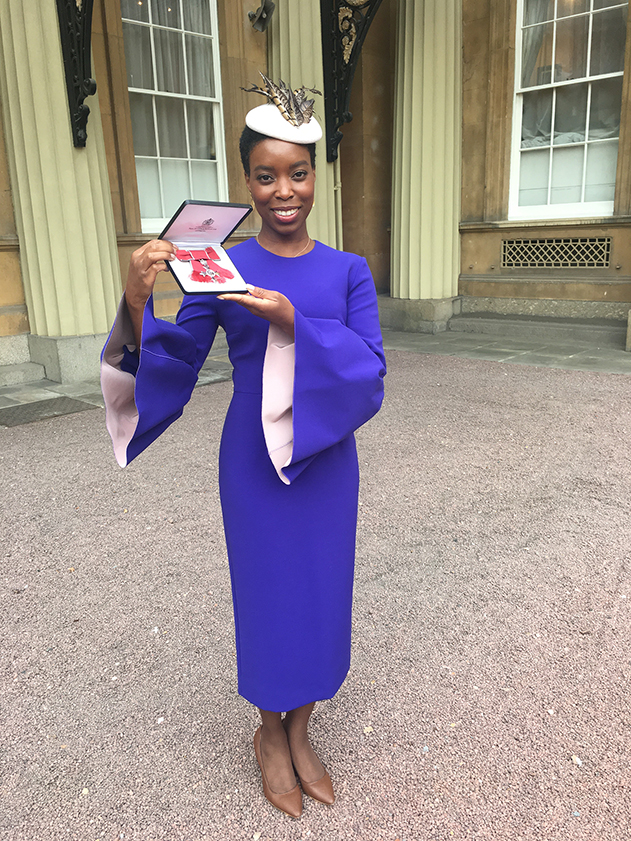 Ade Hassan founder and director of Nubian Skin received her MBE yesterday from Prince William at Buckingham Palace, having been named on The Queen's Birthday Honours list in June this year. The list recognises the achievements and contributions of a wide range of extraordinary people across various industries in the UK.
The award was made in recognition of Ade's commitment to her mission to redefine nude through her brand Nubian Skin, and the impact she has consequently made on the fashion industry. On the honour, Ade said: "I really am so humbled and incredibly grateful to be receiving this. It's not something I could ever have imagined."
Frustrated by the lack of diversity in nude lingerie and hosiery, Ade decided to create something she was unable to find, Nubian Skin was launched in 2014.

The brand is now stocked in leading department stores and boutiques in nine countries over four continents, with online sales, helping to reach more women than ever before. Nubian Skin brought a truly innovative product to market which was much needed, not just as a fashion necessity, but also on a social level highlighting the need for diversity. Ade has done much to promote this diversity via various speaking engagements and mentoring up and coming brands.
Speaking about this award, Ade said: "As the owner of a small, independent brand it is an incredible validation of my goal of 'Empowering Women. Embracing our Colour' to receive this honour. I feel so fortunate and am very grateful for all the people who have supported my vision and Nubian Skin and made it what is today."
Save
Save
Save
Save