New vegan haircare brand Shedid & Parrish announces the launch of six products for curly and textured hair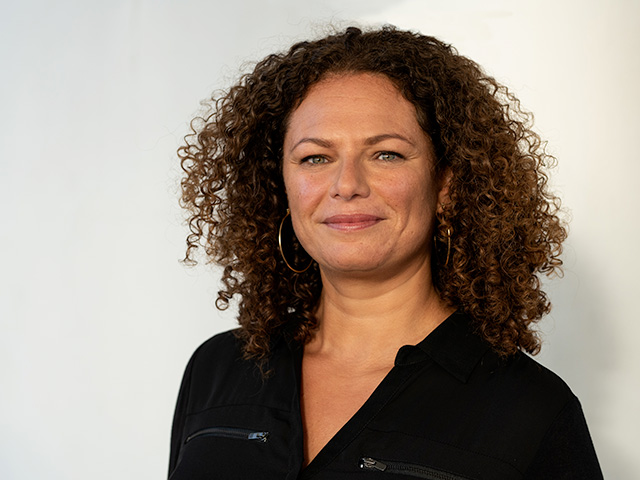 The Shedid & Parrish story started way back for founder Jessica Parrish, who spent many years trying to find natural hair products that both cared for and styled her curls. As an adopted, mixed-race child, Jessica's parents did not know how to look after her hair and rarely did salon stylists, nor were there specific products available. These were the key drivers for her to create her brand Shedid & Parrish, and Jessica has worked tirelessly to ensure the product range is of salon quality whilst using only 100% natural and vegan ingredients.
What did you do before you became a beauty business founder?
Before starting Shedid & Parrish I spent over 20 years in the world of business, specialising in the food and real estate sector. Most recently, I was commercial director at Time Out Market where I grew their food and cultural market concept on an international scale and developed and opened five across North America! In addition, I also have an Executive MBA from Cranfield University.
What prompted you to bring out the Shedid & Parrish brand?
I have spent most of my life struggling with my hair. As a mixed-race, adopted child, my parents didn't know how to look after my hair but nor did the stylists at the time and there were certainly no products to try. Looking around today, I felt that it was still just as difficult to be serviced, either from a stylist on the high street, or from a trusted product that was vegan, 100% natural, scent-free and of salon quality made specifically with curl and texture in mind… so, I decided to create my own range.
How did you come up with the name?
The brand name really is the bringing together of my various cultures and backgrounds. My birth mother's maiden name is Shedid and my adopted family name is Parrish, so it felt right to combine both for the brand name as it simply would not exist without the nature and nurture that has come from both.
Was it easy to raise funding for the business?
I started Shedid & Parrish with my own savings so, haven't yet needed to get funding. I felt passionately about the project and knew that I would ultimately need investment in order to grow, but it felt right that if I had faith in my ideas I should 'put my money where my mouth is'. So I backed myself, with money that I had saved over the years. I may need to approach financial supporters in the future, although I'm sure it won't be easy.
When did you launch?
1st February 2021!
There are many haircare brands for curly hair, what is the brand's USP?
There are many great products out there however with Shedid & Parrish, it is important that are 100% natural as well as vegan, in order to be as accessible as possible. I wanted to use only the best ingredients so our product would be of salon quality that could be experienced at home. In addition, the environment is very important, so our products use aluminium packaging, direct to bottle printing and we show how to recycle the pumps. Working with nature goes through everything we do. In the interests of inclusivity we wanted our brand for all; waves, curls, kinks and coils, long, short, male, female, non-gender specific. Many brands focus on 'the afro' or 'the European' market however for us, curls are at our heart and why the range was created, to provide a solution that benefits all.
What does the range consist of?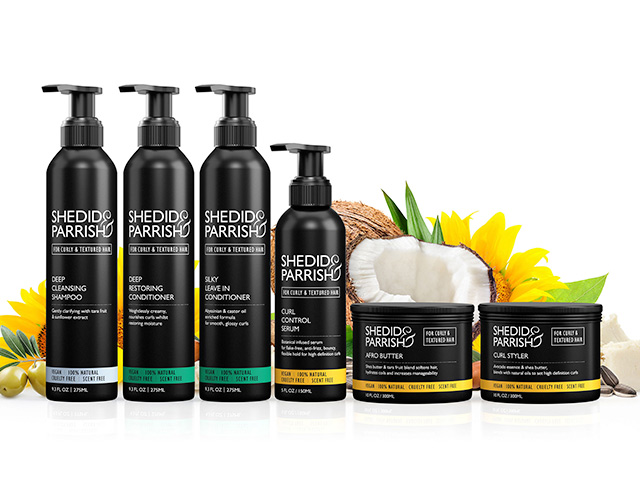 Deep Cleansing Shampoo (£22/275ml); Deep Restoring Conditioner (£27/275ml); Silky Leave-in Conditioner (£27/275ml); Curl Control Serum (£28/150ml); Afro Butter (£29/300ml) and Curl Styler (£29/300ml).
As an adopted mixed-race child, did you have hair issues?
Most definitely… Yes! My mix is interesting: Italian – Sudanese – Congolese – Belgian (although I grew up thinking the Congolese-Belgian was Chad-French). Really what that meant was that no-one really knew what to do with my mixed hair – it certainly didn't fit into a neat box. I was adopted into an English and Canadian family who all have 'soft management' hair. They didn't know what to do and the safest option at one point was cut it off! It definitely meant that I grew up with hair insecurity, feeling I looked like a boy, certainly not attractive. I did start to grow it out as I got into my middle teens but that was equally challenging because stylists and salons didn't know what to do and there were no products on the shelves for my type of hair. Also, back then, you didn't see many mixed-race / curly people in the media, so it was quite isolating.
What haircare advice would you give parents of mixed-race children?
Don't be scared of it. Touch it, feel it and ask the experts. The world has definitely moved on since I was a child, which is amazing but it's still very difficult for all parents, let alone those with cultural mixing thrown in. The only real haircare advice I can give generically, is love your child; love who they are naturally and love their hair as it grows from their head. We all want to 'fit in' but when you have a different textured hair on your head or a style that stands out, you can't hide it and that makes us, and children particularly, feel alone. However, if they know that they are loved no matter what they can rock anything, and it will stick with them as they grow.
Who is your target audience? Is this just for Type 3 curls?
Shedid & Parrish has been created with all curls in mind no matter their type. That means being gentle on the scalp, adding moisture, and encouraging elasticity and nourishment that leads to hair growth. Many of us have different curl patterns on one head, so our ranges support that. The Shampoo and Conditioners are good for all curl types, and the styling range is then more specific, depending on whether you want a product to reduce frizz (the Curl Serum), reduce frizz and add moisture (the Curl Styler), or add a more nourishing injection (Afro Butter). Because the range is so natural and gentle, everyone with curly or textured hair can use it, young and old alike.
What is the brand's hero product?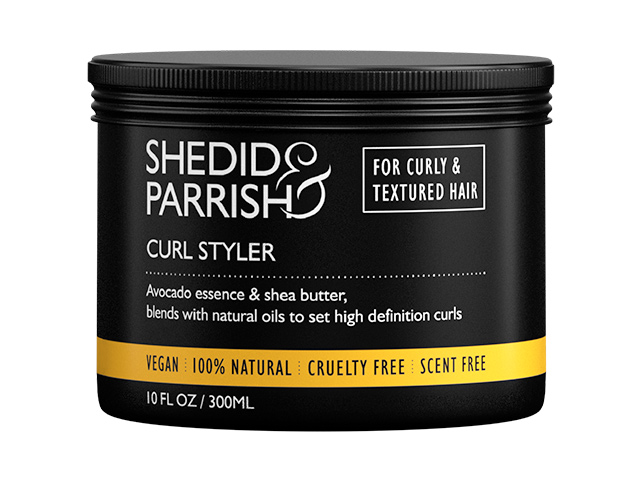 The Curl Styler is possibly my favourite product… rich in natural oils and shea butter it's perfect for promoting all-over curl definition, bounce and elasticity.
Who inspires you?
I tend to be inspired by lots of things around me. My friends inspire me and the different, sometimes difficult, life journeys they've been on and their constant ability to be resourceful and push through. I'm inspired by my yoga teacher who has the ability to see the world in such a spiritual uplifting way (I would love to find that sense of calm!). I also find that I'm frequently inspired by my colleagues and peers; the sparks of genius, the dogged determination, the ability to see things clearly. I find all these inspiring and they encourage me to strive forward.
What are your plans for the brand?
Shedid & Parrish has always been about providing an accessible solution to the curl community and finding hair equality. I still find that, as a curly girl myself, it isn't that easy to be seen in a salon with a stylist who understands curls. I would love to see Shedid & Parrish salons where all curls are welcomed by a knowledgeable team and of course our fantastic salon quality range.
Where can we find you?
www.shedidandparrish.co.uk
www.instagram.com/shedidandparrish
---
More Black founder hair brands…