Female drummers are a rare breed in the world of music. We catch up with Affy Green, drummer for the Pet Shop Boys and find out about life on the road and how she looks after her natural hair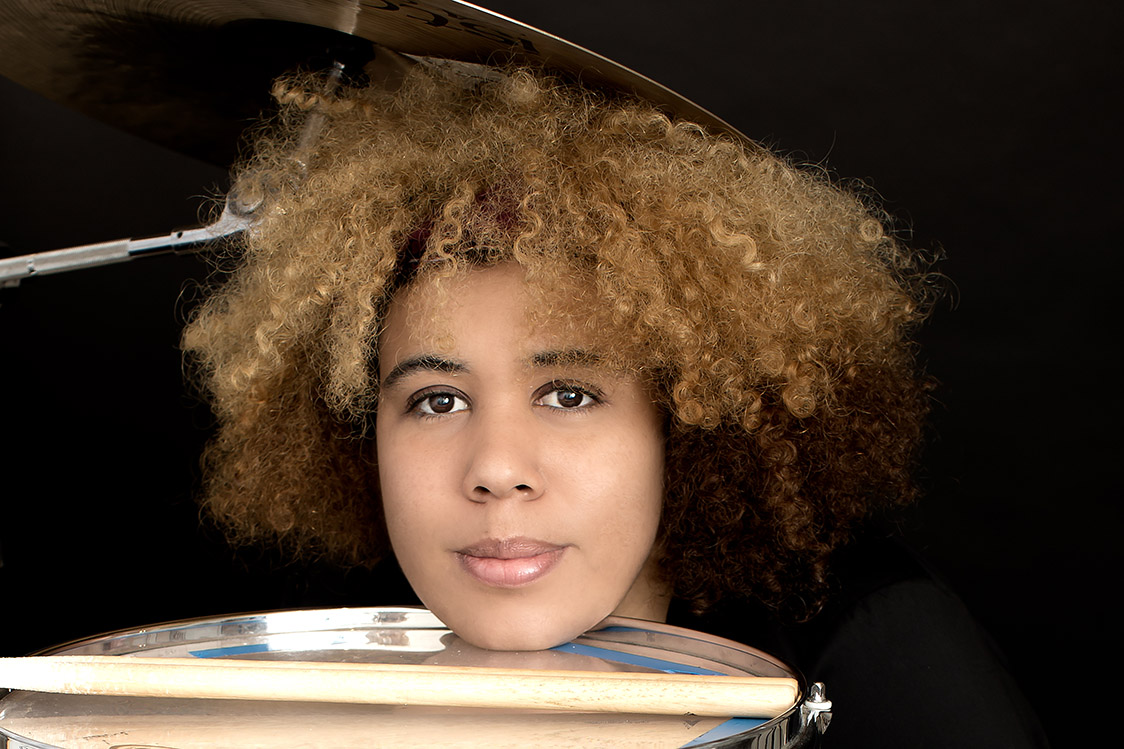 What's Affy short for?
For Afrika that's my first name
Where are your parents from?
My mum was born and raised in the UK to an Irish mother and German father and my father is African American.
When did you discover you could drum?
I was 13 and found it by complete accident at school. I was a bit of loner and bored one lunch time. I walked into one of the music practice rooms, peered through the window and saw an old drum kit. I found a pair of mismatched sticks, sat down and started to play. Each lunchtime I would return and try to build on the previous day's attempt. I did that for quite some weeks before getting caught by the music teacher. To my surprise, she said I could continue and encouraged me to seek lessons as I was showing promise.
Did your parents buy you the ubiquitous drum kit for Christmas/birthday?
No, I brought it myself by working on the market on a Wednesday and Saturday selling oversized knickers. It was only £200 but it took me forever to save on my pittance of a wage.
You are currently on tour with the Pet Shop Boys. How did you get the gig?
I had an email from an agent who asked me if I'd be up for auditioning for the Pet Shop Boys. I was thrilled to be given the opportunity to try-out. It was a slog of an audition with plenty of parts to learn both drumming and vocally, on top of only having 10 minutes to showcase in front of PSB and team on equipment I hadn't seen or used until I was there in the room auditioning.
Who else have you drummed for?
AKALA, Goldie, Fleur East and DJ High Contrast, to name a few.
We've got to mention your hair – a two-tone afro. How did you come by that look?
I made an appointment with Catherine (Hair by Catherine Sunshine) and at that time my afro was just black. I was bored with my look; it didn't enhance my overall style at all. So I asked Catherine about colour and she suggested a two tone vibe with perhaps similar colours to Beyoncé when she had her two tone hair. So we went for it. A few weeks after that hair appointment I got the call to back Fleur East at the National Television Awards.
Describe your hair texture
My hair is curly, thick, and a mix of curl patterns. Even though it is coloured, it still feels soft and this is maintained by using quality hair care products, a consistent hair care routine, and minimal heat.
Is it an easy style to look after?
I've had pretty much had every style under the sun: braids, extensions, short, relaxed and straightened. More out of ease for me and my parents to maintain during school years but as I got older and did my own hair. I wanted completely natural and for me that's a huge afro! It takes just as much time and effort as the other styles because I need to look after my hair to protect it from breakage and damage. It's still the same hair just the style that's different.
What's your haircare regimen?
On tour especially I'm putting lots of products in my hair every day. So I may end up washing it twice a week at most. I use Kera Care Colour Protection Shampoo. I wash it twice to make sure all the product is gone before applying conditioner and leaving to soak in the roots for 10/15 minutes. I towel dry, (apply some Kera Care Natural Textures Leave In Conditioner to my hair and detangle with a wide tooth comb). I let my hair dry naturally, which takes no time at all. I use home made scalp oil, which is a mixture of olive oil and mint oil. I massage that into my scalp before applying Kera Care Natural Textures Hair Milk and/or Design Essential Natural Curl Enhancing Mousse. I'm not one for a puff ball afro. I like big, but with defined curls and waves. Then I comb it once the product is in. Depending on my style and makeup I'll comb it in different directions. I also have a water spray bottle which I use regularly to keep my curls hydrated.
Do you have a regular hairstylist?
I do! The wonderful and talented Catherine (Hair by Catherine Sunshine). She is a London based independent hair stylist who is genuinely passionate about hair and works with her clients to translate their personal hair goals into affordable creations. I love Catherine because I'll come to her, sit in the chair and say let's try this for the next part of the tour and every time she rises to the challenge.
'If you scratch your scalp and you have residue under your fingernails then you have product build up. The product you are using is also too heavy for your hair' Catherine Sunshine

How do you keep your afro looking good on the road?
Well, that depends on where in the world I am. In the hotter climates, it tends to be a little easier. As my hair is suited to warmer climates. In the colder, windy places, it's a little harsh on my hair and its all about moisturising.
What are your must-have hair products?
The KeraCare range. Before I met Catherine, I was using a lot of American/Afro Caribbean hair products that were quite heavy on my hair and contained paraffin. Catherine recommended a lightweight natural hair product and the KeraCare range works very well for my hair. I also use the Design Essential Natural Curl Enhancing Mousse, which defines my curls beautifully, and is for European and afro hair types. Before I was subscribing to the model specific Afro-Caribbean hair products, forgetting that I am in fact mixed, so need products better suited to my hair texture.
My Kit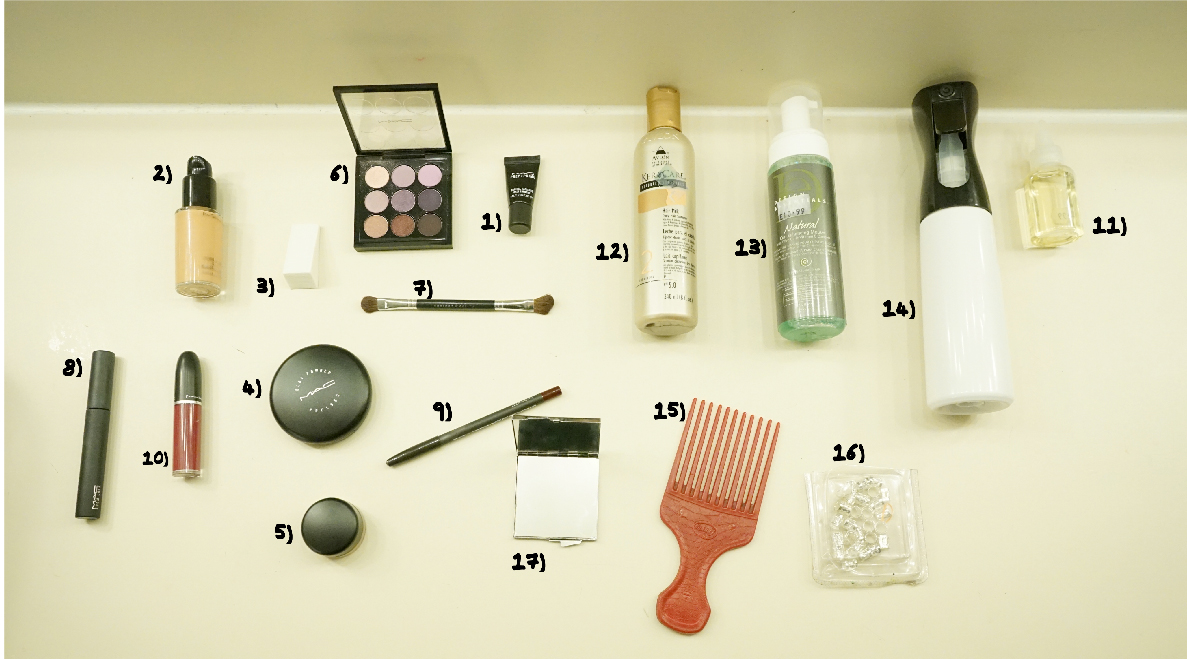 MAC Primer
MAC Foundation C5.5
MAC Blending Sponge
MAC Matt Pressed Powder (stop shine)
MAC Ground Work Matt Pro Long Wear (Paint Pot)
Eye Shadow (9 shades of purple)
Eye Shadow Brush
MAC Mascara in Black
MAC Pro Long Wear Lip Pencil in Bespoken For
MAC Retro Matte Liquid
Scalp oil (mint oil and olive oil mix)
KeraCare Hair Milk
Design Essentials Naturals Hair Mousse
Fine mist spray water bottle
Goody afro comb
Corn row clips
Pocket mirror
Drummers 'perspire' during performances (to put it succinctly), does your hair shrink after a gig?
It doesn't shrink but rather goes floppy and loses its shape. It also happens because of wearing different headwear on the gig.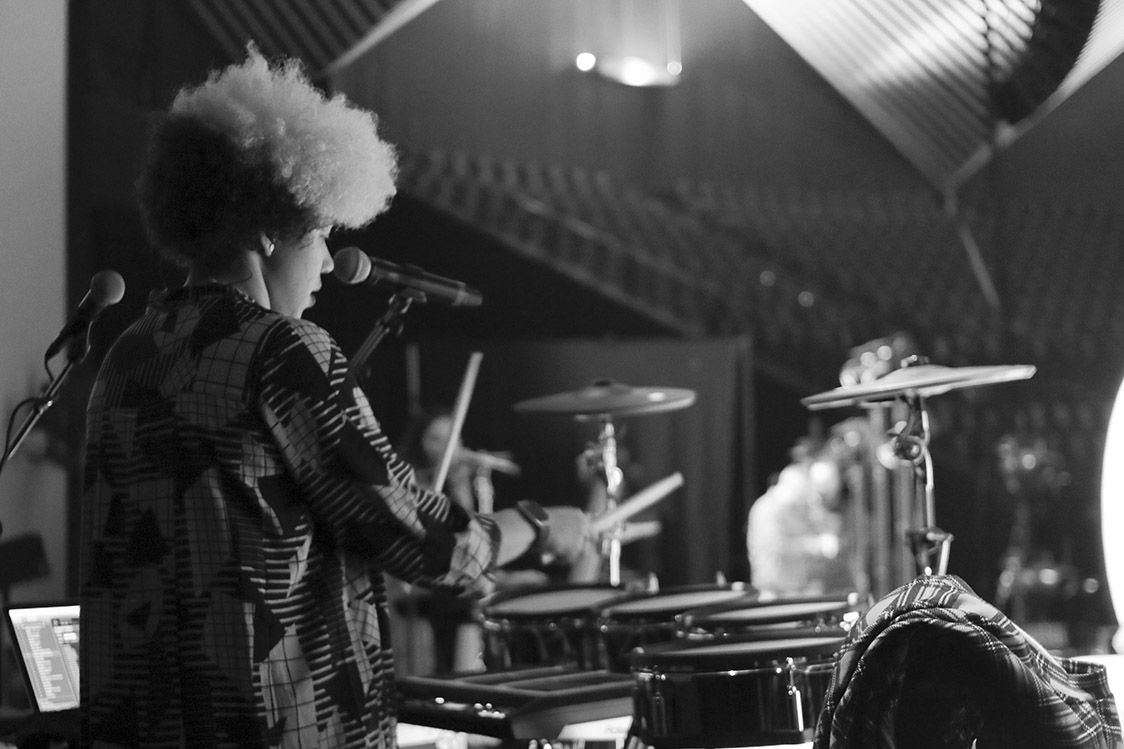 What do you think about the natural hair movement?
It's great that more people feel more confident to wear their natural hair out and that there is this ongoing discussion about natural hair. I've worn my hair out and natural since university days (2008). Back then it wasn't as big as it is now but it's great to see others being part of the movement.
What do you do in your tour downtime?
Well, between performances we either travel by plane or by bus. But I'll talk about the bus route as it's much more fun. We finish a gig, and collect our belongings and head to the bus. Winding down for me is either working on my laptop or having a cup of tea. I climb into my bunk and go to bed at a reasonable time. The bus travels to the next destination whilst we are asleep. When we wake we are normally outside the next venue. I roll out of my bunk, grab my day suitcase and head inside the venue to eat and use the wash facilities. Once I'm a bit more awake, I either grab my camera and explore my new surroundings or I go for a run. I return to the venue for dinner and then do another performance.
Do you get to hang out with Neil and Chris?
Neil and Chris are very busy in-between gigs but there are times when I am in their company. They are wonderful and are such a fountain of knowledge. They help me to refine my edge everyday and help me celebrate individuality.
What tips do you have for someone who wants to get into the industry?
Emphasise the characteristics that make you unique. Not just in your playing but in your style. Make a statement. There is nothing wrong with going against the grain, actually it's rather empowering.
Where can we find you?
Instagram: @affygreen
Facebook: Afrika Green
Twitter: @AfrikaGreenDrum
www.afrikagreen.com (drumming website)
www.futureisgreen.co.uk (travel blog)
Save
Save
Save
Save