Black Beauty & Hair intern Stephanie Orr visited Beauty Works Hair & Blow Dry Bar to experience one of their instant revitalising treatments, but could it stand the test against her thick hair?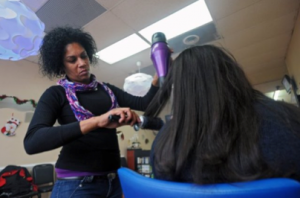 Express blow dry bars are rapidly becoming one of the best innovations the hair industry has seen over the last three years. The luxury walk in, walk out styling service which was once only available in pricey department stores has since taken off across the country, answering every females hair hope and dream in a 30 minute sitting. I visited Beauty Works Hair & Blow Dry Bar in Crouch End where I experienced one of the best transformations my hair has ever seen.
My hair story
Before the blow dry I was sceptical as to whether the style would hold in place once I got outside, I have mixed-raced hair which is relaxed purely for reasons of manageability, trying a different style and also trying to grow my hair. I've always adored the sleek look but no matter how many products I've tried, I've never been able to prolong it for more than one day, even with a relaxer on my hair would automatically frizz as soon as I stepped outside, so much so that for nights out or important events curling my hair and adding in curly extensions followed by a mass of hair spray seemed like the easiest solution to tame my locks.
A breakdown of the treatment and products
The treatment is a combination of serums blended with a luxurious masque, followed by an oil treatment which is massaged into the hair then and wrapped up under a hair steamer to open up the hair follicles and enable deep infusion. The Master Serum Ceremony treatment was sensational, I couldn't have felt anymore relaxed from the soothing head massage and the conditioning oils left my hair feeling silky soft which is unheard of!
Janet then used a few spritz's of Mizani's D'tangle Moisturizing Leave-In Milk, £12.90 and combed it through the hair followed by Mizani's Thermastrength Heat-Protecting Serum, £9.80 before blow drying. Clients are able to choose from a range of blow dry options from the sleek smooth bob to the classic big blow dry or an intoxicating head full of curls the choice is yours. I opted for the sleek smooth bob of course, which didn't let me down at all. Once Janet had finished quick speed blow dry (from £25) she then separated the hair into small sections and added in rollers to inject some bounce and volume into the hair, the rollers were taken out after 10 minutes and the style was finished with L'Oreal's Infinium Extra Strong Hairspray, £11.48.
Results
The results were incredible I'd never seen my hair look or feel this healthy before, I finally had soft shiny bouncy locks I've always wished for and they were long too – my hair had finally grown! So much so that three days later my friend was convinced I was wearing extensions and for once it felt so good to say that I wasn't.