The honey range that's got bloggers buzzing (like bees)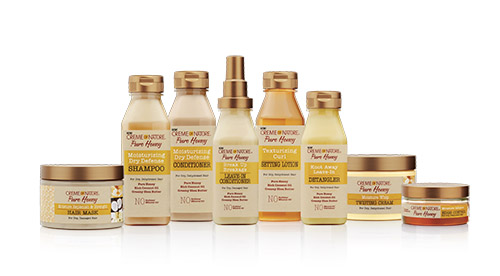 In three weeks, Crème of Nature have amassed 21 YouTube videos with 154,723 views and counting. The social media campaign has the consumers excited to try honey and fans and vloggers are running to be the first to share their thoughts.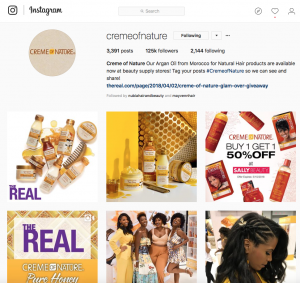 Their Instagram page @cremeofnature has grown by more than 6000 followers since the launch of Honey.
Quick Snap shots on videos:
Janae's (Honey Hive ) teaser video has 345k views. An additional post to Instagram has 35,851 views.
Yolanda Renee's (Honey Hive) teaser post amassed 86k views. Yolanda's Bantu Knot Out vid featuring her second day hair has 96k views.
YouTube videos with the highest views include:
NaturalNeiicey – THE TEA ON THE NEW CREME OF NATURE PURE HONEY LINE! | WATCH ME STYLE MY NATURAL HAIR – March 28, 2018
Products featured: Creme of Nature Pure Honey Moisturizing Dry Defense Shampoo; Creme of Nature Pure Honey Moisturizing Dry Defense Conditioner; Creme of Nature Pure Honey Moisture Replenish & Strength Mask; Creme of Nature Pure Honey Knot Away Leave-In Detangler; Creme of Nature Pure Honey Moisture Whip Twisting Cream
Instagram: 230k Followers
Facebook: 110k Likes
YouTube: 493k Subscribers
Views: 66,452 views

Finally Amber – THE REAL TEA ON USING PRODUCTS WITH ISOPROPYL ALCOHOL IN THEM | CREME OF NATURE PURE HONEY REVIEW – March 28, 2018
Products featured: Creme of Nature Pure Honey Moisturizing Dry Defense Shampoo; Creme of Nature Pure Honey Moisturizing Dry Defense Conditioner; Creme of Nature Pure Honey Moisture Replenish & Strength Hair Mask; Creme of Nature Pure Honey Knot Away Leave-In Detangler; Creme of Nature Pure Honey Moisture Whip Twisting Cream
Instagram: 60.5k Followers
Facebook: 945 Likes
YouTube: 79k Subscribers
Views: 11,557 views

Janae Mason – How To: Ultimate Fro | NEW Creme of Nature Pure Honey Collection – March 31, 2018
Products featured: Creme of Nature Pure Honey Moisturizing Dry Defense Shampoo; Creme of Nature Pure Honey Moisture Replenish & Strength Hair Mask; Creme of Nature Pure Honey Break Up Breakage Leave-In Conditioner; Creme of Nature Pure Honey Texturizing Curl Setting Lotion
Instagram: 115k Followers
Facebook: 3.7 Likes
YouTube: 97k Subscribers
Views: 10,462 views