The WOW Facial uses advanced skincare technologies, customised to your skincare needs to leave you glowing, luminous, and healthy, with long-lasting results
Images courtesy of WOW Facial
During lockdown my skin had taken on a tired, dull and stressed look. Rough patches were starting to appear on my cheeks, and I was breaking out and had blemishes to show for it. I wanted to love the skin I was in but that wasn't going to happen anytime soon unless I did something about it. So, when I was given the chance to try out the Wow Facial, I was ready to level up my complexion.
What is a Wow Facial?
The Wow Facial is a six-stage 75-minute facial that uses advance skincare technology like needling and LED light.
"During your treatment, you'll first be prepped, exfoliated and cleansed," Claire from Wow Beauty explains, "after which a unique-to-you peel will be applied to match your skin's needs. This paves the way for one of our personalised WOW Fusion serum cocktails, where we infuse vitamins and nutrients into the skin using a series of techniques, including a gentle needling treatment; to stimulate the skins wound healing response and release growth factors. This is then followed by LED light therapy and our signature cult beauty mask, to enhance results and reduce redness."
The six stages to Wow!
Step One – The facial starts off with an active cleanser that prepares the skin for the resurfacing peel
Step Two – A customised surface peel is selected for your skin condition.
Step Three – A unique cocktail is created for your skin type using the WOW fusion skin needling device
Step Four – An LED mask is used, blue, red or green LED lights are used depending on your particular skincare concern. Red light stimulates collagen and elastin and promotes cell health and healing. The blue light kills P acne bacteria and reduces acne flare ups and inflammation. Green light heals sun damage and treats pigmentation.
Step Five – The WOW facial mask is a soothing, calming post-procedure mask
Step Six – Finish and protect. The facial is finished with the application of serum and cream best suited to your skin type.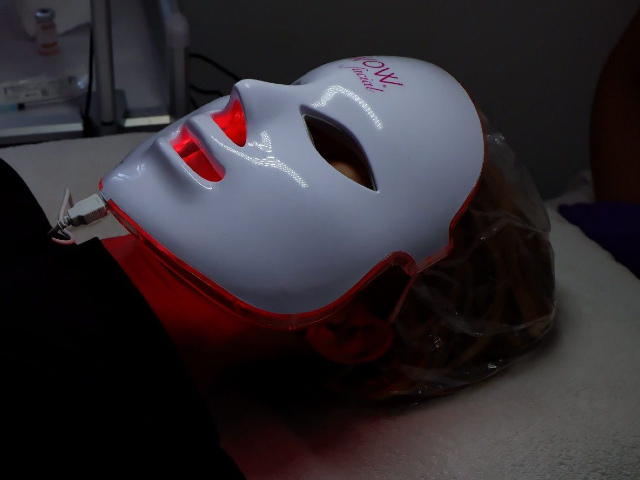 Wow Facial Review
I went to Hannah London Clinic on Harley Street to have the Wow Facial. My beautician Najat asked me a lot of questions about my skin to ascertain my skincare concerns. I told her that my skin is usually reactive, blemish-prone and that I get flare-ups, sometimes itchy. Najat asked me different kinds of questions to accurately categorise my skin type and ascertain which products would help me with my blemish-prone and dehydrated skin. She explained that part of the treatment involved needling, which I'd never had before, and I was nervous about, so I was dreading it. But Najat put me at my ease.
She was very attentive and thorough on explaining with detail what she was doing and what products she was using on my face.
After cleansing my face, a chemical peel was applied. I told Najat it was stinging almost as soon as she applied it, so she removed it quickly. As a person who is needle phobic, I was dreading the needling part of the facial. To put me at my ease, Najat showed me the small glass bottle so I could face my fears. Dear reader, I'm not going to lie and say, 'it was nothing.' The needling was certainly uncomfortable, especially on the relatively unpadded skin above my cheekbones and forehead. So, it was with some relief when the LED mask was put on and I could bask in its relaxing blue glow. And by the time Najat applied the cooling and nourishing Wow facial mask, the memories of the painful needling had all but disappeared.
And finally, after 75 minutes, I was smothered in eye serum and face cream and prepped, ready to face the outside world. I was given a cream and face wash to use post-treatment and told to avoid the gym sauna or hot bath, anything that raised my temperature and made me sweat.
When I looked in the mirror straight after the facial, my skin looked a bit puffy in the places where I had felt the needling most, but I was assured the swelling would subside quickly. The moisturiser from the home care products stung every time I used it, which was not surprising as my skin was still sensitive and exfoliating. And as they say in the world of beauty, no pain, no gain. A couple of days afterwards my skin started peeling, especially around my mouth.
By day four, my skin had started clearing up and had lost that tired look and feel. A week after treatment, my face felt very hydrated and soft, and my complexion was impressively clear and unblemished. The facial has given me the push I wanted to a clearer complexion. And can I just say, Wow!
Find out more at www.wowfacial.co.uk
✶ You may also like ✶