I love the fact that Mizani don't miss a trick and new out of their magic hat comes the Supreme Oil collection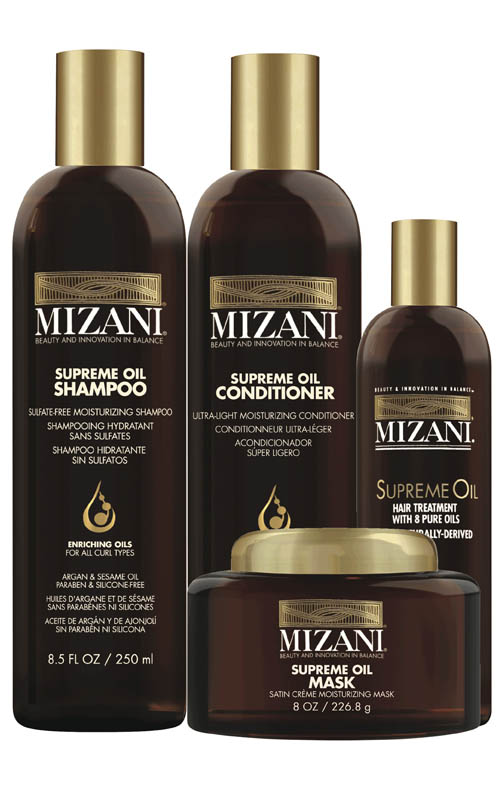 Joining the foray of hair quenching oils, this full styling range boasts a sulfate-free shampoo, a silicone-free conditioner and 5 minute maximum moisturising crème masque. Diehard fans will notice that the packaging is a carbon copy to the Supreme Oil Hair Treatment that came out first and therefore belongs to the same family.
On washday I used all four products and I must add it is very rare that I use the same brand from start to finish. The shampoo has a rich creamy formula — but this is to be expected from Mizani so it gains no plus points there — and becomes nice and sudsy on the second rinse.
I followed on with Satin Crème Moisturizing Masque. For a conditioner this has quite a watery base and I kept applying more because it absorbed so quickly, plus I'm used to slathering on thick coats when using conditioning treatments. For many of us DCing can last anywhere from 30 mintues to 1 hour, but if you're short on time this is a good substituting product that only needs three to five minutes. However I must warn you that it's not as amazingly softening as treatments that need heat.
To seal I used the Ultra Light Mositurizing Conditioner that was straightforward in helping to detangle and smoothing out the hair. When it came to drying I broke my 'one brand only' rule and used a heat protectant as the Supreme Oil Hair Treatment (in my humble opinion), isn't designed to guard against heat. On a positive note the treatment did a good job at keeping strands tangle-free and I loved how the brush glided through my (three-textured) hair when drying.
So… In a nutshell: the shampoo is a keeper; use the masque when you don't have time to fully deep condition; the light moisturising is ideal for those with thin hair and if you're vying for a gentle co-wash and if you wear your hair straight often, get hold of the hair treatment.
For stockists call 0800 121 4676
SaveSave
SaveSave