Pleasing is the lifestyle brand from Harry Styles that moves to wherever there's something 'pleasing' to be found
Harry Styles joins a host of celebrities who have ventured into the beauty/wellbeing sphere and have brought out their own cosmetic or lifestyle ranges: Alicia Keys (SoulCare), Pharrell Williams (HumanRace) ; Rihanna (Fenty Beauty), Alesha Dixon (NobleBlu). The list goes on.
Pleasing's mission is to bring joyful experiences and products that excite the senses and blur the boundaries.
"I wanted to find a way to explore more ideas and have more opportunities to collaborate with people who were inspiring me; that's how Pleasing was born. Starting the brand with beauty felt exciting because creating great products is a unique way to make people feel good."

Harry Styles
The first-ever drop of Pleasing, Perfect Pearl, includes four Nail Polishes, an Illuminating Serum and the Pleasing Pen, a dual-ended Eye Serum and Matte Lip Oil. And by popular demand, there's also a Pleasing Crewneck to snuggle up in.
The Pleasing Pen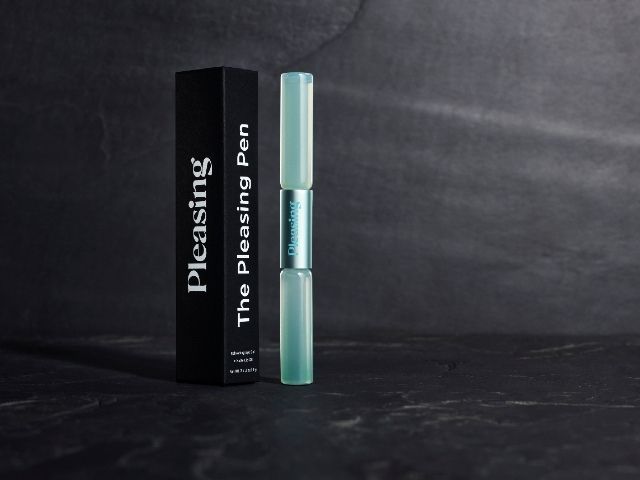 The Pleasing Pen (£23) is a dual-ended potent eye and lip serum delivered through cooling steel rollers. It features an eye gel, formulated with natural lingonberry, okra, and hyaluronic salt that hydrates, rejuvenating tired under eyes. The demi-matte lip treatment soothes and replenishes with marshmallow extract and olive-oil-derived squalene.
The Pearlescent Illuminating Serum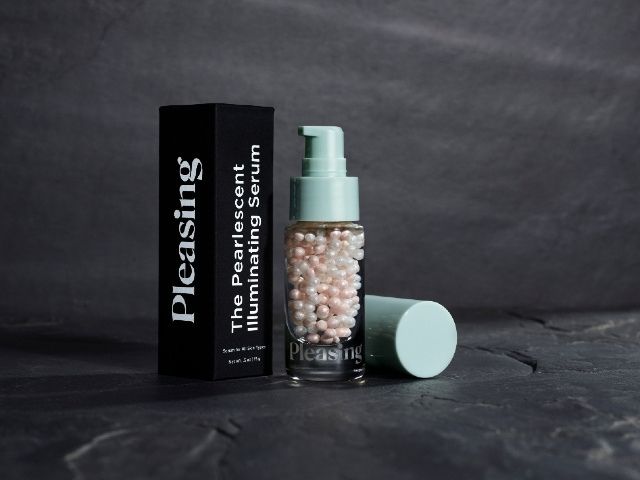 The Pearlescent Illuminating Serum (£27) is delivered through pearl capsules that dissolve into a formula. Featuring Beta-glucan, the underdog of hydrating ingredients, panthenol and vitamin B, in just two pumps, this subtle, non-fragranced layer of product will transform skin into a smoother and more reflective surface.
The Pleasing Nail Polishes
Housed in collectible glass bottles influenced by perfume decanters of the past, Pleasing Nail Polishes (£16 each / £50 set of 4) are inspired by the pearl within the oyster. The Perfect Polish Set (£50) includes three shades and an iridescent matte topcoat: Perfect Pearl– pearlized white with a glossy finish; Pearly Tops– clear with a subtle iridescence, matte finish; Inky Pearl– pearlescent black with a deep blue radiance and glossy finish and Granny's Pink Pearls– pearlescent pink with a glossy finish. Perfect Pearland Pearly Tops can be purchased individually (£16 each).
The Pleasing Crewneck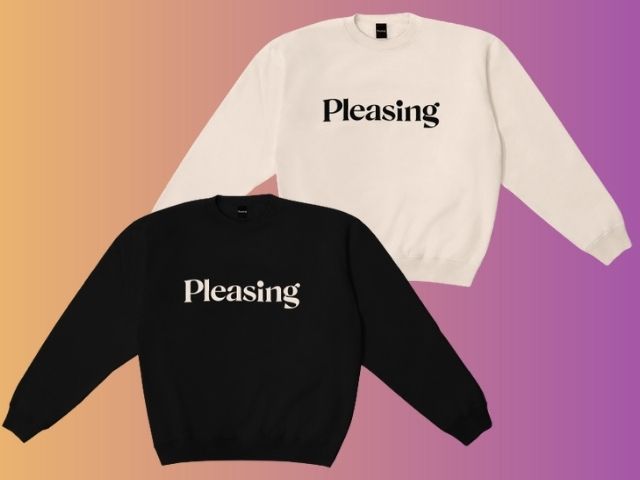 Ethically crafted, slightly oversized and extra soft, the Pleasing Crewneck ($95), is made in Los Angeles from 100% cotton, using 50% recycled and 50% organic yarn. Available in Black and Cream in XS-3XL.
To find out more, visit: Pleasing.com