This year's hairstylists made hair awards history with their contrasting themed show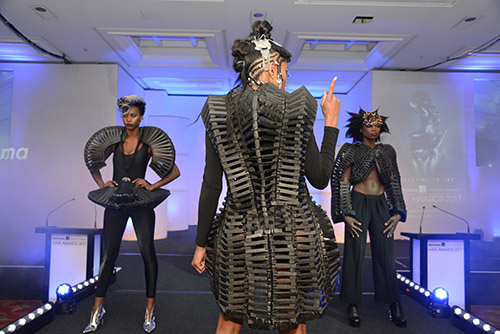 Anastasia Chikezie and Carol Rose of Chikezie Rose and their team collaborated with this year's eight Stylist of the Year finalists for the Black Beauty/Sensationnel Hair Awards, to put on an unforgettable show.
The hair & fashion show was called Polarity and Anastasia tells us it was all about marrying together contrasting themes. 'For the first half we had the models in light, flowy dresses walking to dubstep music with a heavy baseline, followed by Sam's cutting-edge designs that was more abstract.'
Chikezie Rose debuted the first collection to an esteemed audience the had the industry's best hairdresser and professional brand ambassadors in the room. 'It was an honour to show our designs at this year's show and work with icons in British Hairdressing. It really pushed me beyond my boundaries,' says Anastasia.
The Stylists of the Year who worked on the second half of the show were Errol Douglas MBE, Lathaniel Chambers, Rick Roberts, Anthony Grant, Harry Casey, Lisa Farrall, Aycan Kemal and Pashcan'el Mitchell. Here they are with their models on the night.