The Saturdays star turns her sights to make-up and comes up with a range that gives you the ultimate glow up
Rochelle Humes is immune to rest. She possesses the master skill of juggling everything, and we mean everything! From her career as a TV presenter for Ninja Warriors UK and The Next Great Magician to designing clothes and being a full-time mum, when we get the chance to sit down with the Essex beauty, she's due to give birth any minute to her second daughter, Valentina Raine. In the mist of reading scripts and nausea, Rochelle also managed to find time to compile her very own beauty range, Hi Glow exclusively available at Superdrug stores nationwide. 'It's been a couple years in the making, because I've been really fussy,' she enthuses. 'I guess these things take a while to get right.'
And with summer hot on our heels, not only has she got it right, her timing couldn't have been better. We find out more about the new bronzing range…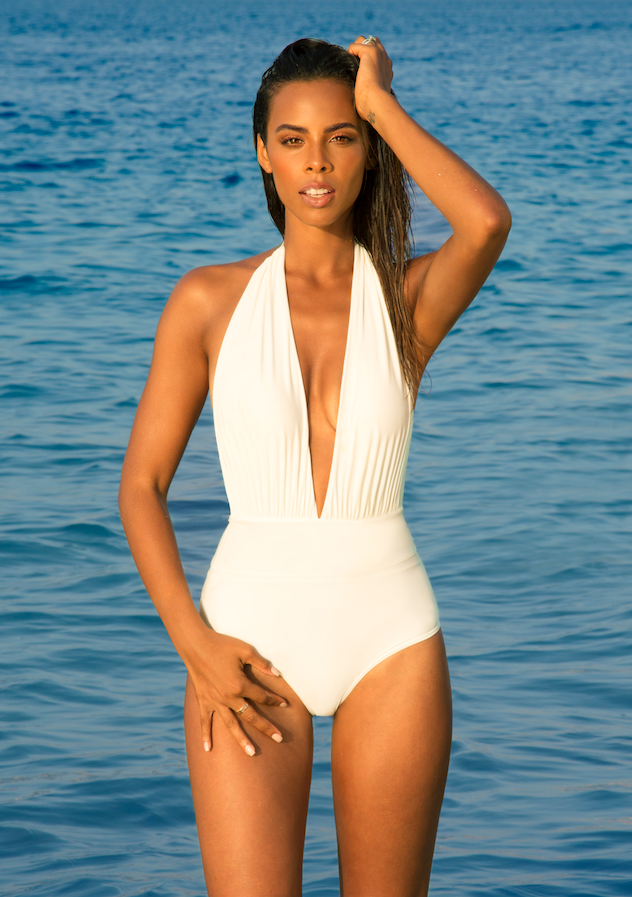 Where did the idea for Hi Glow come from?
I'm obsessed with dewy skin the kind that looks like you've had a holiday, so I thought I always wanted to do something that's not necessarily make-up, but something you wear alongside your trusty products. You use your foundation, yet you still use your concealer and these products aren't designed to replace any of those. The Facial Bronzing Balm can be mixed with a little bit of foundation to make it have less of a matte finish and make it a little bit more glowy. You can wear it underneath as a primer or you can just roll solo if you're on holiday. It just gives you that, added summer glow that you're after.
But what about the diehard contour fan is there something for them?
Of course, I've got a Body Bronzing Contour Stick which is to highlight and accentuate areas you might want to bring attention to. Rather than mattifying, it gives that 'I've got an all year round summer glow.'
Using the range do you run the risk of looking too shiny?
These products aren't harsh or too highly pigmented. It's not the sort that sits on top of make-up like a glitter pot, I mean why would you want to look like that! It's very subtle and it's important to know where to accentuate.
What are your favourite products?
I use the Radiance and Glow Body Cream which comes in a big tub. It's really nice with a subtle shimmer that adds a soft tone. I really love the Highlighting Shimmer Stick too. I run a bit down my nose, a bit on my cheekbones and a bit on my cupids bow.
Would you consider yourself a make-up junkie?
Definitely! I don't refer to myself as a make-up artist but I'm lucky that I get to work with amazing people who know exactly what they're doing. I've picked up so much over the years.
If you had to choose ONE look for a night out, would it be highlighting or contouring?
Well at the minute probably contour because I've put a bit of weight on my face, so I'm probably trying to do an optical illusion [laughs]. But normally it has to be highlighting. I prefer the way it picks up on photoshoots and on camera.
Who would you say is your make-up muse?
At the minute I really think Selena Gomez looks great. I follow her make-up artist who's amazing on Instagram, he does her so nicely. People that don't go too overboard, I tend to like. I've always been a big fan of Jessica Elba. I think she just gets it right on the glam side without looking like she's got a load of make-up on.
Ah, you mentioned Instagram, do you follow many beauty bloggers?
Yeah I do but on the other hand I think everything now is so Instagram heavy. I'll be designing a clothes range and I'll think let me update Instagram. It's a really a good place to do a lot of research on now. But don't take everyone's life as how it is on Instagram. No one's really going to put themselves up having a crap day or how rubbish they feel. It's important to take it with a pinch of salt and not feel like you have to compete with an Instagram life.
That's such an important message…
I worry by the time my little girl gets older, what is there going to be? I didn't have that and didn't go through what youngsters are going through now. At the end of the day, its the best collection of pictures that people want you to see, so don't stress yourself over it.
Finally, do you have any make-up tips for mums on-the-go?
Don't put too much pressure on yourself. We are lucky that we are living in a place where anything we need or forget we can grab. I've got a newborn in the next couple of weeks so once I put Alaia-Mai to bed I always pack bags for the next day, the night before. I've been a bit better at pregnancy this time. Last time I couldn't be bothered. This time I think it made me feel better to get up, have a shower and wash my hair and blowdry it and make myself feel better. But really, you just can't put pressure on yourself.
Hi Glow is exclusively available at Superdrug
Interview by Jemima Cousins