INSPIRATION:
"To achieve the right look, it is important to identify the DNA of the Temperley London woman; she is fearless, a bit rock 'n' roll, eludes confidence, is playful and effortless. She's a woman who knows what she wants. I wanted to create a soft rock 'n' roll, pulled-back look using fingers over tools with asymmetric vibes as if she did it herself" says Moroccanoil global ambassador Antonio Corral Calero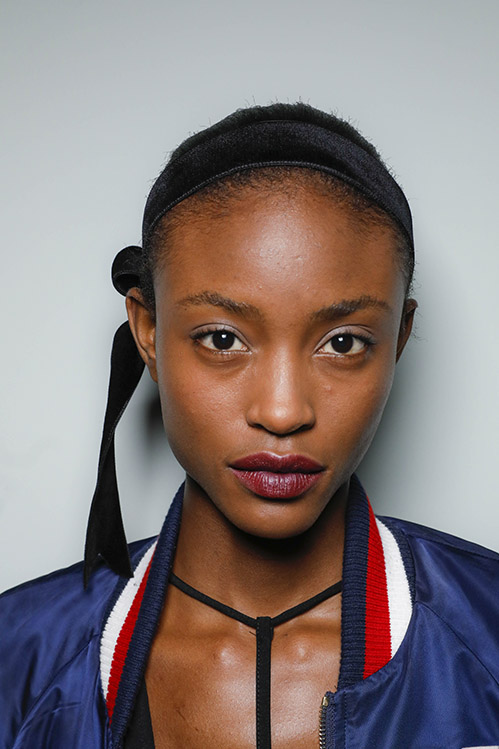 GET THE LOOK:
To create the perfect foundation for styling, prep hair by applying 1-2 pumps of Moroccanoil Treatment from root to tip using fingers
Part hair in the middle (if hair is very curly, straighten with irons but not poker straight) and apply 1-2 pumps Hydrating Styling Cream. Lightly blow dry to help expand the hair
Section hair and spray Dry Texture Spray in a zig zag motion from bottom to top – ensuring an even application that creates dimension. Using both hands, separate the hair back & forth with fingertips
From the left-hand side, take the hair from the temple down, gathering in the sideburns, sweeping down to the occipital bone and to the right hand side. Bring off-centre and secure the two pieces into a ponytail with a clear elastic
Enhance the rock 'n' roll vibe with loosened baby hairs around the sideburns and encouraging flyways' around the temple. Apply Dry Texture Spray to the root area for extra grip
Crown the hair with a thick velvet ribbon, approx. a foot in length; wrap over the head and behind the ears, under the ponytail, crisscross and bring back over the elastic and tie into an abstract bow. Cut ribbon-ends to a V shape.
Final touch; emulsify Dry Texture Clay in the hands and apply to the ends of random pieces of hair; adding dimension and edge.
Save
Save
Save