Bridal hair specialist Alessandra Falolu of Lessandra's Beauty is used to making brides feel special on their big day. Now she has another ace up her sleeve…
Lockdown gave many of us time to reflect on our lifestyles and vocations. Afro hairdressers, many of whom had experienced a shrinking clientele due to the natural hair movement, were dealt a further blow when their salons were shut for months on end during the pandemic. Ever-resourceful hairdressers took social media to speak directly to their clientele about haircare, started retail businesses or kept going by doling out advice.
One hairdresser, Alessandra Falolu of Lessandra's Beauty, a South London salon that provides bridal hair and beauty services, decided to take it a step further and became a bridal wear designer during lockdown. We caught up with Lessandra to find out how it all started.
You're known for your hairstyling prowess, what made you venture into bridal wear?
Bridal makeovers are niche, and I find niche areas of creativity quite interesting. I've been providing bridal makeovers for over three years. The experience made me realise how special the morning of a wedding day truly is, and how much more of an impact I wanted to make. My mission is to make my brides feel like queens, so I put my obsession with reading wedding magazines to good use, and decided that luxury dresses would be perfect to accentuate the whole bridal experience.
Have you always been interested in fashion?
I have definitely always had an interest in fashion, especially in bridal wear because of its flamboyance, intricate detailing and versatility. Through the process of creating these dresses, I have learned so much more about the fashion industry. So much so, that it has made me even more determined to leave my mark on the bridal wear market.
Do you design the dresses yourself?
Absolutely, all six dresses: Sade, Delilah, Adaliya, Dara, Wura and Nala are original designs. The fabrics used are all handpicked, and the dresses all have the signature long trains that can be tailored to satisfy the client's request. I currently provide sizes UK 8 – 14, however I'm planning on having plus sizes available soon, as I want to offer my dresses to a wider range of women.
Describe your collection in one sentence?
Lessandra's Beauty luxury dresses make you feel even more stunning, as well as special, on one of the most amazing days of your life.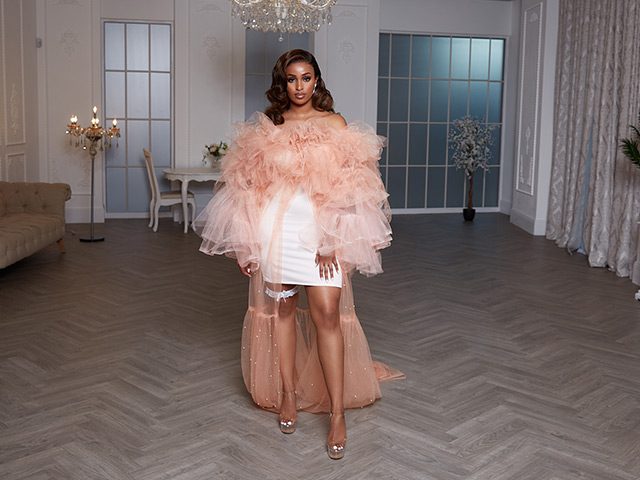 What do you think black women look for in bridalwear?
I believe black women simply want variety. When I say "variety", I'm referring to colour, style, fabric and how it makes us feel. The colour is extremely important, because we have to consider what colours compliment our various complexions. Black women's style will always set trends. Our style is admired by others and I know black women look for pieces that set the same tone. I always make it a point of duty to include a diverse colour palette as well as distinctive designs to satisfy all fashion preferences.
Are there simpler designs for those who want a more streamlined look?
I wouldn't say I have simple designs in the collection, there are some that are more modest than others. For those looking for a "more streamlined look", I would recommend either our blush pink coloured Sade or our off-the-shoulder, laced tulle robe Adaliyah. Both gowns exude grace and elegance.
How much do your dresses retail for?
I offer both hiring and purchasing options for my collection. Hires starts from £60 and purchase starts from £170. I also provide aircraft cabin-friendly garment carriers for purchase for only £32.99. They are perfect for storage and transportation of occasion pieces like wedding dresses, suits or our dresses. They are custom-made, water-resistant and great for destination weddings.
Where can we find you?
To have a look at all the products and services I provide, you can browse through my user-friendly website www.lessandrasbeauty.com. You can also find daily updates on Instagram @lessandrasbeauty.
You can also see Lessandra's latest collection in the April/May issue of Black Beauty & Hair.
Photography by Bevon Burke | Head hairstylist Lessandra Falolu at @lessandrasbeauty assisted by Rebekah @Reecapellihair | Make-up by Brenda @B_beautifulglam and Mana Mumin |Dresses by @lessandrasbeauty | Flowers by Christina @tubesfloral | Videography by @Eristudios | Models: @Msnevavaeh, @Sharonjanay, @Hothibaq, Ife, Kunbi
---
Bridal…