Courtney Fuhr from Sorbet Salons shares her expert advice on nail shapes for S/S16
Nails are in this summer. Whether it's Almond, Ballerina, Stiletto or Squoval in a berry pink, nude or a playful coral, our nail palette is filled with an array of different shapes and shades to suit every occasion. With our SS16 nail-drobe inspired by soft pastels, bright pops of colours and catwalk trends favouring the coffin over square shape, having a manicure can leave you fraught with decisions. Courtney Fuhr, brand manager of South Africa's biggest beauty brand, Sorbet Salons shares her expert advice to help you nail it when it comes to shapes and shades this summer!

A top pick for celebrities such as Kylie Jenner and Selena Gomez, the Almond shape is slender on the side, wide at the cuticle and finishes with a soft oval at the nail tip.
"This is a flattering shape for the hands as it elongates the fingers creating a very feminine finish. If you have weak nails, but desire long nails then this is the shape for you! The Almond is easier to achieve with natural nails as the rounded edges provide less impact to the sides of the nails, preventing any splitting or damage. Remember to start short though, long nails require care and attention!"
The Perfect Shade: A trend-setter with a feminine edge, pastel shades complement the Almond shape well. The feminine tones of pretty pinks and lilacs subtly make the nails stand out without making too much of a statement.

Love it or hate it, the Stiletto has well and truly confirmed its presence in the nail industry. Harsh and strong, the stiletto shape requires intense filing on either side of the nail to create a sharp and drastic point.
"This is not a shape that can be achieved without the help of acrylic tips as our natural nails just don't have the strength to hold the point. To keep that Stiletto point looking strong and sharp, opt for acrylic nail extensions with an acrylic overlay. These will provide a striking shape without the risk of causing damage underneath the nail, while providing a long-lasting and durable finish.
The Perfect Shade: Loud and proud, the Stiletto nail is not shy, so why hold back on your colour choice? Bright and in-your-face neon pops of colour work very well with the bold Stiletto shape. Electric shades such as orange and blue can create a daring and stand-out style perfect for a night out on the town.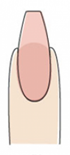 With a similar shape to the Stiletto, the tip of the nail is squared off in a shape that is reminiscent of a ballet slipper.
"The Ballerina is an edgy style and great for those looking for something a little different. It has the bold appearance of the Stiletto yet is subtly understated with its square tip, giving it that edgy and on-trend look. Also referred to as the 'coffin' or 'Bullet' shape, this one is a lot more life-friendly than the Stiletto as it is less likely to catch on pieces of clothing"
The Perfect Shade: An edgy, high fashion and pristinely polished nail shape, the Ballerina shape looks great with on-trend metallic polishes. Try a metallic gold to enhance tanned skin whilst creating an ultra-chic finish!

A more natural and feminine shape, the Squoval puts a rounded touch on the traditional square shaped manicure.
"With softer edges, the Squoval is a great shape to maintain on shorter nails which suffer with weakness. The Squoval is also a very convenient and sensible shape for those who work in an office environment or are still at school. You can't go wrong with this classic!"
The Perfect Shade: Understated and practical, the Squoval is a great shape to really enhance the power of the nude polish. Nude polishes can add a timeless yet glamorous edge to your manicure while remaining sleek and discreet.