U.S. stringer Candace Dantes visits St. Lucia for the best edible beauty treats
Photos by Kevin Dantes
Four syllables to describe sightseeing on West Indies island St Lucia for the first time: as-ton-ish-ing! St. Lucia topped U.S. News & World Report's travel ranking as the No. 1 "Best Caribbean Honeymoons" location.
Deservedly so.
The Eastern Caribbean island nation safeguards several secluded waterfalls; crystal-clear beach waters; pastel-coated fishing and waterfront villages; and the awe-inspiring Pitons — twin volcanic peaks so mesmerizing even Oprah declared them among five must-see sites in a lifetime.
And since my husband is a native of this romantic island, I was definitely in for rainforest retreats and sweet treats to explore during our one-year anniversary summer 2018. Some of the following sugary delicacies he introduced me to not only satisfied my taste buds but helped rejuvenate my skin and scalp within a week and by the time I got back to The States:
CASHEW NUT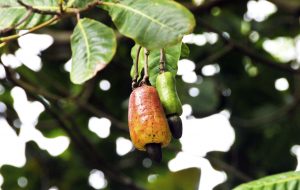 WHAT IT IS: The cashew nut is powerful in its raw, unsalted form. Packed with minerals, antioxidants and vitamins, it actually grows from the bottom end of a cashew apple, which is bell peppered-shaped accessory fruit. While attached to the foot of this fruit, the cashew nut also is encased in a shell until processed into what we normally eat.
WHAT IT DOES: This nut — whether in its natural or oil state — can foster healthier hair. It includes copper that helps produce melanin. The nut also bears oleic and linoleic acids that intensify hair colour and creates a smoother hair texture.
WHAT IT DID FOR ME: A few cashew nuts in between Caribbean meals started to give my locs a more vibrant sheen while honeymooning. They're now one of my new favorite snacks throughout the day.
SOURSOP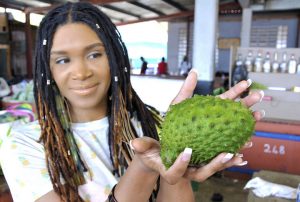 WHAT IT IS: With a soft, spiked exterior, the jade fruit's inside is a refreshing, milky substance. An unusual burst of watermelon, mango and pineapple in your mouth, soursop is jam-packed with antioxidants and vitamins, too.
WHAT IT DOES: Soursop, including its leaves and seeds, can benefit both the skin and hair. If you pulverize the seeds into a powder, this astringent can help improve blemishes and age spots. It also can help reduce wrinkles and lines. In the hair department, soursop as a paste can treat excessive itching and dandruff.
WHAT IT DID FOR ME: My skin received a youthful boost, controlling mini breakouts and tightening up the areas under my eyes.
COCONUT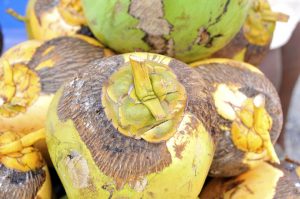 WHAT IT IS: This popular Caribbean seed, fruit and nut in one is a hard shell full of juicy goodness. Inside a coconut's woody husk is both coconut water and its jelly-like flesh (the white part).
WHAT IT DOES: Coconuts are high in electrolytes. They're also packed with protein, calcium, iron and vitamins A and C. Coconut water is known for effectively working as a toner and cleanser to combat acne. This natural refreshment can tame frizzy hair, strengthen tresses and smooth them out as well. Using coconut water as a hair moisturizer even treats dandruff.
WHAT IT DID FOR ME: In addition to keeping me hydrated during island activities, pure coconut water provided an energizing substitute to water and helped detox my skin daily, giving me a more polished complexion.
COCOA BEAN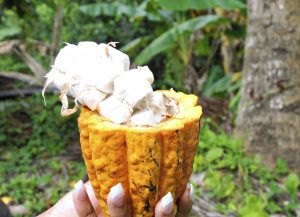 WHAT IT IS: Before chocolate converts into some of the most iconic candy bars we adore, it's simply a bean in its natural state. This bean grows inside a cocoa pod. The cocoa pod protects an average of 20 to 60 beans within its leathery rind. Once you cut open the rind, mini gushes of sweetness await. You can literally pick off the beans and suck on each one of their lemonade-savoring pulp, which is beyond de-lish.
WHAT IT DOES: Cocoa beans are a superfood that features an abundance of minerals, vitamins and antioxidants. For skin, it's a natural sunscreen. Cocoa helps maintain hydration, improve elasticity by blocking UV rays and prevent wrinkles. For hair, it increases blood circulation to the scalp, which in turn strengthens the base of hair strands. Cocoa also contributes to giving locs more luster.
WHAT IT DID FOR ME: This fun snack attack became my island alternative to gloss my locs — just by eating them. I noticed a huge difference in the tint of my multicolored tresses. When I returned to my home state of Georgia, the shine showed.
ORGANIC CHOCOLATE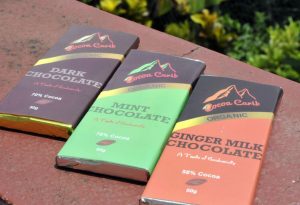 WHAT IT IS: Organic chocolate comes from cocoa beans that haven't been treated with synthetic pesticides, fertilizers or herbicides. Made from St. Lucia's finest Trinitario cocoa beans, Cocoa Carib's assortment of dark, mint and ginger chocolate is initially harvested at small cocoa farms within the cocoa belt region of the island. Each bean-to-bar goodie is fruity in flavor. Now, even though this brand isn't entirely organic as noted from the labeled percentages, you can still tell the difference in taste from its chocolatey richness.
WHAT IT DOES: Dark chocolate — in moderation, of course — affords many hair and skin advantages. This superfood is loaded with vitamins, antioxidants, iron, zinc, potassium, manganese, copper, phosphorus and selenium. It serves as a skin protectant against UV rays, fades fine lines and wrinkles, and deep conditions dry skin. Dark chocolate also can give dull locs sheen and stimulate the scalp to trigger tougher tresses.
WHAT IT DID FOR ME: Honestly: This particular chocolate is so yummy it just makes me happy. And when I'm happy, my hair and skin automatically glow.
CLICK HERE for more hair and lifestyle coverage from Candace Dantes, a.k.a. Cowgirl Candace.
---
✶ You may also like ✶