Photos by J Coles/@jcolesstudio
Bridal bidding to save for the honeymoon, new home
Tying the knot this summer proved that if I asked, I received. Well, that and mustering up bold negotiating skills to seal a few bridal deals. So here was my wedding challenge: At the time, my fiancé had his house, bills and son to take care of on one end of the state of Georgia, and I had my loft, bills and daughter on the other. How do we consolidate our lifestyles without breaking the bank to get hitched or interfering with honeymoon and new home funds? Well, these tested wedding planning strategies allowed us to save, save and save some more to enjoy our new life together: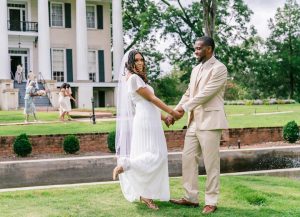 Calling bridal businesses for bartering opportunities. My wedding took place in my quaint hometown of Milledgeville, Georgia — where everyone pretty much knows everyone else (My mom and grandma are rock stars there. Real talk.). Because most establishments in small towns are behind the times in social media marketing, trading professional services, especially with venues you and your family are close to, is an opportunity to help each other. Because my background is in marketing/communications, I could offer my wedding photography and social media presence to bring awareness and new business to venues through creative content. Whatever your talent is, figure out how you can barter to make business better for the venue and negotiate terms to cut costs on using the venue if they're open to the idea. Basically, scratch each other's back if possible.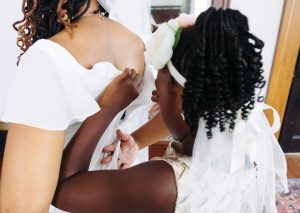 Commissioning family, friends with industry experience. Get it out of your head that you have complete control of every single aspect of your big day. Cause ya don't. So start delegating instead. Task family members and friends who have expertise in wedding details like fashion, food and entertainment, and are punctual with their work ethic. For instance, my fiancé's auntie is a hair braiding extraordinaire, so she hooked up my daughter's braided updo for free, and, of course, because she loves her new niece so much. Likewise, his mother is one of the best Caribbean cooks from St. Lucia (Trust me: It's true.), so she made sure our guests' taste buds were Southern-meets-Soca satisfied without charge.
Contacting folks who know folks who know folks. A few months prior to our wedding day, my aunt and uncle celebrated their 30th wedding anniversary and used one of Atlanta's dopest versatile DJ's who specializes in Caribbean music: DJ Chigga. My aunt referred him to us, and because of the relationship they built, he worked with our budget and provided unforgettable sounds that catered to the young and old of our wedding party. From James Brown to Kassav, everyone had a blast while we cut on cash.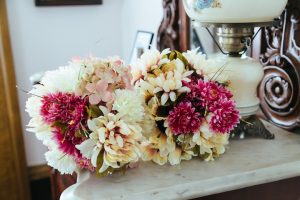 Charging wedding details to DIY projects. If you have time like I actually did, turn items like wedding bouquets and flower girl veils into do-it-yourself assignments to bond with bridesmaids or mother-in-laws. A field trip to craft stores like Hobby Lobby and Michaels became memorable bonding opportunities for my daughter and me. We had a field day selecting flowers, lace and ribbon to customize our wedding accessories. We both mastered new arts and crafts skills while saving on a few bridal embellishments.
Connecting with former brides to compare notes. We all have grandmas, moms, aunts, sisters, cousins and friends who have had weddings, right? Talk to them to gain a better understanding about what you're up against to accomplish your dream wedding and create lasting memories. While you're at it, though, see if they have heirlooms or hand-me-down adornments from their wedding you can possibly use that bonds you to them while passing down history — and at times — your legacy. Statement pieces like classic hair combs and vintage jewelry bear additional love and heritage to make the day you say "I do" more meaningful.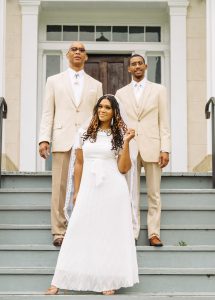 For Cowgirl Candace's complete rural rundown to achieving a Black Beauty & Hair wedding under budget, click here.