London-based couture bridal designer and dressmaker Jacqui James enjoys working with clients to give them the dress of their dreams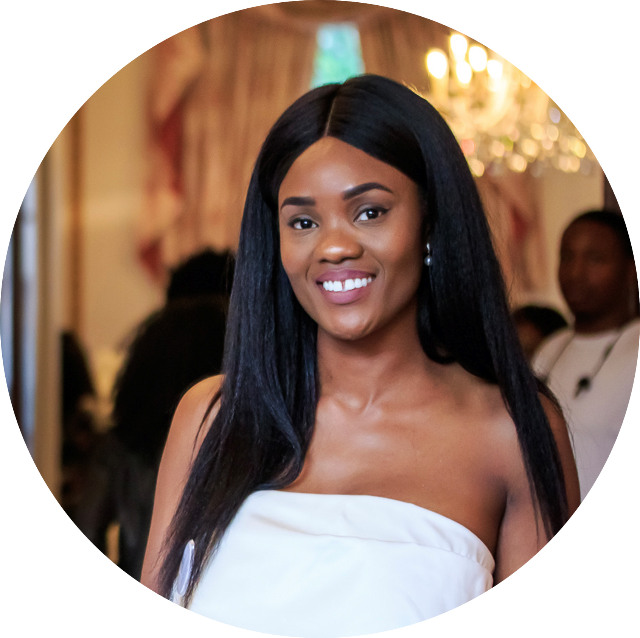 London-based couture bridal wear designer and dressmaker Jacqui James (left) gives takes a moment out of her busy day to tell us all about her journey of opening her first shop, having her event sponsored by beauty giant MAC, and how important time management is as an entrepreneur
When did your passion for dressmaking begin? When did you first realise that you wanted to be a designer? And how did you get into it?)
My interest in design started at a very young age. It may seem incredibly cliché but I remember making clothes for my Barbie dolls from as early as seven. I used to watch my mum sewing and it all started from there. I think I always knew I wanted to be a designer, but my journey took me on a slightly different route. I have always explored my interest on a personal level and developed the skill by myself. I studied design at GCSE level but that was when my formal education in design stopped as I had to pursue more 'serious' routes (I'm from a Nigerian background so I ended up studying sociology at LSE).
Fortunately, I would say that was the best decision as it allowed me to explore other career options, figure out what I didn't want to do and understand the business aspect to creating a brand. It also allowed me to concentrate on perfecting my craft and taking the time to self-learn and most importantly surround myself with a team that would help me grow. I personally learn by doing, so, I perfected my craft by making evening and occasion-wear pieces for friends and family and like everything else, word of mouth is the best marketing tool and it's been an enlightening journey since.
When did you decide to open your Jacqui James store?
I started off doing a soft launch in Nigeria in 2016 as it's my home country and has a large wedding market and slowly migrated to serving the same market in diaspora in the UK in 2018. Since then, I have been operating as a bespoke designer for wedding and evening dresses, but I hope to open a retail store in the near future.
What is it about dressmaking and designing that you love the most?
I love the process of understanding the client's needs and wants and designing something that is made and tailored to fit them exactly. The best part of the process is always the end and the delight on the client's face on their big day!
Who and what inspires you?
I am inspired by a lot of people; especially women and particularly in other industries. More than anything their resilient and tenacity is what unifies them all and encourages me to bring my A-game daily.
In your opinion, what does it take to be a good designer/dressmaker?
I think someone who is attentive and a good listener. Of course, you have to have the right technical skills if you are working alone and a good team/ network, but the most important skill is being able to effectively understand your client's vision and make this a reality.
Who are the most memorable clients/ brands that you've worked with?
When I launched in Nigeria, I was fortunate enough to be sponsored by MAC Cosmetics, which definitely helped raise the profile of the attendees and event in general. I hope I get similar experiences like that soon!
What are some of the challenges and highlights that you've experienced as a designer?
Impending deadlines– they NEVER end! Managing my time has been my biggest challenge but having a good team makes all the difference!
What advice would you give to aspiring designers and women with a business idea?
I think first I would remind them that business is a journey and as much as there are goals and milestones ahead, the real lessons are in the journey. The biggest shortcut, however, is proper planning.
I would say, definitely spend a lot of time doing your research, analysing the market and always test your product to market before you launch. I think it's so important that people have a holistic approach to business and try as much as possible to understand the full picture. That way you can quickly identify your weak areas and avoid making some unnecessary mistakes along the way.
How does Jacqui James stand out from other bridal wear businesses in London?
I think I am still perfecting my niche. I have been careful to include some of my preferred techniques such as detailing and beading in each client's designs, as I do allow clients to have a creative input as we are recreating their vision for the day. Other than that, I try to ensure the service is as transparent and inclusive as possible, so all brides feel like they have had the extra special touch along their wedding journey.
To find our more information about the Jacqui James brand you can visit www.jacquijames.co.uk or email her on info@jacquijames.co.uk.
---
•••
Candace Morrow vogues dreamy wedding gowns that stun